Tide Guide: Esperance's Mural Trail
Get the map book out!
Author: Esperance Tide | Photographer: Rosie Henderson
Published: June 04, 2021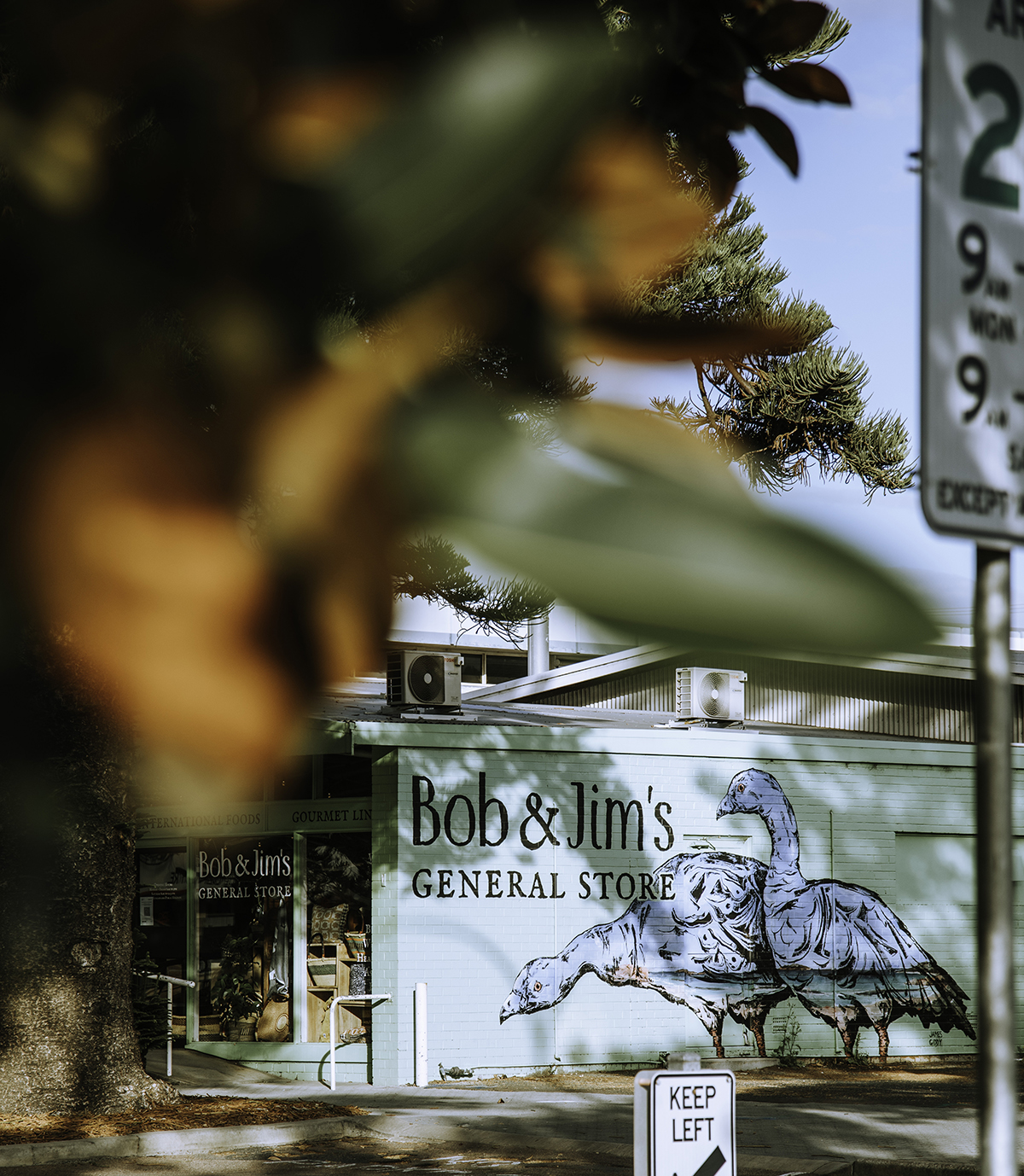 Throw the kids in the car and take a drive around town, checking out the many, many fabulously vibrant murals throughout Esperance. If you take any pics, don't forget to #esperancetide and you may just find yourself gracing the pages of our next issue! Check out our interactive map at the bottom of the page.
Light Horseman Mural
Artist: Graeme Miles Richards
Location: Charles Wilson Arcade, Dempster Street
Tjaltjraak Mural
Artist: Atheleen Rose Thomas
Location: Esperance Police Station, Dempster Street
Esperance Mural
Artist: Jenelle Griffiths
Location: Esperance Police Station, Dempster Street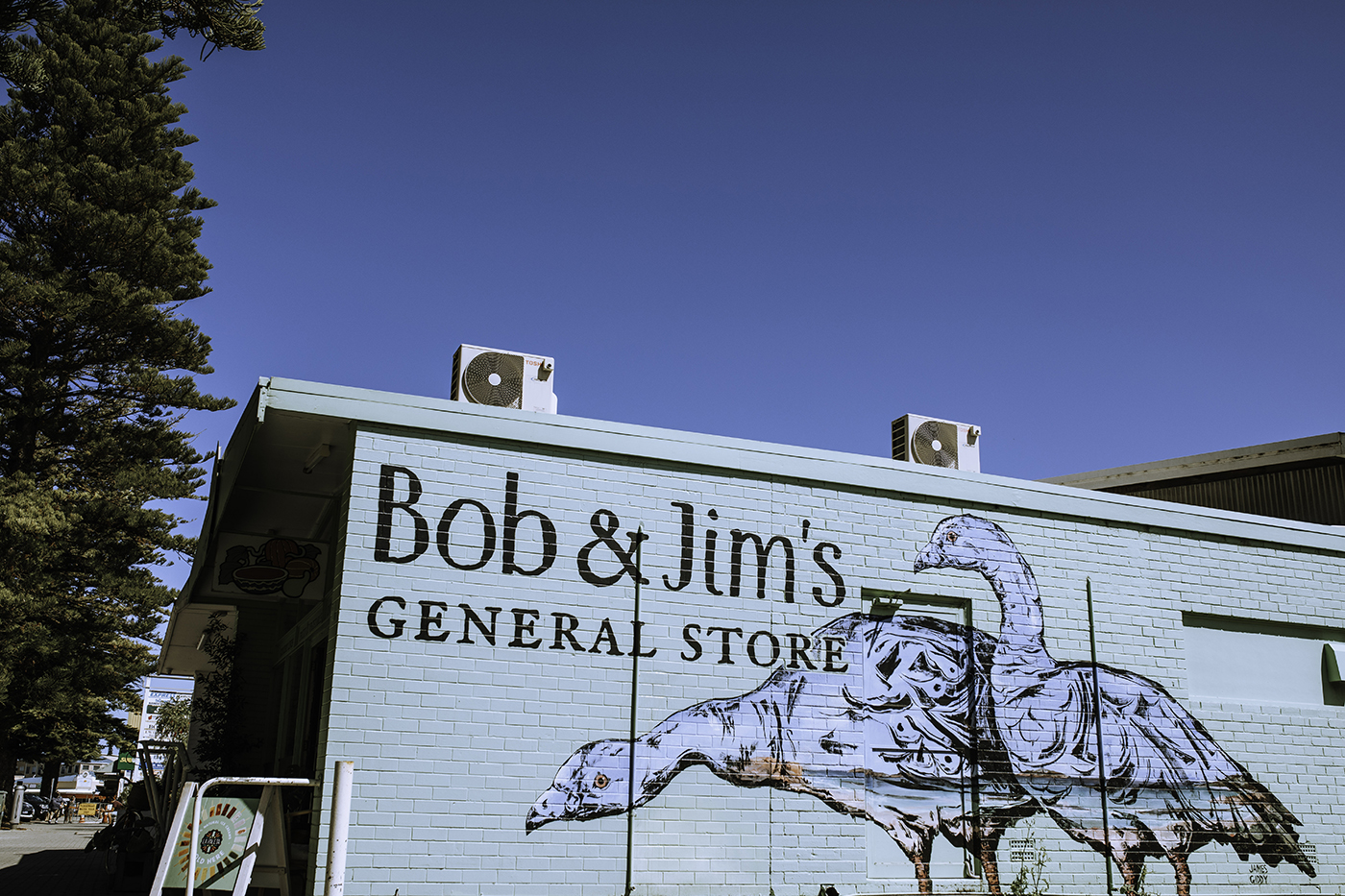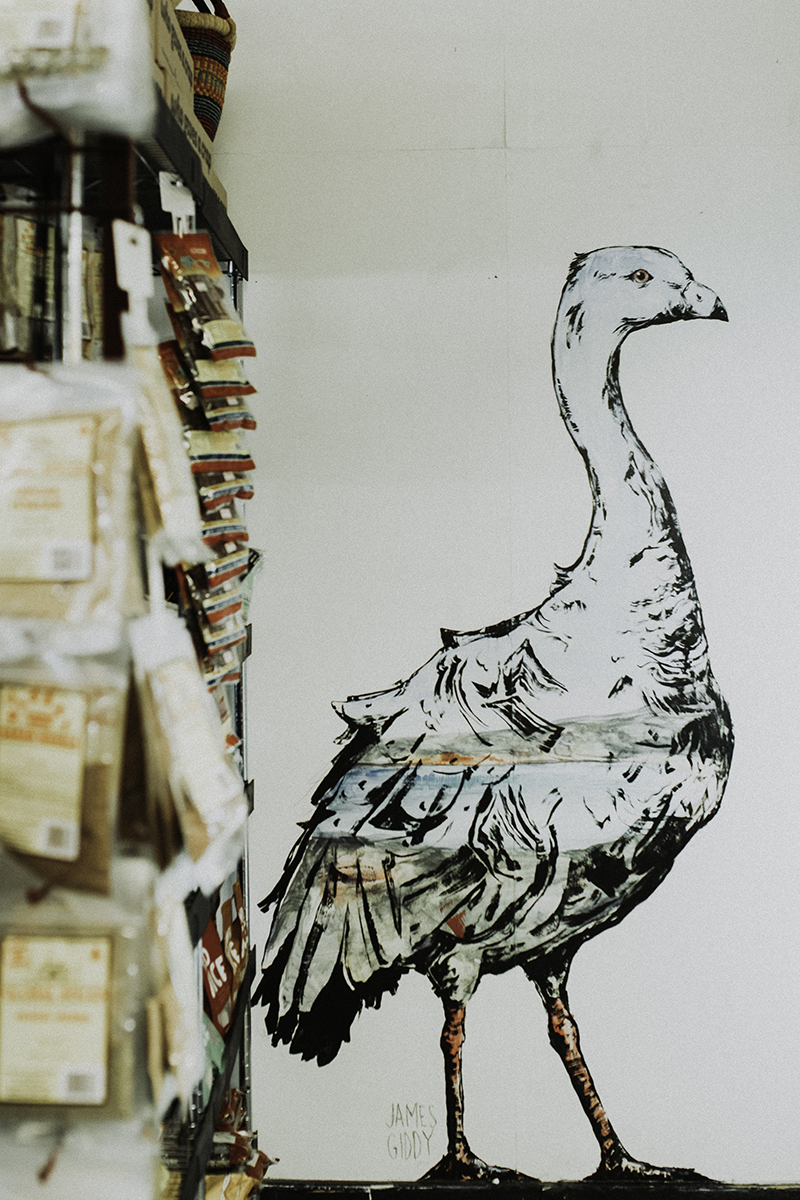 Cape Barren Geese
Artist: James Giddy
Location: Bob & Jim's General Store, Dempster Street
(pictured above)
While on holiday, Anna from Bob & Jim's saw a mural of James Giddy's on the Loco Shed in Donnelly River and imagined something similar on the blank exterior of the general store. A little over a year later, James was working his magic on the green wall. It was James' idea to paint the Cape Barren Geese, after doing a little research into the region. James has painted murals far and wide, including in the United States and India. His subjects are usually animals because, according to James, they're accessible to a wide audience. "They relate to more people and you get less criticism than you would if you painted a person," James says. "You can be very gestural with an animal and give it a bit of quirk, and people aren't going to be like, 'You've done the face wrong!'" James hadn't been to Esperance since he was a kid, when he holidayed here with his family. "It was really nice to come back," he says. "I felt right at home." James' work can also be seen inside Bob & Jim's, and in Honeymoon, an exhibition of his works at the Cannery Arts Centre this month.
2017 Festival of the Wind Whale Mural
Artist: Esti Nagy
Location: Kung Fu Noodle, Andrew Street
New Land Farmers Mural
Artist: Phil Shelton
Location: NAB, Andrew Street
Royal Flying Doctor Service Esperance Auxiliary Mural
Artist: Phil Shelton
Location: Dutton Arcade, Andrew Street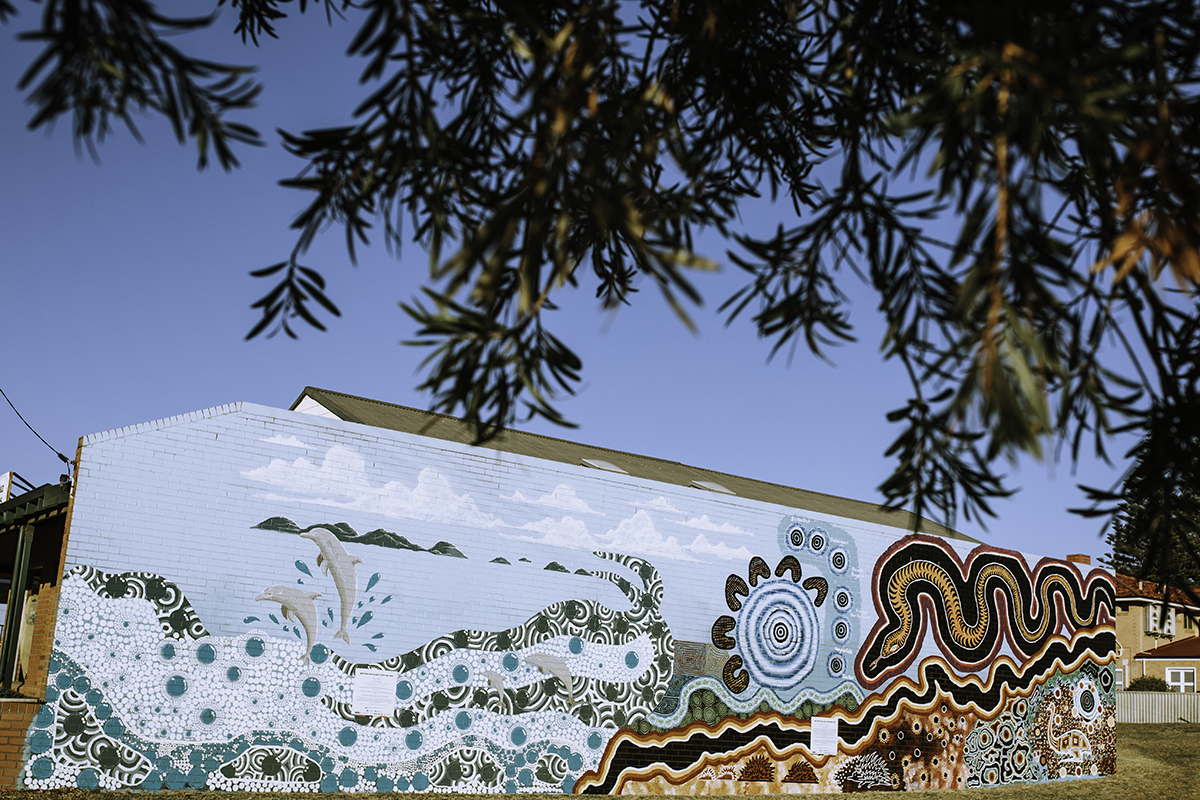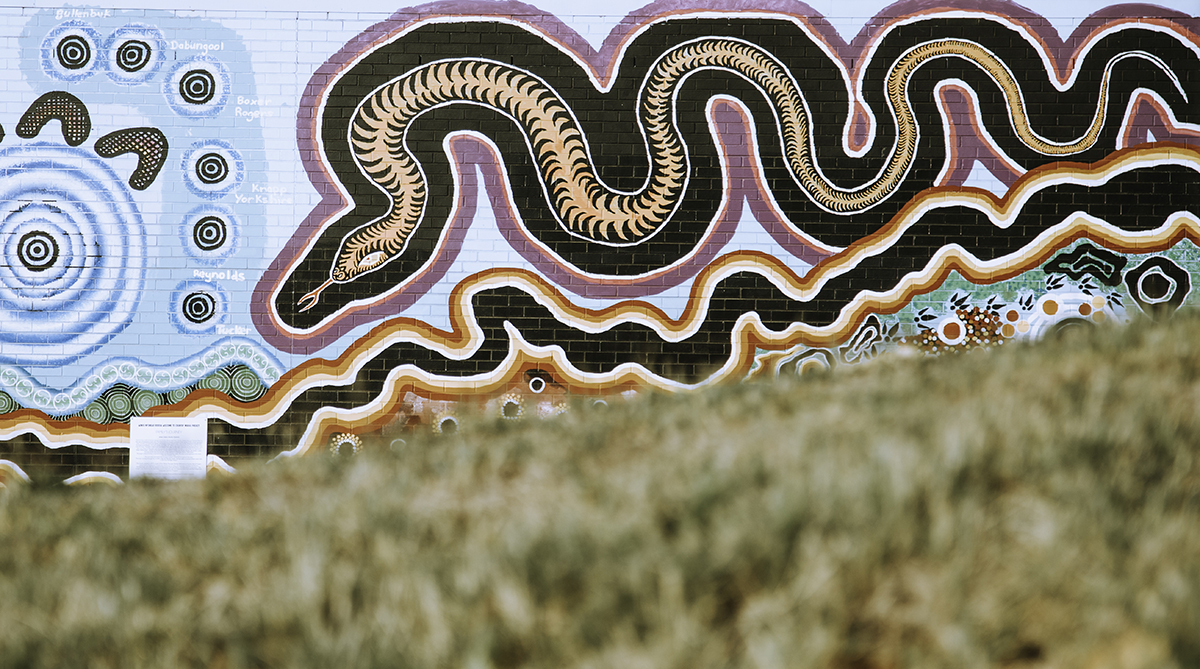 Dolphins
Artist: Atheleen Thomas & family
Location: Red Cross, Dempster Street
Family's Journey
Artist: Valma Schultz & family
Location: Red Cross, Dempster Street
These two murals, which blend seamlessly into one another on the same wall, are a vibrant 'Welcome!' to the centre of town. Stretched across the wall of the Red Cross, Dolphins and Family's Journey, painted simultaneously in 2019, are part of the Wanju Nyungar Boodja Welcome to Country Mural Project, presented by Esperance Community Arts. Each tells a story and portrays important people and places to the local Indigenous community. Atheleen's mural depicts the story of two people who were turned into dolphins as punishment for doing wrong and had to prove they could do good throughout the sea, while Valma's mural pieces together the journey to the ocean from inland, and the native flora, fauna and landmarks that connect the six traditional family groups of Esperance.
Leafy Sea Dragon Dreaming
Artist: Jennell Reynolds
Location: Bay of Isles Leisure Centre, Black Street
Traditional Foods
Artist: Jennell Reynolds
Location: Esperance Health Campus, Hicks Street
Sunset Dreaming
Artist: Jason Dimer
Location: Esperance Health Campus, Hicks Street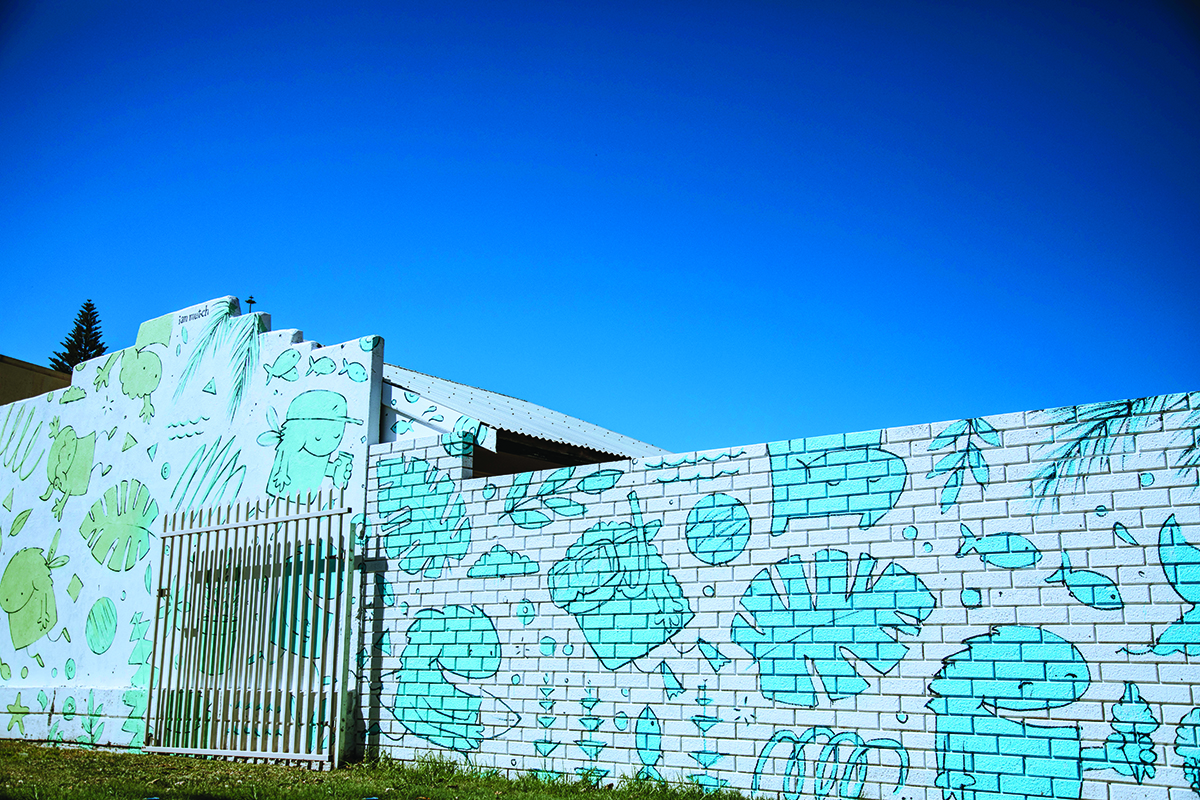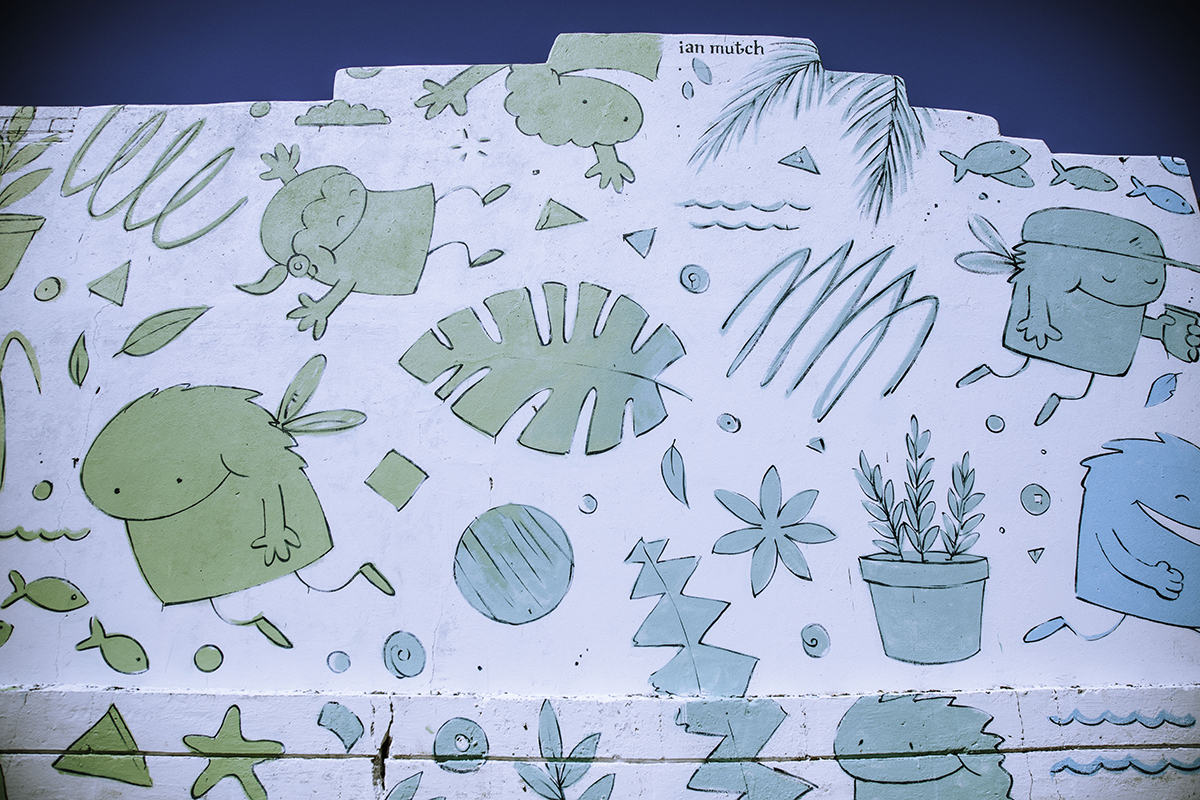 The Good Vibe
Artist: Ian Mutch
Location: Total Wellness Esperance, James Street
(pictured above)
Dunsborough-based artist Ian Mutch was commissioned by Janelle at Total Wellness Esperance to paint, well, pretty much whatever he wanted. Ian's quirky style can be seen around the state, on public buildings, beer cans, and even in the sand on beaches. Ian grew up in Kalgoorlie and used to holiday in Esperance as a kid. "I suggested painting my style of characters across the wall, using cool summer colours and portraying elements of Esperance like the beach, nature, holidays and fun times," Ian says. "My family and I were holidaying in Esperance [at the time of painting], so the mural is also a personal reflection of that." Ian also left his mark of the shores of Cape Le Grand, albeit temporarily, while visiting, drawing one of his characters in the sand. Check it out on his Instagram, @ianmutch.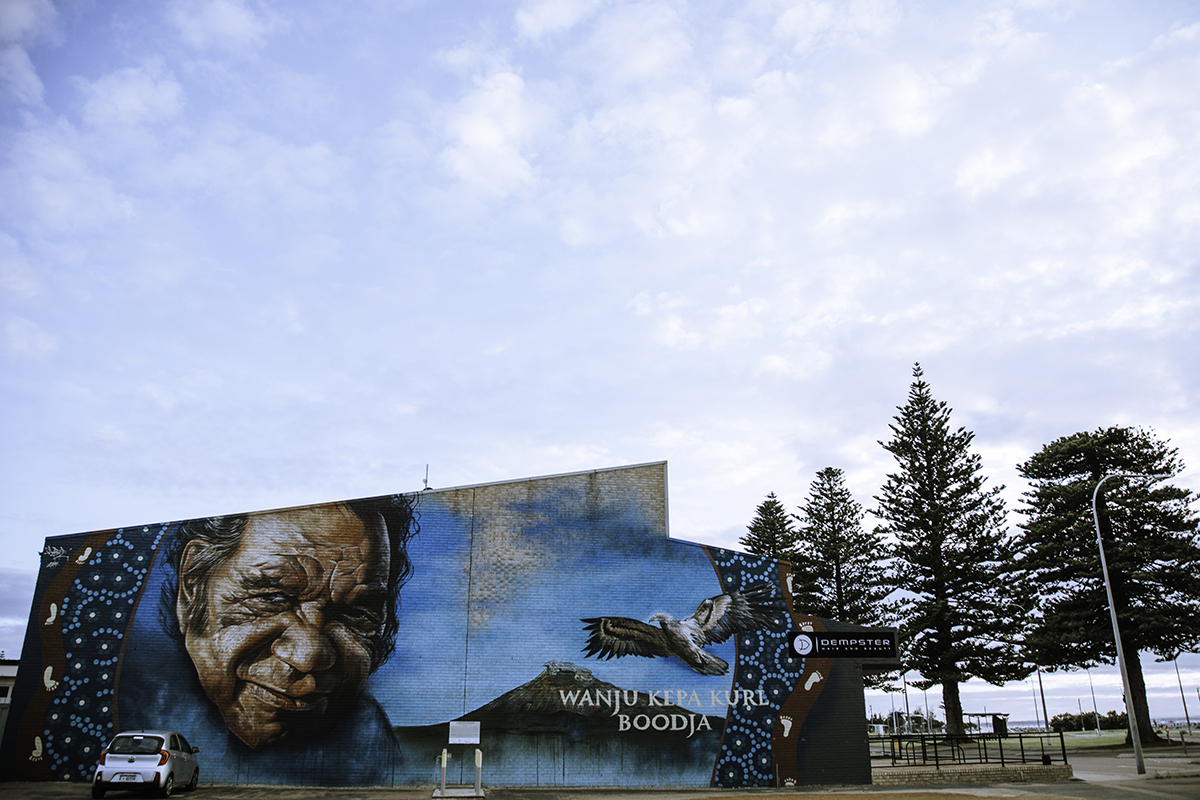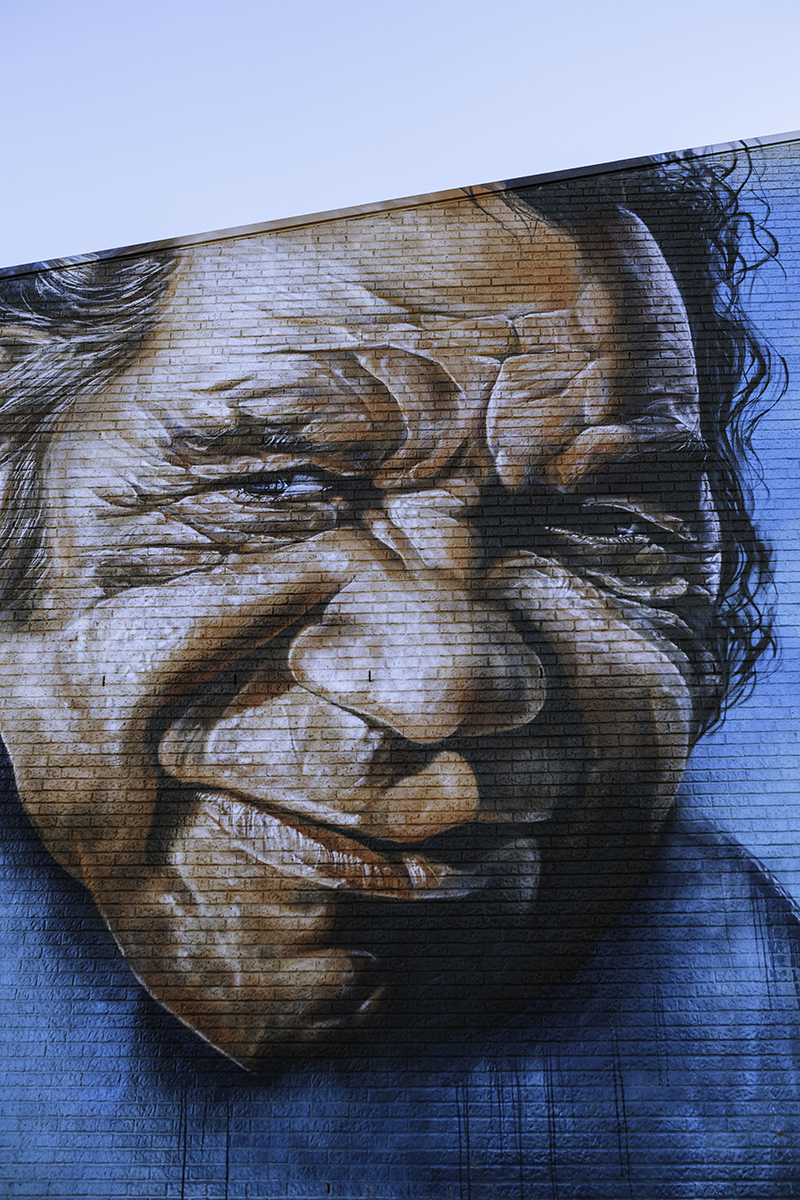 Wanju Kepa Kurl Boodja
Artist: Matt Adnate
Location: Dempster Hair & Beauty, The Esplanade
(pictured above)
This striking mural forms part of the Wanju Nyungar Boodja Welcome to Country Mural Project. Melbourne-based artist Matt Adnate (known as Adnate) painted the mural in 2019, depicting the late Tom Bullen, a highly respected local Nyungar Elder who was the lead applicant for the Esperance Nyungar Native Title Claim. The design at each end of the mural, painted by local Indigenous artist Jennell Reynolds, is a reproduction of an original painting by Julie Dabb. Adnate's subjects are often indigenous people of their native land, creating a statement of reclaiming the land that was always theirs. He is known for his large scale, spray painted work around the world. In 2019, he painted the Southern Hemisphere's largest mural, a 25-storey mega-mural on the Art Series hotel, The Adnate, in Perth. After that, we think he well-and-truly deserved to have the hotel named after him.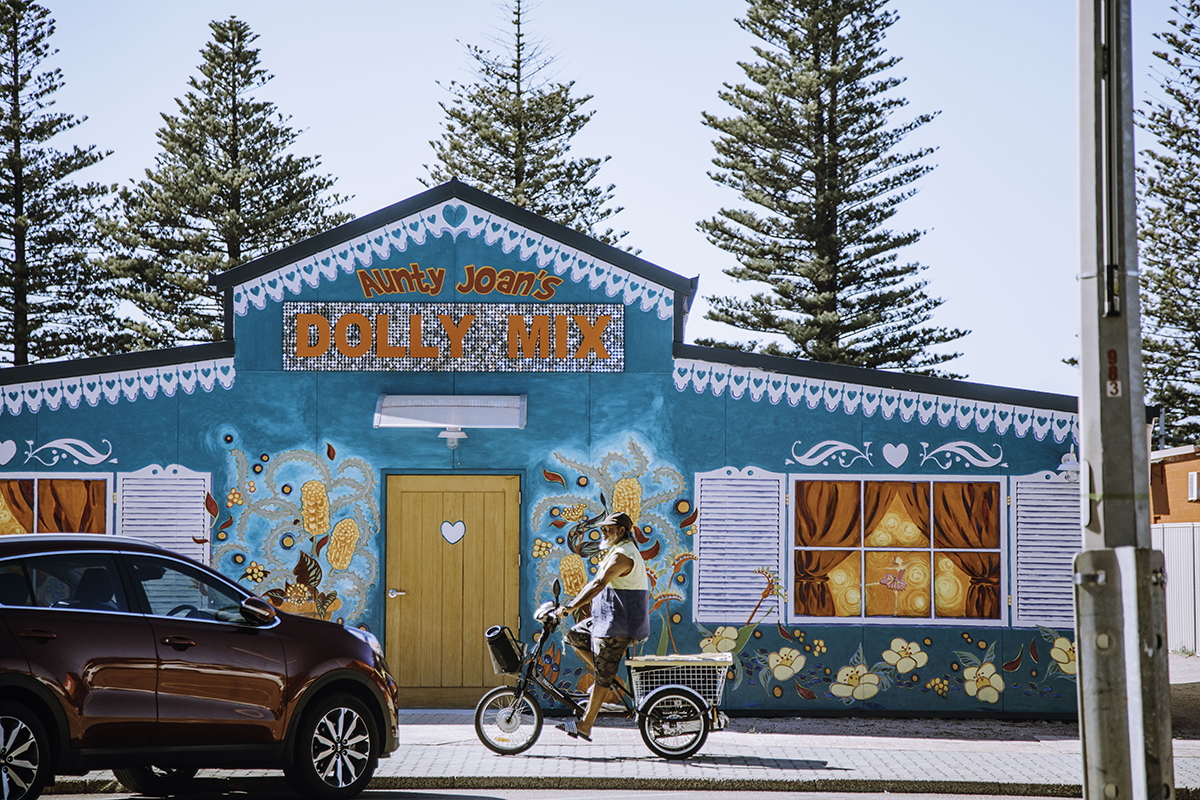 Aunty Joan's Dolly Mix
Artist: Anita Revel
Location: Aunty Joan's Dolly Mix, Dempster Street
(pictured above)
Painted to reflect the vibrancy of Esperance's natural surrounds, Anita Revel's mural on Aunty Joan's Dolly Mix is hard to miss. Anita's brief was to paint a Victorian dollhouse trompe-l'œil style, but with Australian flora and in Esperance colours. "In particular, the family wanted the walls painted the deep iridescent teal green found in the heart of the waves of Hellfire Bay," Anita says. "So, I created a custom colour to suit, which we named Hellfire." It took Anita two weeks to paint the mural, sunrise to sunset, with the exception of a couple of wash-out days, when she could do nothing but watch her morning's work run down the wall. Anita's mural is as meaningful as it is colourful. It features Aunty Joan's favourite flowers and the lacework along the apex was made from stencils using her x-rays. "There was a small sense of justice achieved by cutting into the images of the cancer that claimed her life," Anita says. Known for her murals of wings, Anita also hid a small pair of wings in the garden, for the kids and dogs that pass by. Can you see them?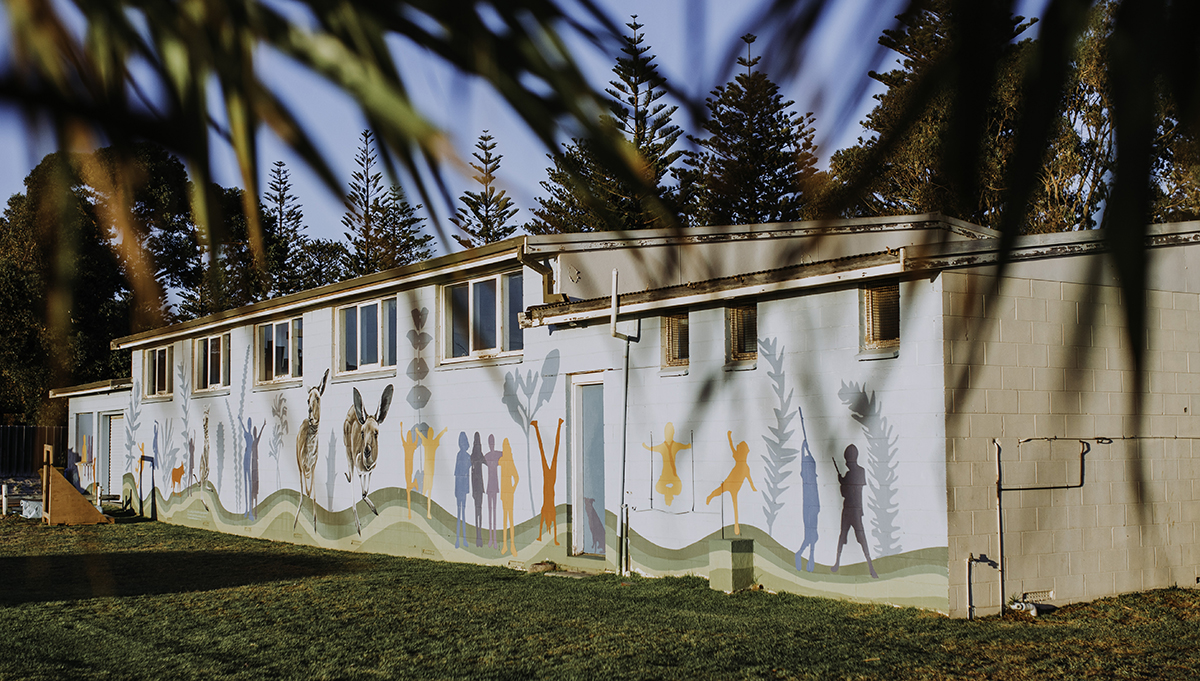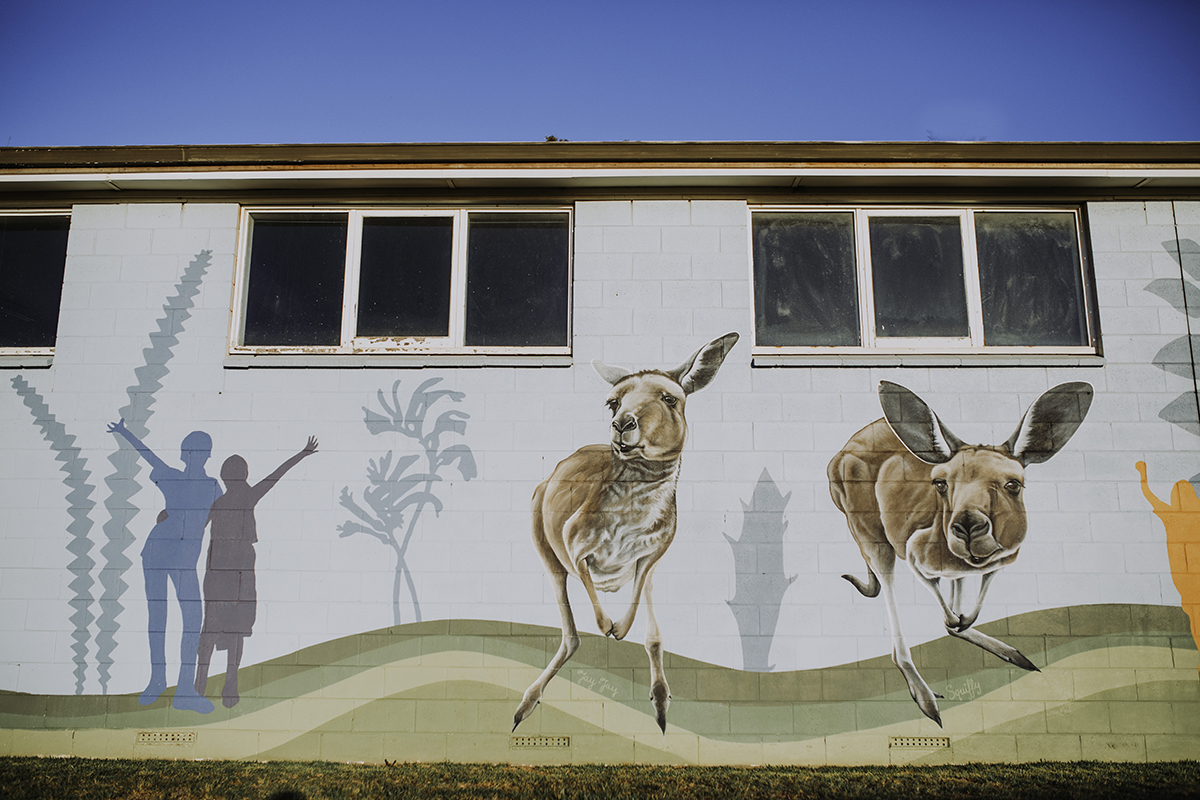 Esperance Scout Hall Kangaroos
Artist: Esti Nagy
Location: Esperance Scout Hall, The Esplanade
(pictured above)
Hungarian-born artist Esti Nagy feels a deep connection with animals and nature, and her inquisitive kangaroos on the Esperance Scout Hall are evidence of this. Painted for the 2018 Edge of the Bay, Esti used three kangaroos from Esperance Roo Haven as her 'models' and to give them the recognition they deserve, their names – Squiffy, Jay Jay and Pumpkin – can be found on the mural. Esti has painted several other murals around town, including the dreamy marine scene at the end of Andrew Street, and murals at the high school and the hospital. "Painting murals is very physically challenging, especially in Esperance where you experience a range of temperatures and strong winds," Esti says. "When I was painting the Scout Hall, I'd have full sun in the morning so the paint would almost dry on the brush and by midday, there'd be a full on south-easterly and it'd be freezing cold!
Places Around Esperance
Artist: Gail Yorkshire-Selby
Esperance Health Campus, Hicks Street
Esperance Lions Club Hospital Mural [Lucky Bay]
Artist: Esti Nagy & Pauline Bonney
Location: Esperance Health Campus, Hicks Street
If there are any murals we have missed, or a new one popping up in the area, let us know by emailing hello@esperancetide.com.