Up Next: Lou's Yume Wine Dream
Your new favourite drink for the summer.
Author: Karli Florisson
Published: January 17, 2020
The wine comes to our table in an unassuming piccolo bottle. The label is delicate and beautiful, with the word Yume written on the side, along with a Japanese character and a simple illustration of a dandelion. When I read the label, I find out this is not wine but rather 'ambrosia', made with honey. According to Greek mythology, ambrosia is a drink of the gods. It can confer wisdom, strength, and even immortality on whoever drinks it. We pour two glasses. The ambrosia is sparkling and perfectly chilled. I am expecting sweetness, but instead, it is beautifully floral, dry on the palette, with the unmistakable overtones of Esperance honey. It has a light acidic finish and rivals any really good sparkling wine that I've had before. It is the perfect drink for a hot summer's day, preferably with a view of the beach.
Yume means 'dream' in Japanese, and the wine label is the dream of Esperance local Lou Chalmer. Over a glass of Yume ambrosia, Lou tells me that she grew up here in Esperance, with parents who were scientists, and involved in agriculture. After finishing high school, Lou went to Perth to university, determined to avoid science or agriculture as a topic of study. Predictably, it was only a matter of time before Lou decided that her chosen course of journalism wasn't really for her, and she moved to Melbourne to start an Environmental Science degree. Specialising in agricultural sustainability for her honours thesis, with a particular focus on the beef industry, she found herself drawn into the world of agroecology; a little-known field of study that takes a systems approach to sustainable development in our food and fibre production systems.
Fast forward to the end of Lou's study, and she found herself wondering what she would do next. After many years in the hospitality industry, Lou decided to pursue her interest in wine. Along with some business partners, she opened a venue in Melbourne that had a strong focus on natural wines. In 2016, Lou was able to source some Semillon grapes from the Yarra Valley, and with some help from a winemaker friend, she made her first vintage of wine. Yume Wines was born. Along the way, Lou was able to talk to the owners of the vineyard where the grapes were sourced, and they agreed to change some of their practices - reducing pesticide use and growing some herbs among the vines to increase biodiversity in the area – changes which they eventually implemented throughout their whole operation.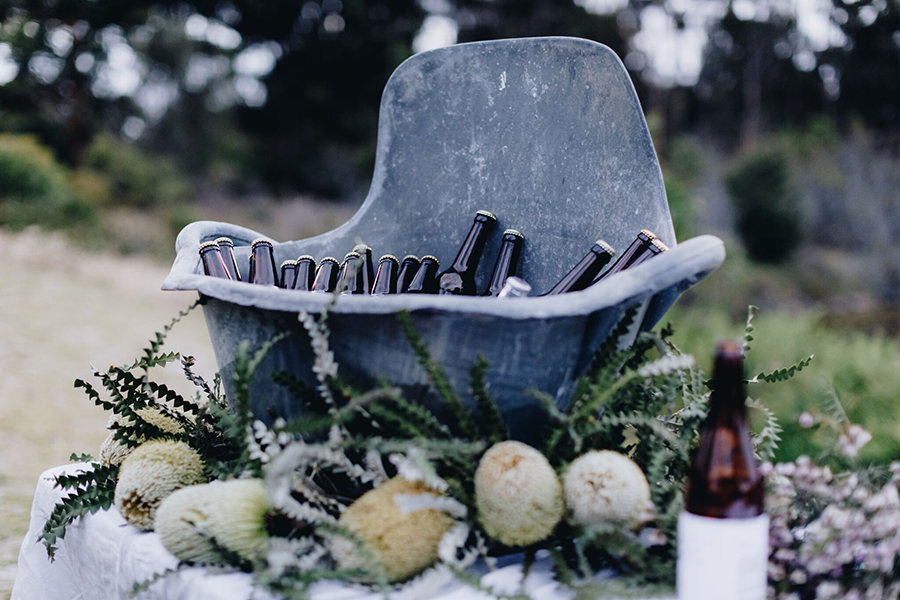 When producing wine, Lou's mantra is 'nothing added, nothing taken away.' She is passionate about pursuing natural and traditional methods of wine production. In pursuit of this passion, Lou found herself on a trip to the country of Georgia, which is sandwiched between Russia, Central Asia, and Eastern Europe. Georgia is thought to be the country where grape wine was first produced, some 8000 years ago. Traditional wines in Georgia are still made using natural methods, in giant clay pots called qvevri that are buried in the ground. Back in Australia, Lou was involved in starting up another wine label, called Analog, which utilised the traditional method of making wine in a qvevri.
Throughout this time in Melbourne, Lou says that she used to dream about the ocean. After one such dream, she realised it was time to come back to WA, so she moved back to Perth for a few months in 2018. On a trip to Esperance for Christmas, her car broke down, a serendipitous moment which lead to her decision to move back home for good. She still maintained her passion for winemaking, so she managed to source some grapes from a property in Mt Barker. These were made into a small vintage of wine under the Yume label, but with grapes difficult to source in Esperance, Lou began to think of other options.
'I've always been fascinated by local honey. Wherever you go in the world, honey tastes different.' While Esperance may not be the best place to source grapes, we have no shortage of world-class honey. Lou also points out that as with grapes, a variety of honey will be influenced by variations in local conditions, such as elevation, temperatures and moisture. She loves the way that the landscape of a local area can be magnified in the honey from that area. Lou teamed up with local beekeeper and Esperance Honey owner Kevin MacNeall, and started experimenting with a batch of ambrosia. She began with Merrit honey, sourced from the Great Western Woodlands, north of Esperance and close to Norseman. Lou also made a batch of ambrosia with local Merrit and Mort honey, flavoured with native botanicals that she has foraged from her parents' farm. This bottling is called Djilba Bushwacka. Djilba is the Nyungar word for the season 'first spring' in the Nyungar calendar, and is the first in an ongoing series intended to reflect the changing seasons.
It is obvious that being back in Esperance suits Lou. She loves the laidback lifestyle and the healthier pace of life. The Esperance community is rapidly getting a taste for Yume ambrosia, so Lou is busy keeping up with demand. Still, she continues to dream. One day in the future, there may be a venue that showcases both Esperance's spectacular honey and Yume's wine and ambrosia. Until then, you can be sure Lou will be following her passions and delighting us all with the results.
You can find Yume ambrosia at Liquor Barons, Castletown Liquor, the Pier Hotel, and Taylor Street Quarters, as well as some outlets in Perth and over east. You can also buy Yume wine and ambrosia online at yumewine.co.