You And Me Pho'ever: Vegetarian Pho
Don't you pho-get about me.
Written by: Bronte Vincent | April 09, 2018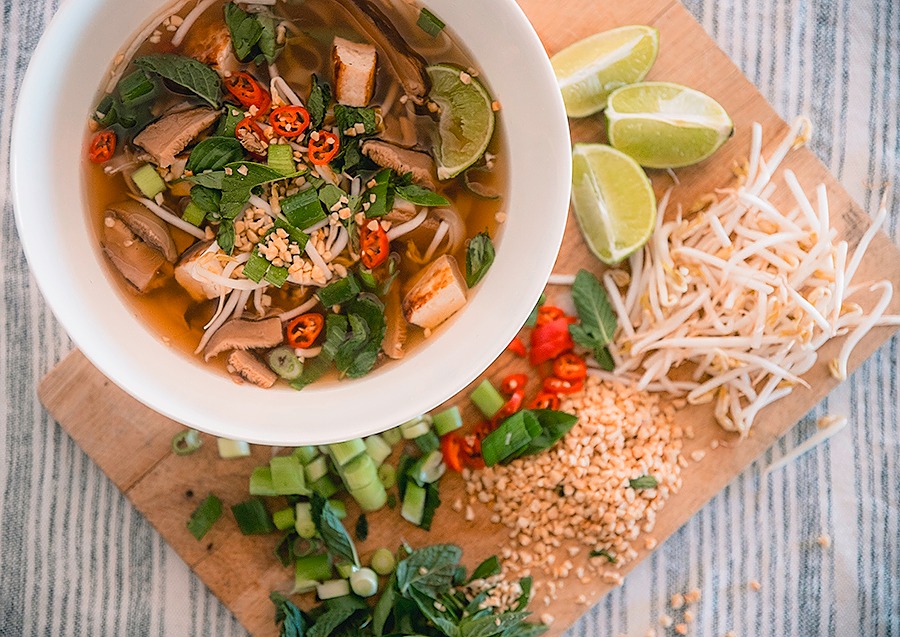 Serves 4
Ingredients
3 cinnamon sticks
3 whole cloves
2 star anise
1 brown onion (quartered)
6 slices of ginger
2 garlic cloves sliced
4 cups vegetable stock
4 cups water
4 tbsp soy sauce
2 tbsp rice wine vinegar
1 tbsp olive oil
Salt & pepper
Packet of rice noodles
Shiitake mushroom, thinly sliced
Firm tofu, cut into 1cm pieces
Bean sprouts
Fresh basil
Fresh mint
4 spring onions, thinly sliced
4 lime wedges
2 chillies, thinly sliced
Crushed peanuts
Method
To make the broth, warm a medium sized pot on the stove. Add the cinnamon sticks, cloves, and star anise and toast until fragrant, stirring occasionally.
Add the onion, ginger, vegetable stock, water, soy sauce, vinegar and bring to boil. Season with salt and pepper to taste. Simmer for 30-50 minutes.
Meanwhile, prepare the mushrooms and tofu by pan-frying each separately in olive oil. The tofu should be crispy and the mushroom should be tender (this isn't Sunday breakfast).
Prepare your noodles according to the packet. I prefer the thicker kind.
Once the broth is finished cooking, strain out the solid ingredients with a kitchen sieve or a strainer. Season it with extra soy sauce and/or salt to your liking.
Divide the noodles across 4 bowls. Ladle the broth into each bowl, add the mushroom and tofu. Now the fun part - garnish with bean sprouts, basil, mint, spring onions, peanuts, chilli and a lime wedge. If you like it spicy, add a bit of Sriracha sauce.
Serve immediately, with chopsticks and soup spoons.
Photography credit: Lucy Vincent