Five Minutes With: Ash Grunwald
See Ash live at the Cannery Arts Centre on May 22.
Author: Kyron Smithson
Published: May 14, 2021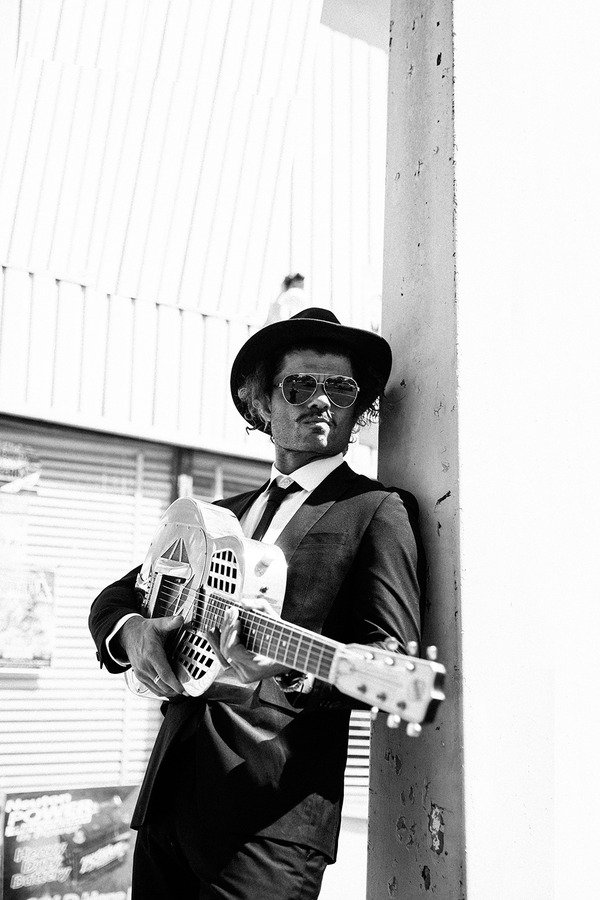 Ash Grunwald has just signed off on rolling with a Q&A for Esperance Tide, and I'm staring at my computer attempting to find a line of questioning. I realise quite quickly that beyond listening to his music, I don't know a great deal about Grunwald. I hit his website, dive into his blog, ideas and understanding begin to flow. Cole Bishop, The Cannery Arts Centre and Kyza Presents are wrapped to see Ash return to Esperance to perform at the gallery on Saturday 22 May, supported by James Abberley and local lad Scotty Timmins.
Thanks so much for taking some time out for the Q & A, Ash. What is the greatest thing about being able to return to touring?
I have just loved returning to touring. I've been playing a lot of smaller venues and finding new venues! I'm back to my old solo show so it's actually how I started touring and I've come over to WA many times in those early days and came to Esperance in those days, so it's good to rediscover that. I've found some new surf breaks as well, met some people I've known for a long time, new people… It has just been a really good time. And of course, the best thing of all is I get to make a living because without that it stops. Without gigs, musicians have to get day jobs.
Live shows in Esperance on the other side of lockdown have been momentous, with a sense of gratitude rippling through the performers and audience. A few shows into your tour, do you feel a palpable change in the crowds' reactions?
100 per cent! I concur on that experience of live music, there's jubilation in the audience and it's just such a wonderful thing. It sounds like a cliche but it feels like there's almost a love in the room, an excitement and a warmth that was all missed and it is culpable - that's a well put question. It's just been fantastic and shows the hole that's been there.
For many people, the pandemic lead to fear, procrastination and inactivity. Do you have any practical advice on how to break out of this mindset?
Oh, I love that question! Yeah, I mean that lockdown my advice would've been you need to be using it as a time to turn it into a silver lining, whatever that is; getting fit, learning a new skill, retooling in your work. For me, I was working really hard in lockdown because I had to try and figure out a way to make money at first (laughs). I was doing online teaching of guitar and vocals, I was doing online gigs on zoom and later I was doing concerts on YouTube that were ticketed and so I learnt a lot in that area. I think my best advice is the advice I gave when I was panicking and thought that I might even lose my house which was; 'you can't focus on the external event and wish that it was different because it's out of your control so focus on the things you can change'. For me, that helped me focus on adapting and finding solutions to my current situation. I was one of the first people to be doing the online gig thing and then when it went back to traditional touring I was one of the first out to get touring because I just believe you have to stay open and act; there's always something you can do, keep acting, keep doing things until there's nothing left you can do. I think a lot of people will have found out of this time that we never would've chosen that they found some amazing silver lining which has become a cliche of the lockdown, a silver-linings.
Could you give us an insight into a moment that you feel was pivotal for your career?
Probably Port Fairy Folk Festival in Victoria which is a good festival, it's about 20,000 people and there was just this real excitement about the gigs - it might've been 2002. It was very much about selling CDs live at that time and the gigs were just ultra-exciting with young
people just getting into it and with me being a blues player I wasn't used to that but I'd connected the roots scene thanks to John Butler, Xavier Rudd and The Waifs and whatnot was going crazy, it was just firing up actually and I was there doing my thing and I got swept up in it. I was very, very fortunate. I just remember that Port Fairy Festival where everyone was packing into the festival and the stages that I was playing and we were selling a lot of CDs, 100 or more after the gig, it was just very exciting.
The last time you played the Cannery Arts Centre you ran a fairly extensive live rig, up to 14 channels, you have drawn that in for the upcoming May performance. What influences the various live setups you use solo?
Ha! Yeah - and I've had a lot more extensive set-ups than that as well. Now I've gone back to a very basic set-up. I use a lot of different guitars, it's more about using different guitars for interest, but I sit on a wood skin Cajon drum that just gives me naturally if you hear it in a room, gives you kick and snare and just that, one vocal, no distorted vocal, just the songs and the guitars - that's that. And that really came out of lockdown sitting in my studio doing songs for people and just really want to keep that vibe.
Analogue vs Digital in the live sound realm?
Analogue vs Digital in the live realm, wow. I have done a lot of digital stuff in that past, maybe that was like that last time I came to Esperance [but] at the moment I'm very analogue and loving that. But I do oscillate and every five years digital improves so sometimes it's really hard to tell the difference and other times the difference is really obvious. I'm not dogmatic to anything when it comes to analogue vs digital and I'm intrigued by new gadgets but it's just interesting that I've found myself after 20 years of experimentation back at analogue.
Who are you currently listening to?
I'm mainly listening to The Teskey Brothers actually when I jump in the car and a guy from America called Son Little who is amazing. I'm starting to admire people who have more vocal control, for years I've been known to having a big vocal but I don't think I've used the instrument as precisely as I could and that's something I'm trying to learn and I feel like the younger generations have that a lot. They have a lot of vocal control that comes from listening to more pop music so I think I could learn something from those guys. I'm trying to incorporate a little bit of that in but can you teach an old dog new tricks? I don't know [but] I'm trying to learn a few new tricks.
Over your career, you have played on multiple, diverse line-ups. Across that time, name one act that you were not aware of that blew you away with their live performance.
Last night I did a gig at a little bush theatre where the first gig was sold out, we did two gigs. The first one, I was supported by an eleven-year-old kid who shreds on the guitar like you've never heard before and his name was Taj Farrant - that blew me away. Then there was a folk/ country blues guy called Brandon Dodd after him who, in a more acoustic way, with beautiful songwriting, knocked my socks off again. That was twice in one night. But most support acts I have these days just - they all blow me away. There's so much good music coming through in the younger generation.
How has putting aside alcohol impacted your songwriting?
It's probably not a coincidence that quitting alcohol coincided with a bit of an uptick in my life and an uptick in my career. It allows me to not wake up with a hangover, allows me to channel my efforts into the things I want to do and obviously I don't have to have the guilt about being smashed at night, y'know, which is never great but it's easy to fall into that pattern when you're someone who lives just touring a lot, gigging, even in the surf scene - I surf a lot. It's sort of in all of our scene, in all of our Aussie culture, in a lot of cultures - it's just everywhere. Alcohol, alcohol, alcohol. For me, it's easier to just make a clean cut and just cut it out of my life rather than just try to always moderate and it's just something I don't need to think about. I don't mind people getting on it at my gigs and having a good time and I don't have any opinions on anyone else but for me, it allows me to be focused and just really enjoy my music a lot more.
Favourite track from your latest album Mojo and Why?
My favourite track on the album is 'You Ain't My Problem' because I was lucky enough to get The Teskey Brothers to sing on that and play on that which was amazing. I ended up doing an album with Josh Teskey after that called 'Push The Blues Away' so it started a really cool project. There's another song Josh [Teskey] sings on called 'Waiting Around To Die' which is a Townes Van Zandt song and Joe Bonamassa plays a guitar solo on that, that's pretty amazing if you think of those two talents together and guesting on one of my songs.
What can we expect from your May performance at the Cannery Arts Centre?
May 22 will just be a fun, warm time. I'll be playing solo, doing a lot of bluesy stuff, doing stuff from my whole career - I've got some brand new songs that I'll be playing from an unreleased album that should come out early next year or late this year and also songs from the album with Josh Teskey so it should be a fun time!