Hope FM's Radio Reading Program
Hope FM recently started a Radio Reading program, intended to bring print materials to listeners who might struggle to read these materials for themselves.
Author: Karli Florisson
Published: August 19, 2020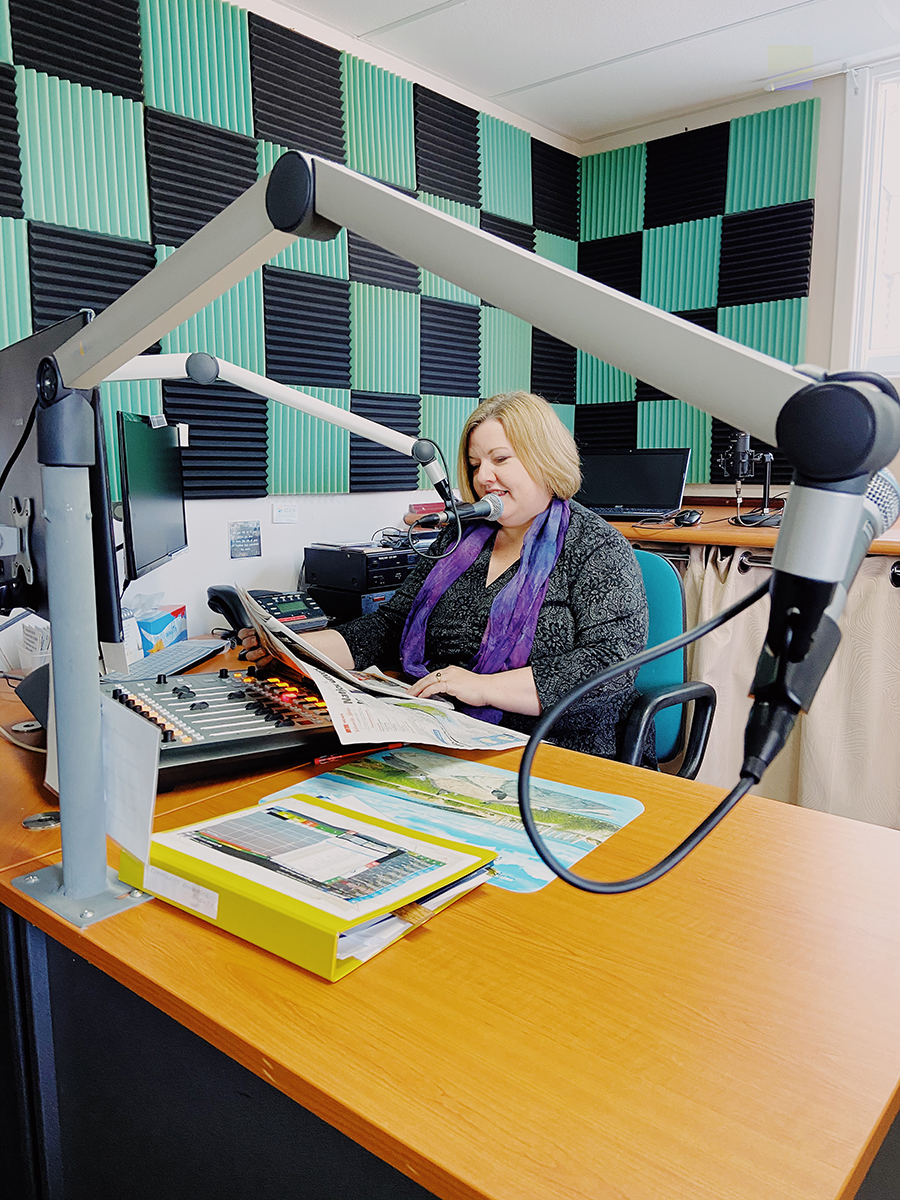 Hope FM was started in 1997 by a small group of Esperance locals. Their goal was to have a local community radio station that provided positive, encouraging family-friendly content. Since that time, a range of volunteer broadcasters have provided local content to their dedicated listeners. For many years, the station was supported by Perth radio station Sonshine FM, which was streamed whenever local broadcasters were off air. Since 2019, Hope FM has transitioned to a fully locally programmed broadcast.
Meredith Waters joined the Hope FM team when she was working down the hall, and she and a friend decided that it would be fun to have a lunchtime radio program. The resulting program, which aired on Fridays, was called 'Girls Just Wanna Have Fun.' In 2016 Meredith joined the board of Hope FM, and in 2018 she became the volunteer manager of the station after previous manager Rob Griffiths retired.
In recent years, Meredith and the team at Hope FM have been looking for ways in which the station can engage with the local community. 'We have been asking the question "What is missing that the station can provide?"' says Meredith. One idea that came up was a radio reading program. The team connected with RPH Australia, an organisation which was founded in 1978 with the goal of providing access to printed materials for people who otherwise cannot access them, due to vision impairment, disability, or any other reason. RPH Australia helped Hope FM to set up their own Radio Reading program, which began in 2018.
Meredith and fellow broadcaster Tina McCaskill started out by reading articles from the Esperance Express and the Esperance Tide. 'I'm proud to say that we haven't missed a week,' says Meredith. When the Express ceased production this year due to COVID 19, the team switched to reading Esperance related content from the Kalgoorlie Miner, and they have now also started reading the Norseman Newsletter. 'There are certain protocols that we have to follow to make sure that people get the same experience as reading a print article,' explains Meredith. 'We have to read the article or story in full, and include the author and publisher. We also have to read in such a way as to not change the meaning of the piece.' The Esperance Library has provided support for the program, allowing them to add the 'Radio Reads' program, featuring a story, 'for the young and the young at heart.'
The feedback for Hope FM's Radio Reading program has been great. As well as people who are not able to read for several reasons, Meredith says that they have also had good feedback from the rest of their listeners. 'It turns out, people just really enjoy being read to.' Kim Brenton is the station's longest-standing volunteer, with twenty-one years of broadcasting experience at Hope FM. Kim also works in the disability sector, and he agrees that the Radio Reading program is important for the Esperance community. 'It's really great to have this resource available so that people who otherwise might not be able to can listen to stories and articles.' There are now nine regular readers on the Radio Reading team, as well as guest readers. 'During COVID, we actually had two people from over east volunteer for this program,' Meredith says. 'They are now reading books for us which will be played as a serial.' The team has done special features, such as reading a story called 'The Little Girl' for Remembrance Day.
Along with their local reading content, Hope FM also presents three programs from Vision Australia Radio, a station for the vision impaired. The station is continuing to expand their repertoire, with programs such as the Country Hour, a program featuring current music, TED Talks, and a regular segment from local Jen Ford about Esperance birds. They even have a regular program called 'The Edge Downunder', featuring rock and heavy metal, as well as discussion about gaming and movies, from two local broadcasters. The station provides training for people who are interested in having a go at broadcasting. Veteran broadcaster Kim encourages people with an interest in radio to give it a go. 'It's a really great thing to be involved in. I feel like I'm a part of the family here.' As for Meredith, her goal is to continue the station's connection with the local community. 'My dream for the Radio Reading program is that one day we will have a program that features books about Esperance as well as books by Esperance authors.'
Listen in to the Radio Reading Program on Hope FM 103.9
Esperance Radio Reading Program: Every Wednesday 10-11am and 9-10pm
Radio Reads for the Young and Young at Heart (Supported by the Esperance Library): 7pm Tuesday, 4pm Thursday and 8am Saturday
Love to Read Local Podcast (Fremantle Press): Thursday 1pm
Vision Australia Radio programs for vision impaired and those unable to access print material also air on Tuesday at 9pm, Wednesday at 2pm, Thursday at 9pm, and Sunday at 2pm