Meet the Artist: Jasmine Lewis
We caught up with the creator of All That Jas.
Author: Esperance Tide
Published: January 05, 2021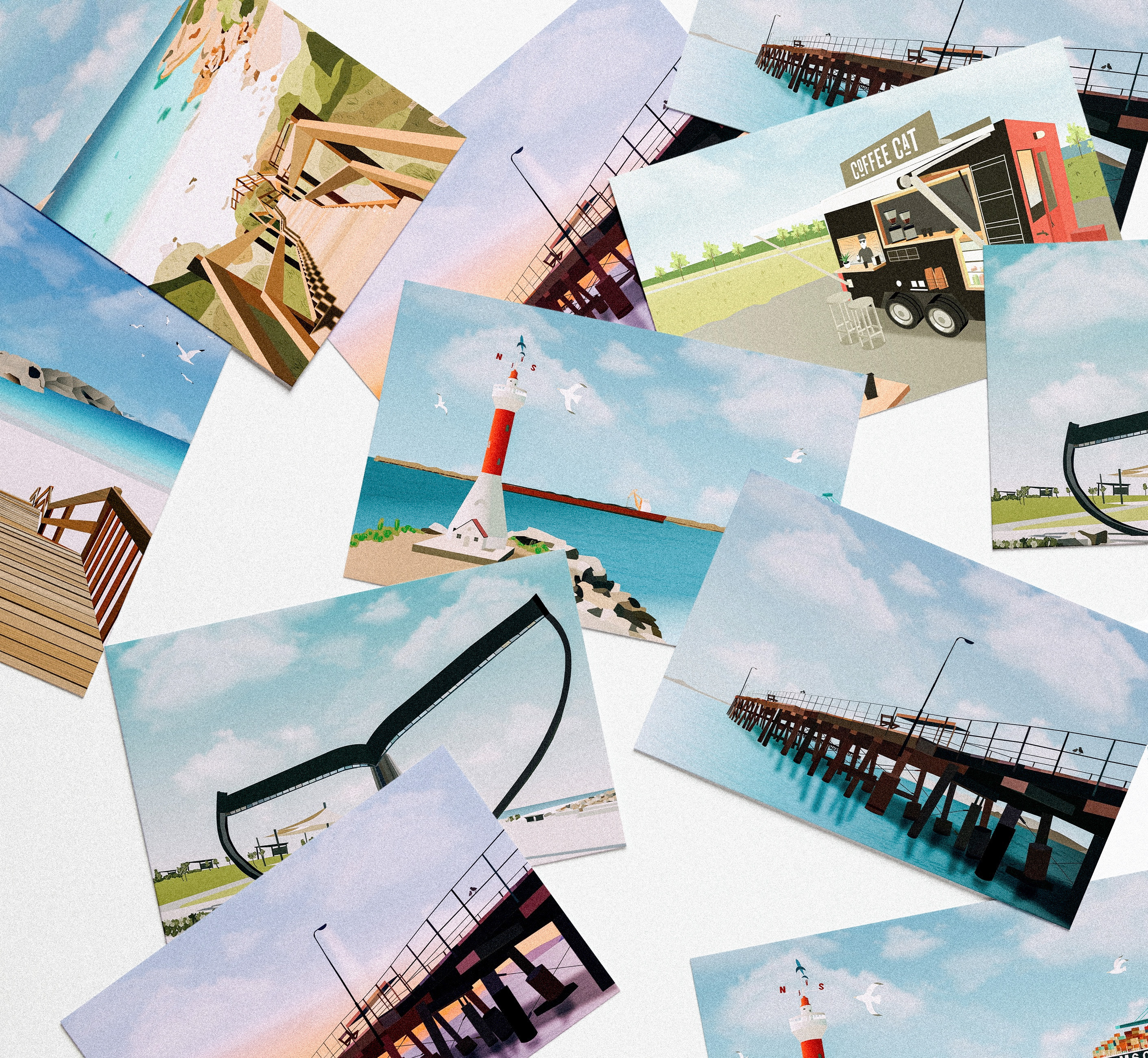 Graphic designer and digital artist Jasmine Lewis grew up on a farm smack bang in between Gibson and Scaddan. During the 2020 lockdown, she created a series of unique digital illustrations of her favourite places in Esperance, including Twilight Cove and Blue Haven. Jasmine has lived in Perth for the last five years. When she comes home, you'll find her at Coffee Cat, sipping on an iced coffee.
Tell us a little about yourself as an artist.
I still find that so bizarre that you've called me an artist! I did design as an ATAR subject at high school, but I guess I didn't start creating 'art' until recently. I'm probably what you'd call a digital artist, as all my work is created on my laptop or iPad. I'm an artist that reflects what is around me and has a meaning to either myself or my clients. My style is always changing depending on different techniques I learnt or colours that are on trend. I've never been one to hand draw on paper. There's a lot more flexibility and creativity with digital art as you can continually change colours or textures.
What was the inspiration behind the series of digital illustrations you created in 2020?
To say that I was inspired to do this is an understatement. When our good friend COVID came to WA, I lost all my days at work and moved back home to live with my family. I was at my lowest in terms of motivation and didn't create anything for weeks as I felt I didn't have the purpose to. It wasn't until the Shire of Esperance posted a competition to enter locally crafted art reflecting the town and our community to be featured in Yagan Square. That's when I created my first print of Twilight Cove. That got such an amazing reaction from the public and on my social media, so I just kept going and made my way around Esperance and here we are. That completely sparked all this inspiration and I haven't been able to stop since. I think lockdown was the creative shake up that I needed. It's been a great escape for my creativity and allows me to experiment with different skills.
These illustrations are unique. How would you best describe them?
They're known as digital vector illustrations, which basically means it's a bunch of points, lines and shapes created to make an image. They reflect my childhood and the places I've grown up around. As my drawings have evolved, I've moved onto the next chapter – Perth drawings, because that's where I've been living for the last five years.
The process of creating these prints looks painstaking. Talk us through the process.
Yes, you couldn't be more correct about that! Painstaking is exactly what it is, but the outcome is so worth it. Each print varies. I used to do them on my laptop which would take anywhere between three and eight hours, but now I have my iPad the process is a lot faster and I have a bit more freedom and can experiment more with styles and brushes. Basically, I get a reference image of what I want to draw and study the lines, points and shapes that create the image. So, if you really think about it, all the stairs in my illustrations are just lots of rectangles put together and are differentiated by colour and texture. Netflix is an absolute must when it comes to drawing so I don't go crazy or lose motivation.
Can we expect to see more of these illustrations in the future?
Absolutely! Working full time and being hectic in the city means I don't get to pick up my laptop as much as I used to in lockdown, but I have a lengthy list of places I want to get around to drawing. I have a heap of images from Japan and America I would love to get to one day and create a travel book for myself. But hey, if the people of Esperance would like a particular iconic spot in town done, let me know! In the future I'd love to do custom illustrations for businesses who need fresh designs and content.
Do you think growing up on the land encouraged your creativity?
Yes, I'd absolutely say so! Growing up on a farm we had so much freedom and were completely left to our own devices, which probably paved the way for a creative mindset. My mum was also a graphic designer and quite the painter, so I managed to pick up a lot of that. Days off were always spent painting whatever we could or wandering through the backyard looking for inspiration. I had far too much spare time during lockdown and found myself illustrating pieces of the farm. I never imagined after living on a farm for most of my life I'd turn into a creative but here we are.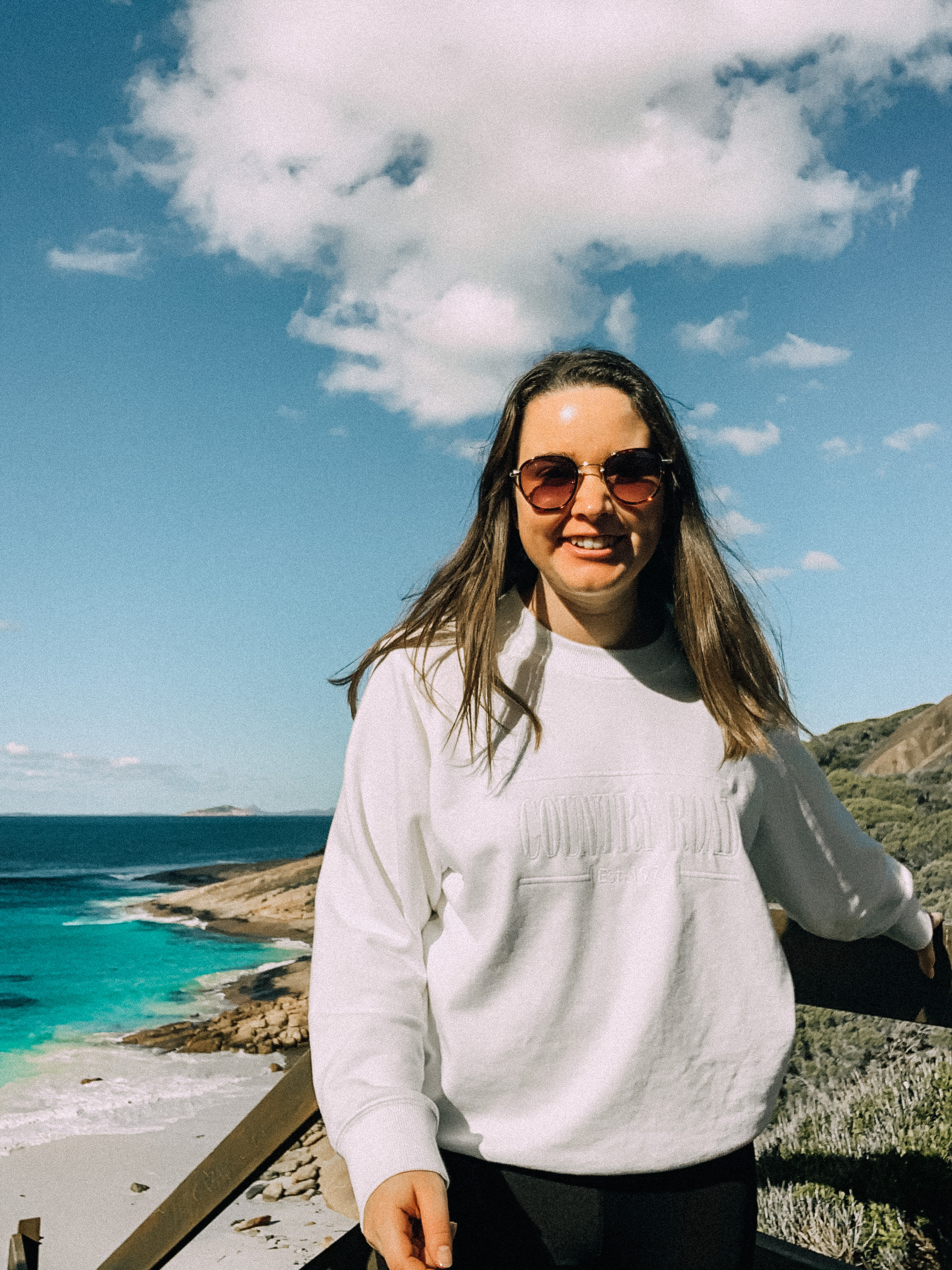 You finished uni in 2019 and already have an impressive resume. What's been a career highlight to date?
In terms of my design and illustrations, a career highlight to date was the fact I managed to get organised enough and launch my Esperance prints! The support I'm receiving is so overwhelming and I'm glad our small town appreciates them. In terms of my 9-5 corporate job in Perth, I work at a development firm, Cedar Woods Properties, where I had the rare opportunity to design and do the branding of new town homes we're building on the Mandurah Foreshore. That was everything from logo, to website and a billboard! But if I'm to be completely honest, it did all start with my work experience gig here at Esperance Tide! Bronte taught me the basic skills and knowledge of the industry, as well as giving me the confidence to jump into the design world and helped pass my name onto many people! I've done a few local farm logos, helped design Cindy Poole Glass Artist's newest recycled collection and the team at Coffee Cat!
You've also completed several internships with creative studios in Perth. Any highlights? What about challenges?
A massive highlight for me was getting an internship at Block Branding. Almost everyone reading this will have no idea who they are, but they're known for the Freo Dockers rebrand and Otherside Brewing, amongst a lot of other branding work. The amount you learn just by being immersed in a creative environment like that is very inspiring and motivating. A massive challenge is almost always having self-doubt about your own work and design, and wondering if you'll ever be good enough. But you're there to grow and learn and they all tell you it takes time. Block Branding is a studio I've always admired and to get the opportunity to intern there and work beside the creatives was such a special time. The ideas they have and the way they're paving themselves in the Perth design industry is what makes me want to become a better designer and push myself harder.
What would your advice be to someone wanting to turn their passion into a career in the creative industries?
Take any opportunity you can get! I feel like a lot of my work started out by doing logos for small businesses and then someone passes on your name and suddenly your name is getting thrown all around town for work! I took whatever design job I could find on Seek and it turns out there are so many connections in the creative industry in and around Perth. Esperance and Perth are very small places where everyone knows just about everyone so it's easy to get work. I'd say the design industry is one of the friendliest industries out there, where we all want to help each other out! Also creating an Instagram account and posting all your creative work on there to slowly create your own brand and form your own style helps you to get noticed. A website is an incredible asset to show off your portfolio and act as a digital resume for businesses.
You spend your time between Esperance and Perth. What's your favourite thing to do when you come home?
I hardly ever go to the beach in Perth because, as we all know, nothing quite compares. You'll almost always find me at Twilight Beach or catching up on all the ice coffees I've missed at Coffee Cat.
What are you hoping to achieve in 2021?
I don't have any exact goals yet set for 2021 but I am excited to try new design techniques and styles. I hope to dive into a few branding projects and I'm excited to see where my illustrations will take me and what kind of opportunities they will present. I just want to keep growing my brand and business, as well as commit to my corporate work, which presents exciting opportunities all the time. In saying all this, if you asked me pre-COVID what my goal was in 2021, I would most likely be saying interning in New York City… That's the dream one day – I'll just keep saving for now!
Lastly, tell us where we can get a hold of your work!
I have an online store at allthatjas.com.au and new work gets posted on my Instagram @allthatjasdesign