One Hive to Thriving Local Business: Esperance Honey
Kevin Macneall's passion for bees started almost by accident when a swarm took up residence in the wall of his house.
Author: Karli Florisson
Published: July 07, 2020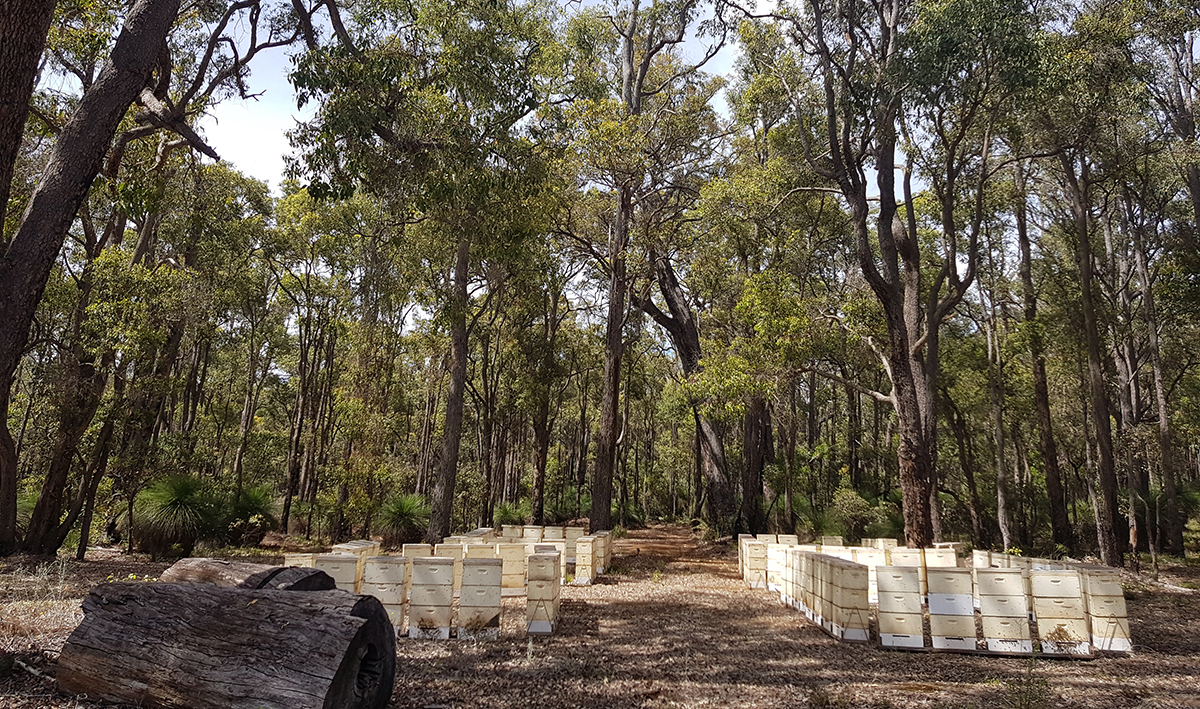 Kevin Macneall never intended to become a beekeeper. His passion for bees and honey started almost by accident when a swarm of bees took up residence in the wall of his house. With the help of his friend, beekeeper Vince Evans, Kevin cut the bees out of the wall and put them into a box. This became his first hive and sparked off an interest that would become the thriving local business Esperance Honey.
Albany born and bred Kevin was originally a fisherman. He never imagined that he would do anything for a career that didn't involve the ocean. 'I loved fishing, and I thought I'd always be a fisherman. I didn't ever want to do anything else,' explains Kevin. He moved to Esperance to be a part of the fishing industry here – and because he loved the local beaches and environment. When a virus came through the Esperance pilchard stocks, decimating the local pilchard industry, Kevin knew he had to do something else. With his friend Vince retiring, Kevin bought his stock of beehives. He then bought out another Kalgoorlie beekeeper, who was also retiring. He set up his hives on some farmland near the edge of Stokes National Park, and Esperance Honey was born.
Kevin started out selling his honey locally, in a few shops, and at the markets. Soon, he found he had too much honey for the Esperance market, so he started selling to buyers in Perth. Esperance Honey is now a thriving business that employs two full-time staff, Jeremy Black and Tyler Boon. 'We have five kids in school between us,' says Kevin, 'and I think we make a significant contribution to the Esperance community.' They are kept very busy taking the bees to different areas where there are flowering plants. The well-travelled bees are located in places as diverse as Balladonia, the Goldfields, Manjimup, Denmark, and Cascades. The different types of flowering plants strongly affect the taste of the honey, giving interest and variety to the end product. From Mallee fields to banksia, redgum, and many other types of native Australian plants, the honey is as distinctive and interesting as the landscapes that it comes from. And the pure, high-quality honey is very popular. These days, Kevin sells to private packers in Perth, as well as the well-known Wescobee and Capilano honey brands. He even ships some honey to buyers in Adelaide.
As well as his honey, Kevin is particularly proud of his bee breeding program. Kevin is a member of the Bee Industry Council of Western Australia and is involved in the Better Bees breeding program. This program sees apiarists from around the state send their best bees to Rottnest Island to be reproduced. Kevin explains that Rottnest Island was chosen because they do not have any feral colonies, which helps them to keep the bees' genetic strains pure. Bees are selected for the breeding program based on productivity, temperament, and even colour. They also choose bees that have more hygienic behaviours in the hive, which gives them a better chance of fighting off diseases that they might encounter. The breeding program has resulted in significant improvements in Kevin's stock, which are recognised by other beekeepers as being of particularly high quality. Due to the success of this program, Kevin now breeds bees for sale, selling stock to beekeepers around the state. The improved temperament of the bees also means he gets stung less these days, which is a bonus.
Alongside his passion for the bees, Kevin loves the unique and spectacular bushland that surrounds the Esperance area. He spends much of his time travelling in the bush, often camping out for days with the hives in different areas. Kevin has been saddened by the recent bushfires that have severely impacted the bushland around Esperance. He speaks sadly about seeing 200-to-300-year-old trees burnt in the Great Western Woodlands, and of the terrible impact on native species of plants and on wildlife habitats. Kevin has also seen the effects of diseases such as dieback on native plants around the native areas, and he holds concerns for the future of our bushland. Kevin is a passionate advocate for the protection and conservation of these incredible wild ecosystems. He hopes that with proper management, the bushland affected by the fires will be able to regenerate, returning to its former glory.
When the bees aren't demanding his time and attention, Kevin can usually be found at the beach. A keen surfer, he loves Esperance for the surf and the beaches and thinks Esperance is a great place to raise his kids. With local producers Yume Wines now using Esperance Honey in production of Ambrosia, the business is continuing to make its impact on the local market. Kevin is proud of the high-quality local produce of Esperance Honey, and the contribution that the business makes to the local community. It certainly wasn't the career path that Kevin thought he'd be taking, but he's grateful for where it has led him. The work might be hard, but the rewards are very sweet.
Where to buy
Esperance Honey can be purchased at Bob and Jim's General Store, Esperance Supa IGA, Castletown IGA, and Pink Lake IGA.