The Burgers Are Better In Esperance
Hey hun, nice buns.
Author: Jackson Vincent
Published: May 13, 2019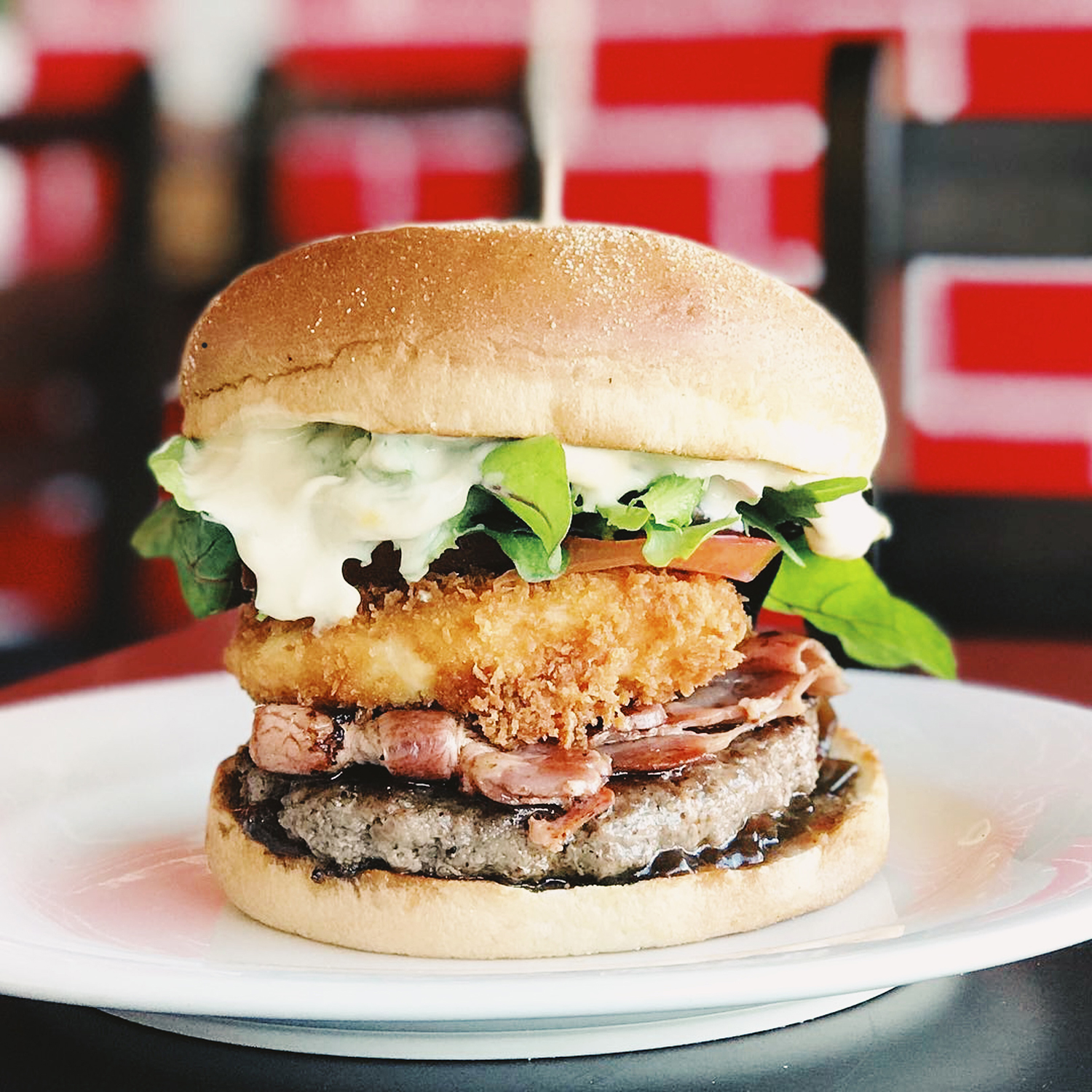 Welcome back to another food review by yours truly. First, we covered breakfast wraps, then the good ol' fashioned toastie, and now it is time for the true king of the sanga, the almighty burger, to be put to the test. What I love about a burger is that it's a real handful. There is no messing around when it comes to this culinary feast. It requires two hands to devour, and a good burger is a testament to a chef's creative prowess. While a slab of meat and cheese between two buns seems pretty simple, you might be surprised; the possibilities are endless. Strap yourself in and get ready to feel hungry!
Talk about a bloody good deal. This burger comes in at $16, and for that, you will get precisely what its name describes: a burger as big as the whole bay. This thing is a monster. You can order it at the bar, but you might need to go and hide in a corner while you eat it, so that cute girl across the bar doesn't bear witness to what an animal you are… unless of course, she's into that kind of thing, in which case go for gold, son! You need the jaws of a python just to make a start on this towering beast. The big fat patty, arguably the most crucial part of a burger, is herby and delicious. Follow that up with beetroot, onion and all the salads, and you have a winning burger that goes down well with a couple of pints from our local. Served with chips on a fancy cutting board, my only complaint is that they've taken away the Thursday special that comes with a pint. It's still a great burger for the price.
Break Away Cafe
There is something really nostalgic about this burger. Maybe it's the buns from IGA or the slab of beetroot. The simplicity of this ensemble is like the one your mum made when you were a kid because you wanted MacDonald's, and instead of enjoying it for the homemade bliss that it is, you spat the dummy because it wasn't the same. But years later, you realise what a brat you were and go to apologise but she has already forgiven you, and now you would do almost anything for one of your mum's burgers again. That's what this burger tastes like, Mum's burgers. If you're reading this Mum, do you want to do burgers this week? For $16 with chips, you can't go wrong. They have a great selection of drinks to wash it down too.
There is a lot I could say about Bob's burgers. My gut rumbles at the thought of tackling the biggest, baddest burgers in town. With homemade sauce and patties to boot, Bob isn't shy about his burgers. One of them is even called 'The Gut Buster' and to be completely honest, I am too afraid to even try the mammoth quad burger out of fear for my safety – although that's not to say I haven't been tempted. Instead, I opted for a lighter option, and I say that ironically because 'The French Connection' has an entire slab of deep fried camembert cheese. At first, I wasn't sure what to think. As the self-described 'home of comfort food', I thought this thing might just knock into a state of comatose burger bliss. And that's exactly what it did. This isn't just a meal, it's an experience! Winning Triple M's best burger award as well as my heart, Bob has definitely upped the burger game in this town. If beef isn't your thing, then he also has deep-fried chicken burgers, and while I haven't tried one yet I hear it's tasty. Anyway, enough about Bob, I'm salivating.
Aghh, my favourite place to take a date also happens to be home to one of my favourite burgers. What a coincidence. This burger is truly amazing. What separates the Quarters' burger from the rest of the pack are the buns. While it seems so trivial, these buns are made in the kitchen. They are so fresh that I often wonder if that warmth is from the burger, or did this bun come straight from the oven? So soft and crunchy and slightly sweet and perfectly toasted. Its attention to detail and pursuit of perfection makes this burger truly delicious. With caramelised onion and picturesque melted cheese, this is unquestionably the best-looking burger. While the other burgers try to knock you out with brute force, this burger is more about finesse, and I really appreciate that because TSQ has a great selection of sides to fill up on. Their unique style of crumbed chicken is also crunchy and delicious if you choose a chicken burger over beef. The other great thing about the Quarters is that you will have vegan and vegetarian options (another reason I take my dates there because you never know). I still can't stop thinking about those buns, the burger buns that is. TSQ wins the best gourmet burger in my books, and while they sit on the pricier end of the scale given the fantastic location, the price is well justified. And besides, you came here to impress your date so money should be no matter, right?
The Traveller's Inn
The Trav's wins the cheapest burger award, even beating the local fast food joints, with its massive $12 lunchtime special. With a choice between chicken or beef, this is one of my favourite lunchtime treats during the week. I mean, it does help that the burger is often served by a charming barmaid. I am a fan of the chicken burger, as they use a chicken schnitzel that hangs out of the bun like a pair of wings. Served with thick-cut chips, this is a great place to stop for lunch. For the burgers, of course.
That about sums up my Burger review. A tie between the Quarters and Big Bob's Kitchen. I am really impressed with both of these local restaurants who have created burgers that in my opinion are better than some of the burgers at gourmet chains springing up all over the city. I don't want to play favourites, but will try and strum up some rivalry for the sake of friendly competition as we strive to achieve burger perfection. The burgers really are better in Esperance!