Tide Kitchen: Camp Cooking Like A Pro
Cast iron, everything.
Author: Esperance Tide
Published: August 10, 2018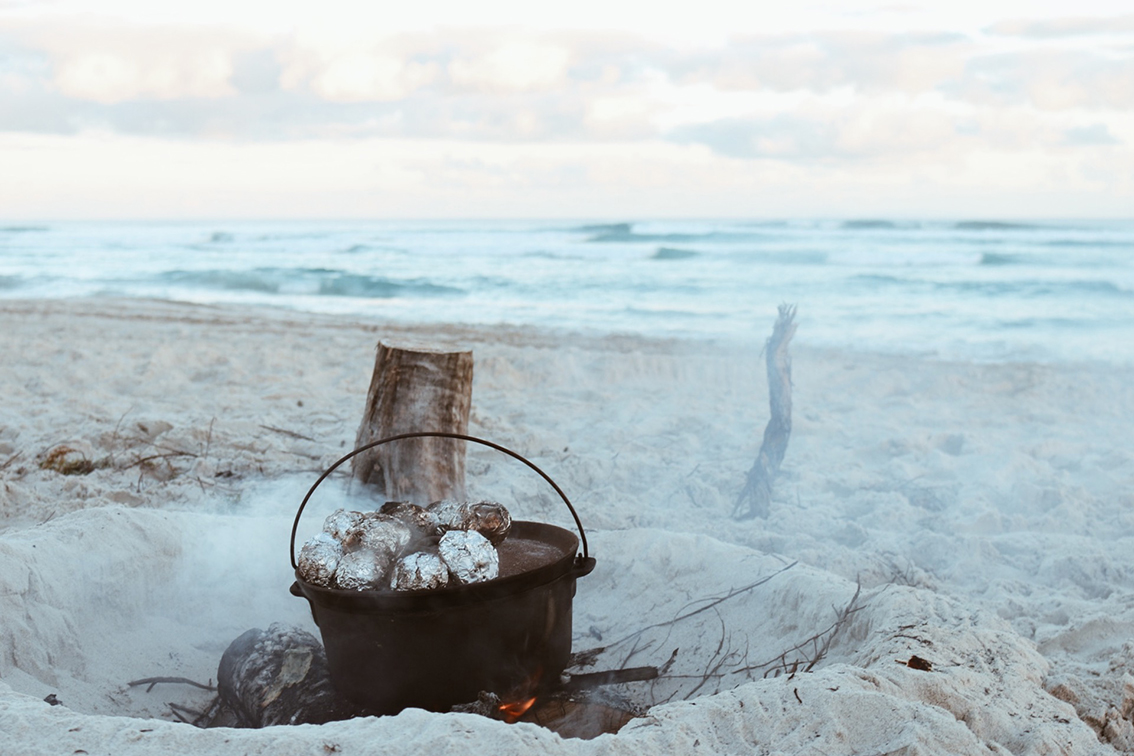 There's a lot to love about camping in Esperance. Waking up to a beach to yourself, the smell of the campfire, freshly caught fish. One would argue the best part is cooking. Here's our guide to keeping your cooking simple but with a little bit of that extra class.
Get organised
Whether you are going away for one night or fifteen, it's a good idea to have a plan for the meals you will eat when away. Research what your thinking of cooking and pick ingredients that can be utilised in more than one meal.
Emergency ingredients
Always have a backup! Make some space for these emergency extras like packet noodles, baked beans, nuts, tuna, dried pasta, all the stuff you don't need to keep cool and will last you till the end.
Your source of heat
For the traditional experience, the best pick is the classic campfire. But a trip to the tip could find you an old machine drum that can be turned into the ultimate fire pit instead. It's portable and will keep your fire contained.
Pack all the stuff
When it comes to cookware you want cast iron everything. You'll need something to boil water and something to cook toast. Some decent knives are important, a solid chopping board and don't forget a head torch. And get some reusable dinnerware, there is nothing is worse than arriving at a beautiful campsite to find discarded styrofoam plates.
Now get creative
Just because your camping doesn't mean you have to stick to the snagas and cereal. Surprise your fellow campers with a slow cooked roast, or some campfire bread and butter pudding. Grab a couple of fancy cheeses, chuck them in the frypan till they are slightly melted, add some crusty sourdough and thank me later.
What we cooked
Salmon stuffed with lemon peel, kaffir lime leaves, salt & pepper and butter
Jacket potatoes cooked in the fire then smashed and covered in sour cream and chives
Roast pumpkin with goats cheese, rosemary, walnuts and honey
Lamb shoulder slow cooked with rosemary, garlic, paprika and lots of salt & pepper