5 Minute History: Florissons of Esperance
Esperance's longest-running family business.
Author: Karli Florisson
Published: January 03, 2020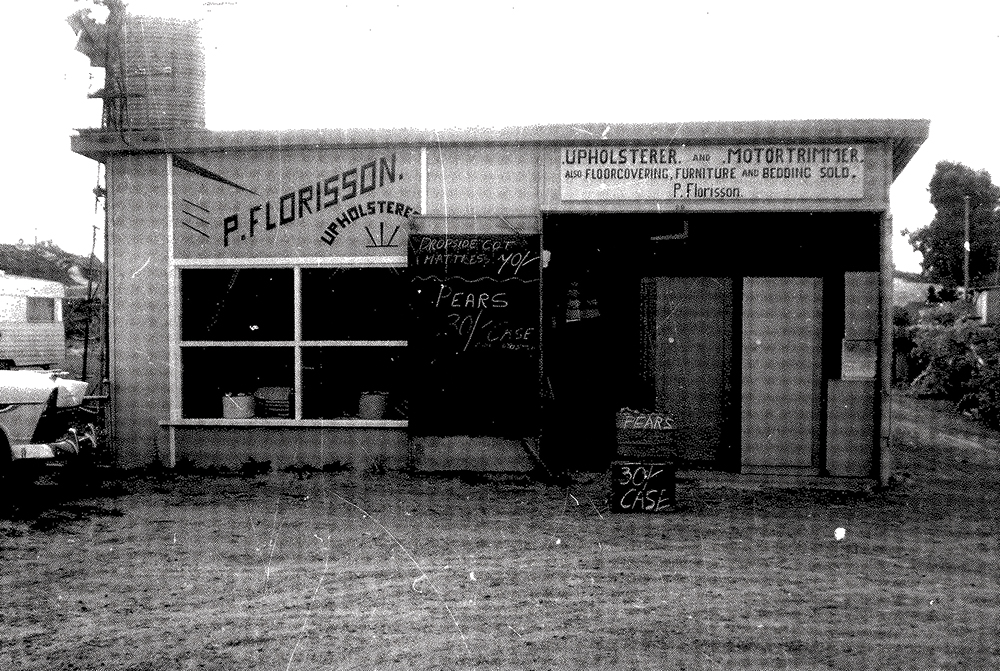 In 1925, Piet Florisson was born in Rotterdam, Holland, one of seven children. His father was a cabinet maker with the Holland America line, and made high-quality furniture and fittings for ships, until he was laid off in 1930, as a result of the depression in America. Piet got into a lot of mischief with his older brother Johannes and left school at the age of 14 to work for a greengrocer. When Hitler invaded Holland in 1940, Piet and his brothers sat on the rooftop watching the planes dogfighting over the city and bombing the Military airbase in the distance.
Under German occupation, Piet worked for a Dutchman called Kingma, on a barge on the Rhine River, until he was commandeered by the Germans and ordered to work on a German barge 'Stroomvaart Eight'. The work was hard, and fifteen-year-old Piet lived mostly on bread and sugar and missed his family terribly. Johannes, an apprentice furniture maker until the factory was bombed, was taken to Berlin to work in Rheinmetall Borsig's huge factories. On one wartime trip to Berlin in the barge, Piet was able to sneak away and meet up with Johannes - who was known as Jo - narrowly avoiding severe consequences. The family has Piet's memoirs and many letters sent to Jo, telling of narrowly escaping death on several occasions.
The situation in Rotterdam became so desperate during the war, many people survived by eating cats, rats, and tulip bulbs, as thousands of others starved to death. Piet's parents and young sister survived by walking hundreds of kilometres north to Friesland to stay with relatives. As the war drew to a close in 1945, Piet was on a barge taking a large cargo of luxury items like cheese, chocolate and spirits for German officers, to Berlin. They were the last barge to go up the canal before the advance of the allies, and all the canal bridges were blown up behind them. The skipper of the barge left during the night, and the next morning, two officers ordered Piet off the barge before blowing it up, sinking the precious cargo. Piet was left to walk home to Holland with some help from the Americans. Jo too made his way back home when liberated by the Russians' advance on Berlin.
Soon after being reunited with his family, 21-year old Piet was conscripted into the October 10 Battalion of the newly re-formed Dutch army. He was sent to Indonesia in 1946, as the Dutch fought to retain control of the Dutch East Indies. As a driver and mechanic, Piet was hit in the leg by a sniper's bullet in 1949. The wound lead to his discharge from the army and left him with a permanent limp. In hospital with recurring yellow fever, and dissatisfied with life in the city, Piet applied to emigrate to Australia from his hospital bed.
Gaining a position as a tractor driver, he arrived in Fremantle in May 1950. He was taken straight to a farm in Cunderdin, earning five pounds a week, and given a gun to shoot as many rabbits as he could eat! Later that same year Jo arrived, employed to do carpentry work for the Cunderdin co-op, with the rest of the family intending to follow later on. Not satisfied with the conditions on the farm, where he lived in a small tin room with an outback pit toilet, Piet eventually left to work with Jo, building sheds, repairing furniture and doing upholstery. The rest of the family never followed.
In 1952, Piet leased a farm in Yealering for a year. Around this time he met Beryl Booth, working at Kingstons' store in town. Piet and Beryl married in 1954. They lived in a shed while they built their own 3 bedroom kit home in Cunderdin, despite Piet breaking his ankle in a building accident, and unable to work for a time.
After their first son was born, Piet and Beryl moved to Bridgetown. Piet started working in fruit packing sheds, then moved to Mackay's furniture and floor covering store, where he learnt to lay carpet. Piet and Beryl had four more sons while living in Bridgetown and eventually set up their own second-hand furniture and upholstery store. In 1963, with concerns that Bridgetown was declining, the family heard that Esperance was booming. They moved the entire family, including pet goats, down to Esperance, and leased a shop on Pink Lake Road from John Dickerson. Florissons Home Furnishers was born. After two years, the shop included floor coverings and new furniture. It expanded to larger premises in Dutton Arcade, then to the Wallace Way shopping centre. Later they moved again, to the Dempster Street property now occupied by Sportspower.
After Piet's father died in 1966, his mother came to Australia for 9 months, spending much of her time in Perth with Jo and his Dutch wife Femmy, and their family of four boys. Eventually touring the South-west with Piet, Beryl, their 5 boys and a friend, in one very crowded car! In 1970, Jo moved his boys to Esperance, and Piet and Beryl had a sixth son, Michael, bringing the Florisson total in Esperance to 10 boys. Piet, now known as Peter, invested in several boats over the years and gave his sons a love of the sea and boating life.
Peter and Beryl became Christians in Yealering, and in Esperance were founding members of the People's Church, and later the Bay of Isles Church. Peter's loud tenor voice could be heard singing enthusiastically during the Sunday services. In 1986, Peter and Jo, along with Beryl and youngest son Michael, went to Holland, seeing the family after 36 years. Both Piet and Jo and their families have been a considerable part of the Esperance community, running businesses such as Jax Snax and Florisson's Autos. They also play a significant role at Wongutha, with Peter and Beryl being board members for many years and later son Steve the Principal for 20 years.
Jo died in 2003, Piet in 2004 and then Beryl in 2008. Florissons Home Furnishers is still run by Michael and Gillian Florisson and is now the longest-running family business in town.
Author's note: attentive readers will notice that I'm a Florisson too. Piet was my grandfather, and I am fortunate to be a part of this big Esperance family.