Esperance's Best Walk And Hike Trails You Must Try This Summer
Keep walking.
Author: Karli Florisson
Published: December 08, 2019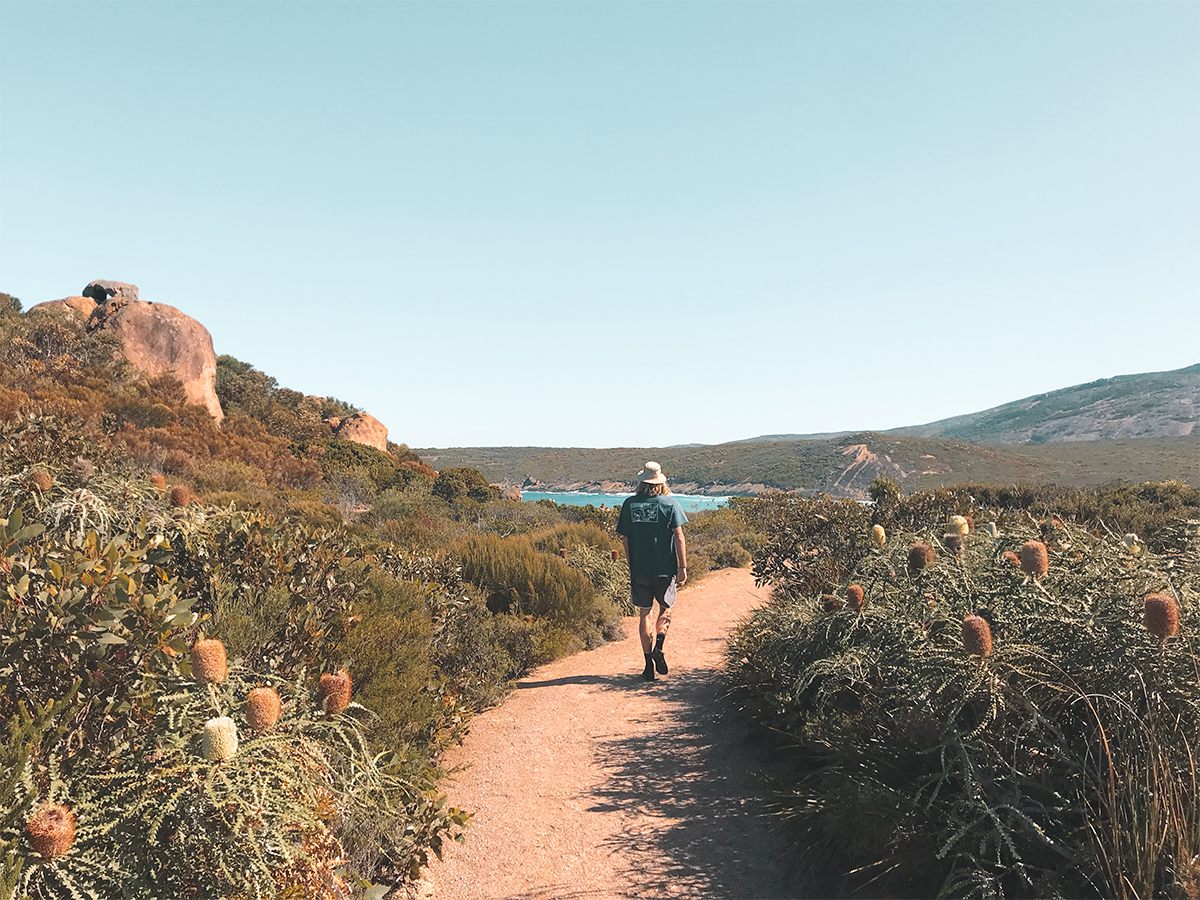 Esperance has an abundance of fantastic walking trails. For those who are keen to check out some new scenery, take in world-class views, and get some good exercise at the same time, you can't beat a walking trail. Here's the Tide's pick of the best trails to check out, so get your walking shoes on.
Dempster Head Walking Trails
Esperance's Rotary Club established the Rotary walk over Dempster Head, leaving from the Rotary Lookout. This relatively gentle walking trail has spectacular views of the town and the bay, as well as a panorama from the top of the hill that cannot be beaten. For a more advanced walk, you can take the trail down to Lover's Cove, a steep but short hike that includes sections that can be slippery. Good shoes are advisable, but you'll be rewarded with a spectacular little beach that is only accessible by hikers or by boat.
Monjingup Lake Walk Trail
Just 10 km's out of town, on Telegraph Road, Lake Monjingup is a beautiful sanctuary filled with birdlife and great walking trails. While the original boardwalks were destroyed in a fire, they have been recently rebuilt. There is an easy 1.2km walk trail that offers views of the bushland and of the lake, as well as plenty of wildflowers, birds, and other wildlife. Check out the bird hide if you want to spot birds on the lake. Very quiet and observant watchers may also spot kangaroos, emus, honey possums, and plenty of lizards and frogs.
Helm's Arboretum
While this is not a dedicated walk trail, Helm's Arboretum is a perfect spot for a stroll among the trees. With long gravel roads that extend between the stands of native trees, you can make your walk as long or as short as you choose. There are plenty of rest spots or picnicking spots among the trees, and plenty of wildflowers and birdlife to spot. Just be aware of cars, as the gravel roads throughout the arboretum are also used by vehicles.
Woody Lakes Nature Reserve
The Woody Lakes Nature Reserve is also known as Kepwari, the local Aboriginal word for 'place of moving water'. The 7 km trail around the reserve has signs that provide information about the wetlands, and their significance. There are wooden boardwalks, as well as plenty of seating along the way, and two bird hides that you can use to check out the abundant bird life in the area. You can access the trail from either end, with entrances off Lake Road and Windabout Way, both just off Fisheries Road on the outskirts of town.
Cape Le Grand Trails
Cape Le Grand National Park is home to some of the most picturesque walk trails in the area. As most locals know, the hike up Frenchman Peak is not to be missed. While the walk is steep, climbers are rewarded at the top with panoramic views of the Cape Le Grand park. The Cape Le Grand coastal walk is also spectacular, with breathtaking views of the beaches from multiple vantage points. The entire coastal walk covers 17km's, from Rossiter Bay to Cape Le Grand Beach, with several challenging sections of trail. Walkers can do smaller parts of the trail, with access points at Rossiter Bay, Lucky Bay, Thistle Cove, Hellfire Bay and Cape le Grand beach. Check the signage in the area for walk distances for each section.
Peak Charles
For a more advanced walk, Peak Charles is a great challenge for hikers. The Peak Charles National Park is 174 km North-West of Esperance, off the Norseman Road. The hike to the summit of Peak Charles is 3.4 km, and is a fairly challenging walk, with some steep sections. The view from the top is worth the climb!
Great Ocean Trail
No discussion of Esperance's walk trails would be complete without a mention of the Great Ocean Trail. Starting at West Beach, this 17km trail goes along the spectacular coastline to Twilight Beach. At Twilight Beach, the trail turns inland and goes through the native bushland to the Pink Lake Lookout. From here you can follow the path back into town. You can join the trail at any point, so choose a section to take rather than doing the whole trail. The views are unparalleled, and the trail is mostly bitumen. Watch out for cyclists, who share this path.
Don't forget
Always let someone know where you are going when you head off on one of these walk trails. Many of these trails will have patchy mobile coverage or none at all. Don't forget a water bottle, hat, and sturdy shoes. As there is dieback in the Esperance area, it is advisable to stay on the trail so that you don't spread dieback and clean your shoes in between walks. And don't forget your camera – the views are amazing – and tag #EsperanceTide in your pics!