Five Minutes With: Joan & The Giants
As featured in our November edition.
Author: Kyron Smithson
Published: October 29, 2021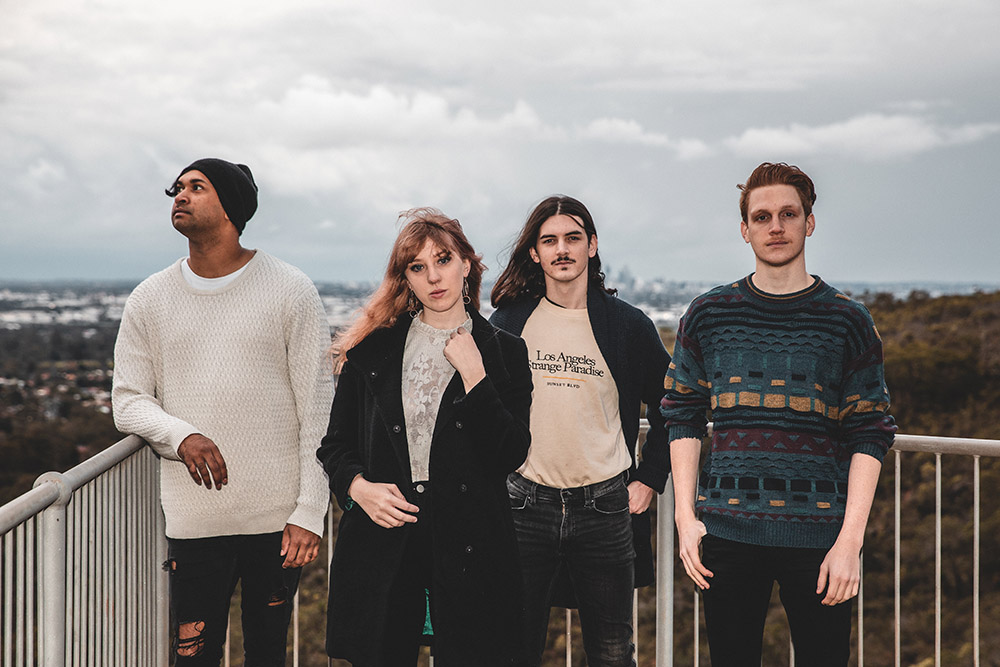 Joan & The Giants performed their first show in Esperance back in January for There Goes the Sun. Almost a year on, they are back for Balmy Nights 2021. Since January, the band have gained exceptional momentum, with a stellar mainstage performance at Nannup Music Festival being a highlight for myself. I dove deep into their tune 'Advocate', released on July 23. It's a beautiful composition with sparse guitars and front-woman Grace Newton-Wordsmith's vocal lines falling effortlessly. Don't take my word on the band's exceptional quality, though. Instead, jump onto the Kyza Presents Balmy Nights playlist to give 'Advocate' a spin, or grab yourself a ticket to Balmy Nights to check them out live. Grace loves an interview and I'm absolutely stoked to ask her a few questions for Esperance Tide prior to Balmy Nights.
Grace, thanks so much for joining us for a few questions. First up, give us the background on how the band formed.
Aaron, guitarist and co-songwriter, and I first met seven years ago. He was living at college while studying at uni and I had a friend who was in the same college. The first time I met Aaron, she pushed us into a room and we were forced to play an Ed Sheeran song together. It was an awkward first encounter but something must have sparked as we started dating not too long after. A couple of years later, we studied music together at TAFE, and played and wrote for a while as a duo. Eventually we found our amazing boys Liam and Riley, who have been with us now for a few years.
Can you shed a little light on how you write as a band?
Our writing process varies so much. It always used to start with a guitar riff or a progression on the keys, or just a simple vocal melody. We still mostly write like that, but developing production skills and having spent so much time as a band, we find ourselves creating the whole track on Ableton, or jamming a whole song in a rehearsal room. Sometimes a whole song will just come acoustically, especially if we're going through something personal and need to write about it. For example, 'Just for You' was a really personal song that I wrote for a friend one night, and I just sat down and wrote the whole thing on the piano in about 15 minutes.
I'm a big advocate of your track 'Advocate.' I'm curious as to where the artwork for the single was shot, and the significance of the ghost imagery?
Thank you so much! That artwork was a spur of the moment kind of decision. We knew we wanted something ghostly, but had no idea what. That photo is actually taken in Beagle Bay Community north of Broome, where Aaron is from. The very old buildings in the background are still standing from when the community used to be a mission. As to how it relates to the song, I think it kind of puts all the lyrics into an image. The song is about dead love and trying to get rid of the ghosts from your past, while also realising that you are a huge part of why that love died.
How did you find your first Esperance performance in January?
We LOVE Esperance! It is so amazing to see such a dedicated scene in a small town. The audience was so fun, and they all know how to party. We're big fans of Kyza Presents, who has worked tirelessly to put on great original lineups. It's so nice to see people enjoying and getting around original music.
What can the audience expect from Joan & The Giants at Balmy Nights 2021?
I think we're known as an emotional, honest band, so if you need to cry and dance to happy sounding sad songs, come check us out! We've been working on some new tunes as well, branching into more of a pop-rooted sound, so maybe we'll play a new song or two! I'm very excited for this set. I jump around a lot and it's just gonna be a fun time.
From the outside looking in, 2021 has been an exceptional year for Joan & The Giants. What has been the highlight?
Early in the year, we got to play a night slot on the amphitheatre stage at Nannup Music Festival. It was absolutely amazing to play a big festival slot and the audience were so loving. That was a wild experience for us - I was so nervous before going on stage that I nearly fainted but once we were up on stage, it was one of those moments you just have to be present and soak in, or you'll blink and miss it. We also held a single launch at The Rosemount and that show was so lovely. We always try to make our launches really inclusive and fill the room with a warm and loving energy, and that one in particular we will always remember! We've had a few special highlights this year, and a lot of them have been regional shows and festivals, which is partly why we can't wait to get on the road and come to Esperance.
Which bands are you currently listening to? And which acts would you consider to have a very strong influence over the band's overall sound?
We're always listening to music! Maisie Peters new album You Signed Up For This has been on rotation for the last month, and we've also been loving Holly Humberstone and Phoebe Bridgers. There's also the classics like Blink 182 and The Eagles in there as well! I think the acts you can hear have influenced us are artists like Florence & The Machine, Phoebe Bridgers, Daughter, and Maggie Rogers. We're also maybe less obviously influenced by bands like Blink, Metallica, The Eagles and Alabama Shakes. There's a bunch of great local artists we listen to as well like King Ibis, Green Pools, Ribs, Cecelia Brandolini, Stacey Ann, Freehand and more!
Desert island album?
Stranger in The Alps by Phoebe Bridgers. This has some of our favourite songs in the world on it. Phoebe's songwriting is hauntingly special and so relatable. We have probably listened to this album 300 + times. Also, if we were on an island, I can somehow cry and dance to this album so it's a nice mix for a place where I'd probably have a lot of breakdowns and turn to Phoebe's music for help.