Meet the Stallholders: Museum Village Markets
Meet some of our market regulars.
Author: Esperance Tide
Published: March 31, 2021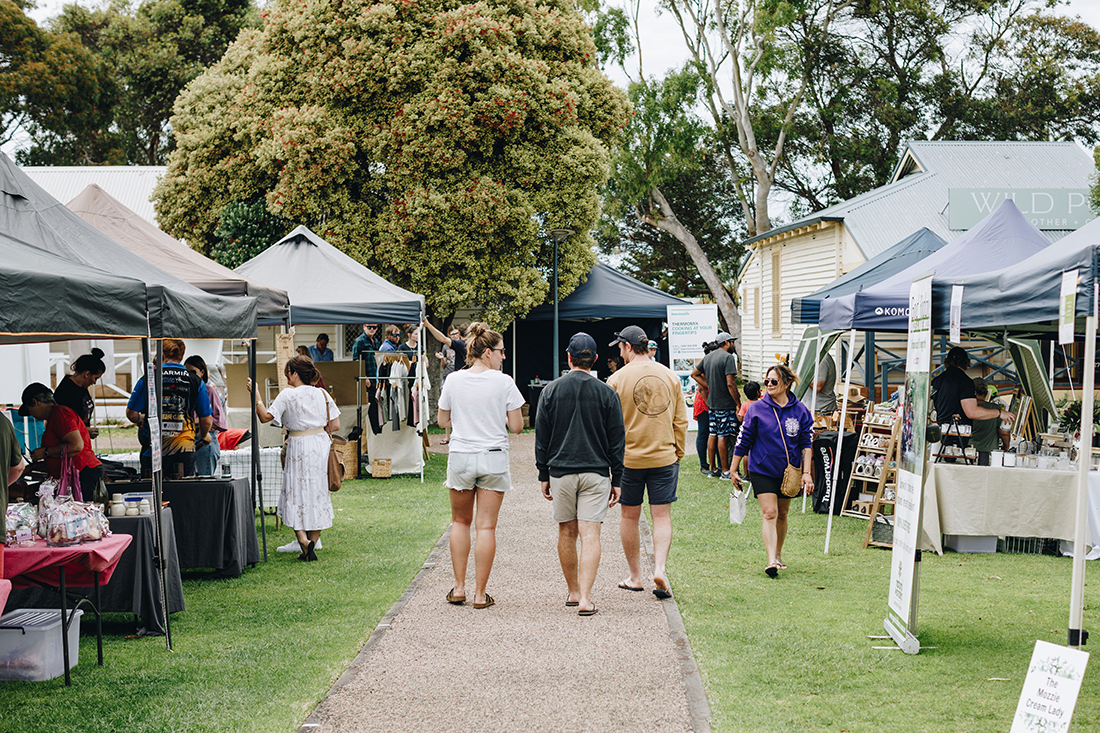 We love Sunday mornings at Tide HQ. Gone are the days when we'd wake with a foggy head and hazy memories of the night before. Now, we're up-and-at-em with a reusable shopping bag in one hand and Keep Cup in the other, eager to support our local makers and producers. The Museum Village Markets are a Sunday morning staple in Esperance, made possible by the countless stallholders who show up week in, week out, bright-eyed and bushy-tailed. We wanted to find out a bit more about some of the market's regulars, so, armed with a piping hot spring roll, we weaved our way through the stalls, having a chat to a few people as we went.
Set Sail Sewing
The Set Sail Sewing market stall features handmade baby clothes and accessories, along with other handmade items, from sewing duo Desiree and Judy Sanderson. Desiree got into sewing baby clothes after having her own baby, and was encouraged by friends to have a go at selling her handmade items at the markets. She was joined by mother-in-law Judy, who also enjoys sewing. Judy makes handy items such as face masks and coffee cup holders to add to the stall with beautiful fabrics and prints. Children's hats are some of their best-selling items. They love seeing repeat customers that they get to know at the markets. Desiree takes custom orders for baby clothing, and you can also find Set Sail Sewing on Facebook.
Kat's Living Gifts
Kat Wilson started Kat's Living Gifts as a hobby after being diagnosed with an illness that limited her ability to work. She says she never used to be a 'plant person', but after getting sick, she felt the urge to work with plants, which she found really grounding and therapeutic. After running out of room at home for all her plants, Kat started selling a few, and Kat's Living Gifts was born. She missed the community interaction of working, and so Kat started taking her plants to the markets to sell. She found the stallholders were all very supportive of her, and she made a lot of new friends. Kat propagates her plants locally, and she sources interesting and quirky pots which are a favourite with market-goers. She loves the opportunity that her business gives her to demonstrate her personal motto of doing small things with great love. Kat's Living Gifts is on Facebook and Instagram.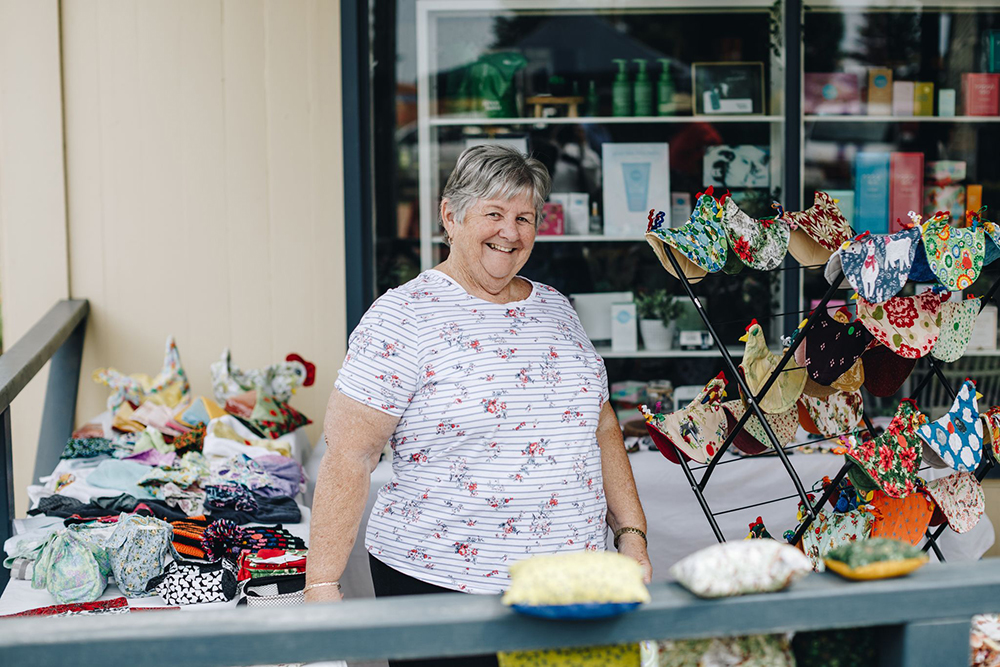 Margaret Horton
Margaretis a veteran stallholder at the Museum Village Markets. She has been coming to the markets for around 14 years. She sells handmade items that show off her creative skill and her love of sewing and craft. She also sells some wooden items made by husband Bill. Margaret says that her chook potholders and her bowl warmers are her best selling items. She uses 100 percent cotton in her sewing, and all her fabric is purchased locally. Margaret enjoys the social aspect of the markets, and she can often be found giving tourists advice about what to see and do while in Esperance. Her advice for any new stallholders? "You've just got to stick to it, through the ups and downs, and enjoy the social aspect of the markets."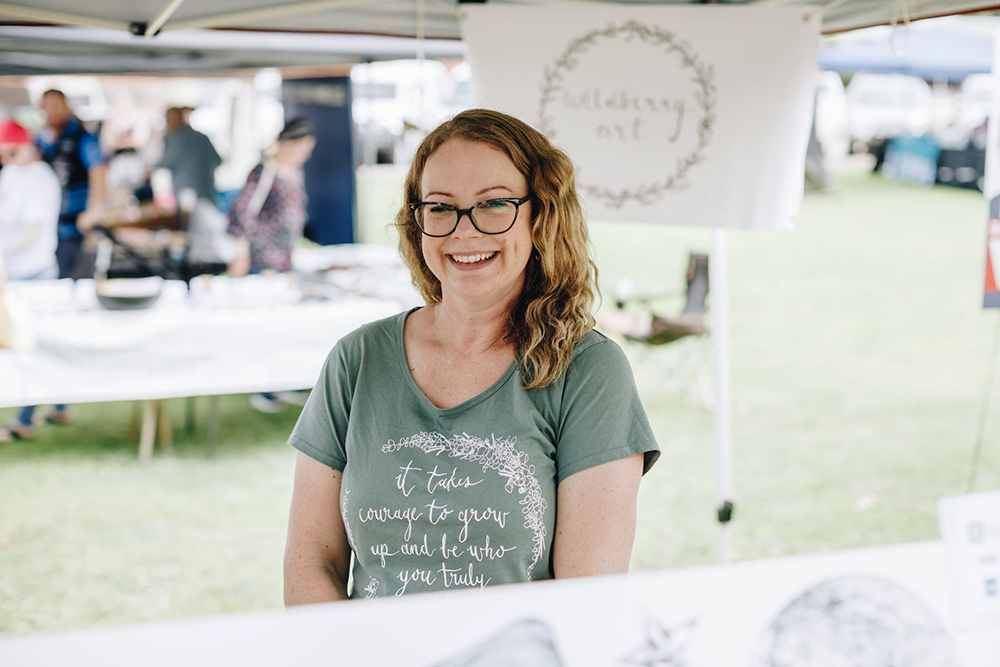 Wildberry Art
Jenny Richardson is a local Esperance artist. She's been running a stall at the markets for four years now, displaying her beautiful, nature inspired art on fabric wall decals, prints, and t-shirts. Jenny studied aquaculture at university, and a lot of her art is inspired by her love of the ocean, including whales, octopuses, and turtles. Jenny also loves calligraphy, and does the calligraphy on her prints and artworks herself. Jenny's wall decals are also reusable, and made in Australia. She loves the fact that the markets give her an opportunity to chat to people, and to meet new people. Wildberry Art is on Facebook and Instagram.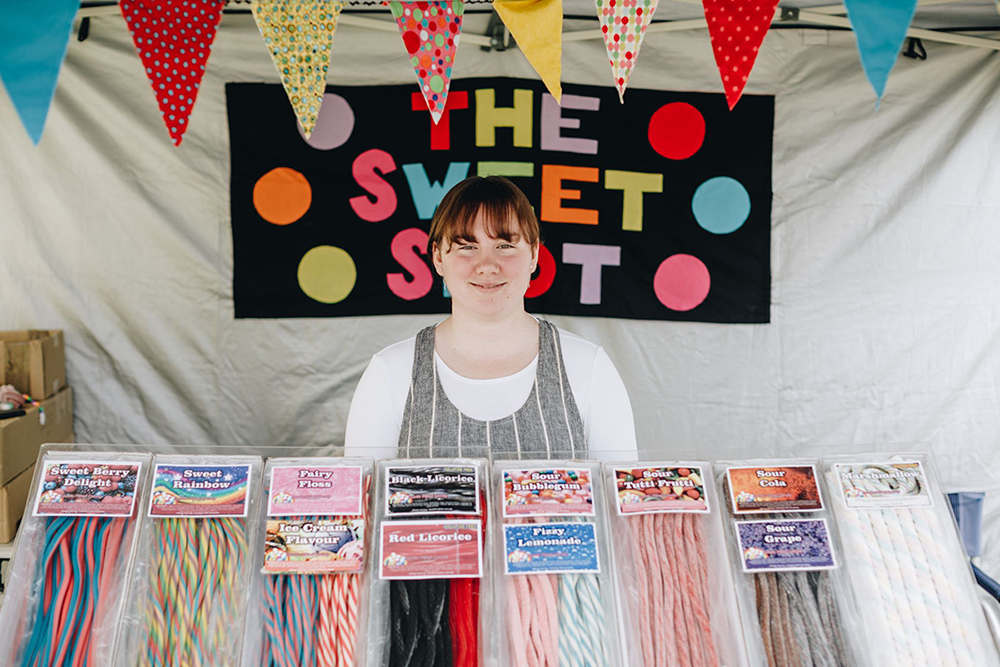 The Sweet Spot
The Sweet Spot is a market stall that sells exotic liquorice, run by Brooke, with some help from mum Kylie Elson. When the previous owner of the market stall, then called 'Hyped Up', wanted to sell, Brooke was able to buy the stock and stall setup with money that she'd saved from birthday and Christmas money from her Great Grandma. Brooke finds the market stall a great way to earn money, especially as she lives out of town, so having a regular after-school job is quite difficult. She is saving for uni, or maybe for a car. The liquorice, which ranges from sweet to sour and traditional red and black liquorice, is popular, with regulars coming to stock up whenever Brooke is at the markets. Brooke and her mum find that both locals and tourists alike are very supportive, and they really enjoy their time at the markets.
One Little Brush
Regan Beattie has loved painting and creating since she was young. She's always loved watercolours, and as a mum of two boys, she's long been creating unique art to display in her own house. After some friends encouraged her to start taking custom orders, Regan started to make prints that can be personalised with children's names, and sets of baby milestone cards. Regan has been running her stall at the markets for a year now, and she enjoys the beautiful vibe of the markets. She also enjoys being able to get to know the other stallholders, and having the opportunity to display and sell her work. One Little Brush is on Facebook and Instagram.