Now Showing: Tim Winton's Dirt Music
Esperance becomes White Point.
Author: Hannah Siemer
Published: October 06, 2020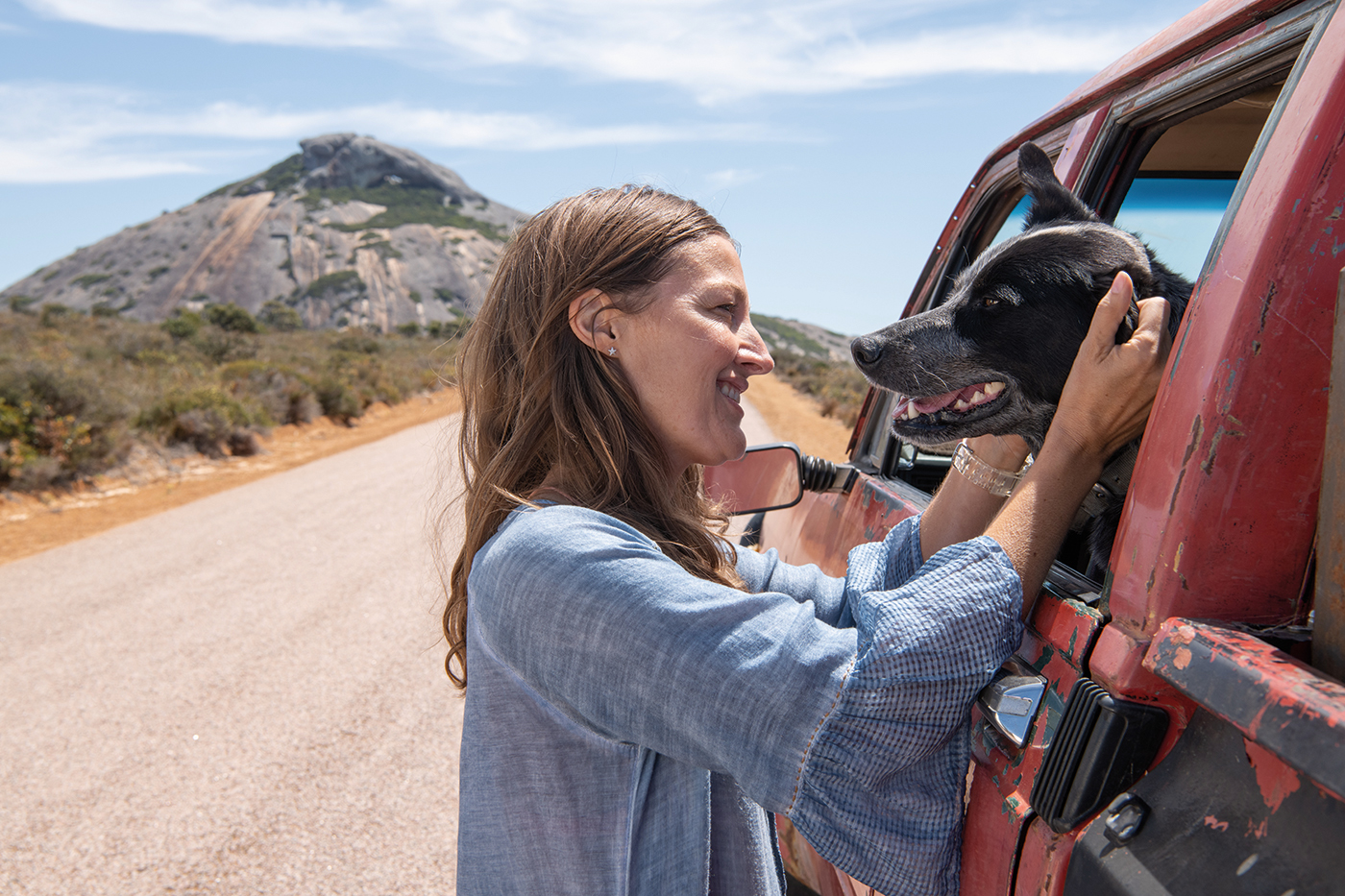 Georgie Jutland (Kelly Macdonald) with Lu's dog. Location: Hellfire Bay Road, Cape Le Grand National Park. Credit: David Dare Parker
A gritty tale of love and redemption, an ode to our region's dramatic coastline and a showcase of local talent. That is Dirt Music, a feature film shot in and around Esperance in 2018, due for public release this month. Based on the novel of the same name by iconic Western Australian author Tim Winton, Dirt Music uses Esperance as the backdrop of this timeless romance.
Dirt Music follows the story of Georgie Jutland (Kelly Macdonald), as she falls into a forbidden romance with Lu Fox (Garret Hedlund), an enemy of her current partner and local crayfish baron, Jim Buckridge (David Wenham). Jim has an iron-grip on the fishing trade in the fictional town of White Point, and Lu spends his nights poaching Jim's pots. The relationship that ensues between Georgie and Lu is as dangerous as it is passionate, and ultimately leads to Lu escaping up north, leaving Georgie to chase after him.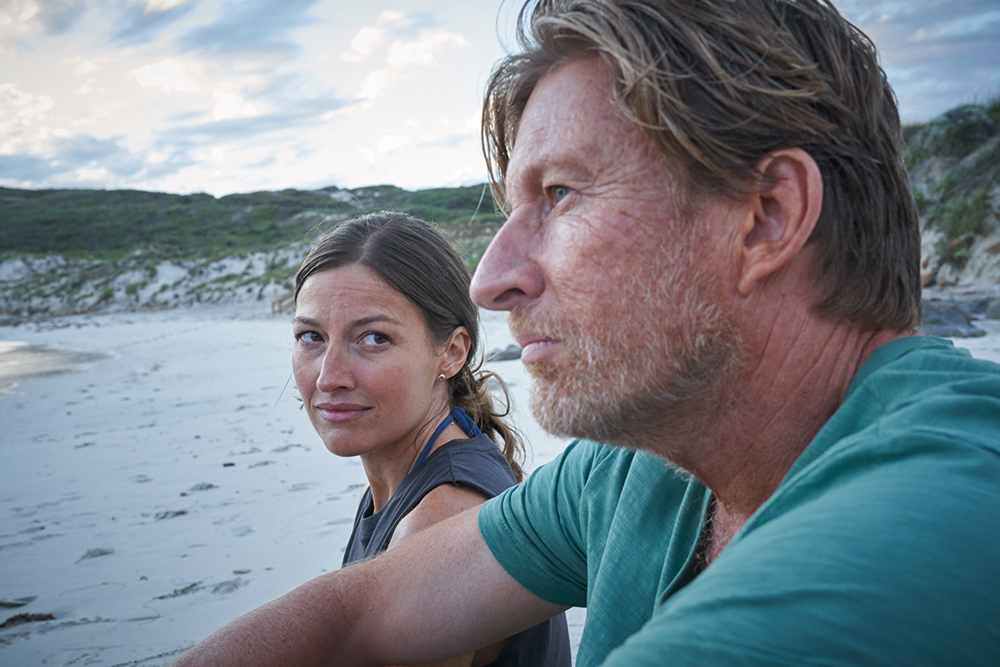 Georgie and Jim Buckridge (David Wenham) at the beach. Location: Picnic Cove. Credit: Kerry Brown
The land and the sea play as big a role in Dirt Music as the characters themselves. Esperance filmmaker Jennene Riggs was the film's Location Assistant, helping to scout out the many locales used to convey White Point. Scenic shots of Frenchman Peak, the Wylie Bay sand dunes and a moonlit Twilight Cove are pulled together to create a sense of formidable isolation. An advanced screening of the film in Esperance in September had the local audience giggling when Georgie's route to Perth took her along Great Ocean Drive and into Cape Le Grand National Park. But despite our intimate knowledge of the region, seeing the beauty and the scale of our surrounding landscapes on the big screen is nothing short of magical.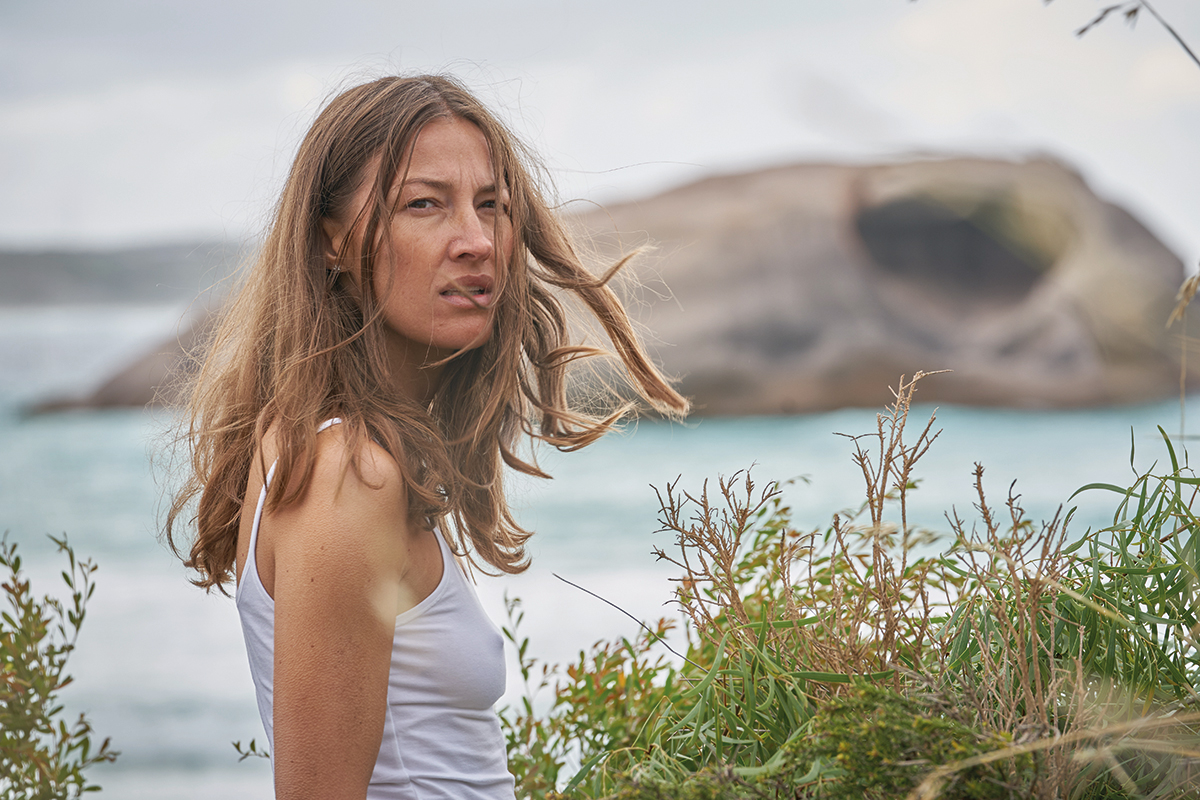 Georgie Jutland (Kelly Macdonald) at the beach in White Point. Location: Twilight Beach, West Beach. Credit: Kerry Brown
"Tim Winton's work couldn't be set anywhere else other than in WA," Dirt Music Associate Producer Kate Separovich said, when we met while she was in town for the Esperance premiere. With fond memories of holidaying in Esperance as a child, Kate described the town as a "total no-brainer" for the filming location. "We looked at a lot of different places for our White Point," she said. "We did Dongara, Geraldton and Lancelin, and we weren't quite finding visually what we were looking for. Esperance met all of our requirements and then you've got these beautiful white sandy beaches, and the town is called White Point, so why not tie the two together?"
Lu Fox fishing off White Point. Location: The sea off Esperance. Credit: Kerry Brown
A local home overlooking the ocean, Bandy Creek Boat Harbour and the Gibson Soak Hotel were also key filming locations. Kate said the challenges of making a film somewhere as remote as Esperance were similar to the challenges faced by those who live there. The vast distance between Esperance and Perth, a lack of phone reception in the national park and the infamous Esperance winds topped the list, though Kate said these were nothing compared to the challenges of filming in the Dampier Peninsula where the latter half of the film is set. She said driving for hours down dirt tracks to get to locations and accessing remote islands made filming up north much more difficult.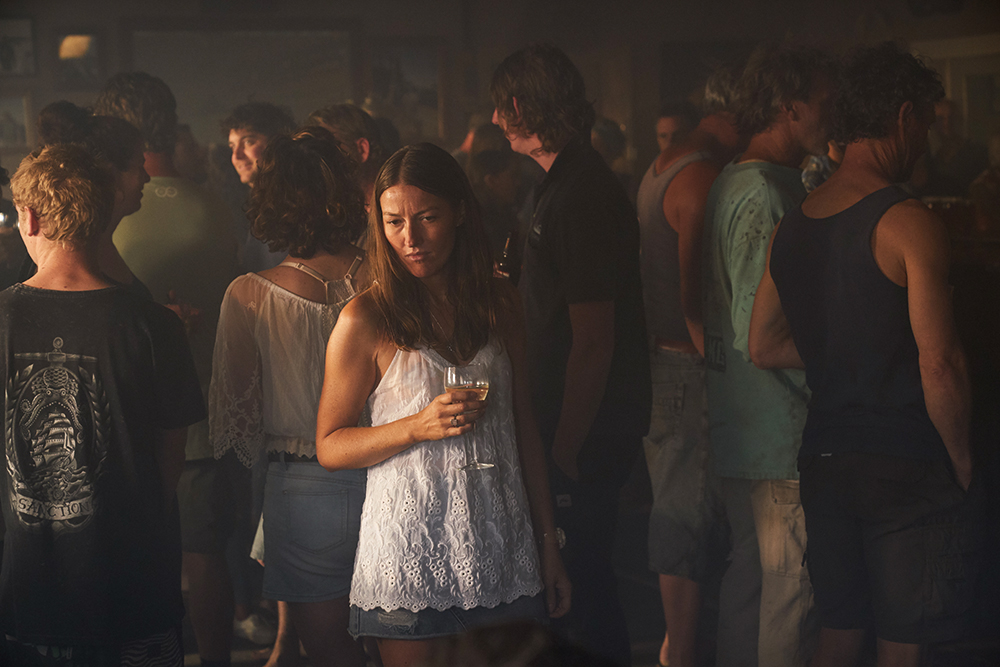 Georgie at the pub in White Point. Location: Gibson Soak Hotel. Credit: Kerry Brown
As challenging as the remoteness was, finding skilled locals to assist with the production of Dirt Music was a breeze. Kate said she found some "absolute gems" within the Esperance community. These included members of the Esperance Theatre Guild who helped with costumes, the Esperance Goldfields Surf Life Saving Club who oversaw water safety, and local drama teacher Lyndel Taylor, who sourced almost 70 extras for the film. "Finding people to help with those sorts of things, in some places, can be a challenge," Kate said. "But here in Esperance, it was amazing." The end result is an international film with an organic, home-grown flavour; familiar faces and places scattered throughout the 104-minute film will have Esperance audiences buzzing as they watch Macdonald, Hedlund and Wenham weave through a crowd of locals at the Soak, or celebrate a big catch with real fishermen down at Bandy Creek.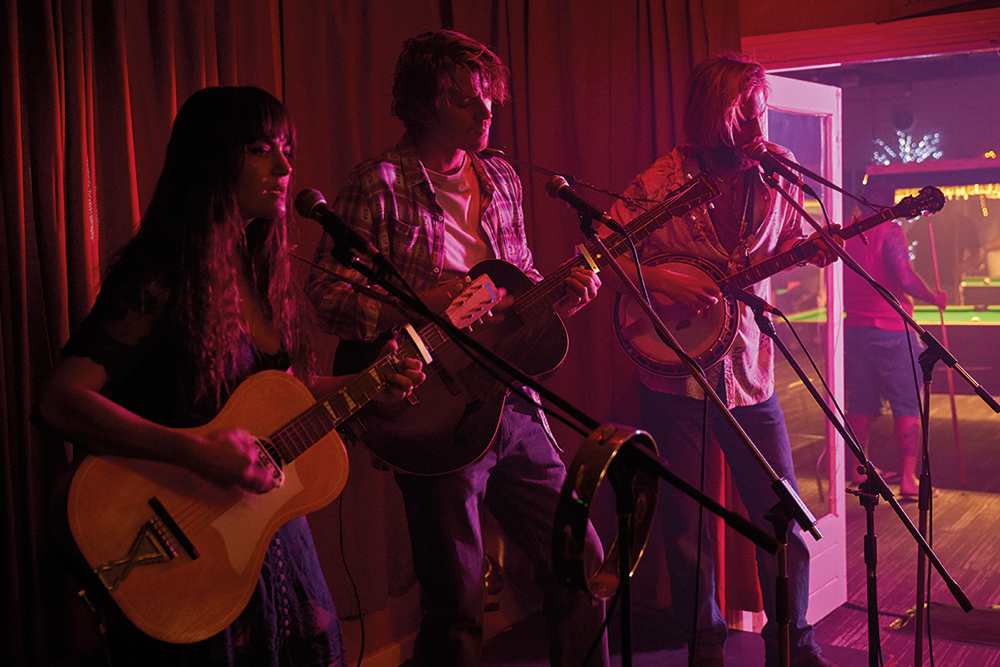 The Fox's perform at the pub in White Point. Location: Gibson Soak Hotel. Credit: Kerry Brown
The local talent involved in the film's production did not end there. Dirt Music's Production Designer, Michael Carlin, spent his early childhood living in Esperance and although he hadn't resided or visited here in many years, we're happy to claim him as one of our own. Now based in the UK, Michael was responsible for the aesthetic of the film and for turning Esperance into the less-than-desirable town of White Point. "Esperance is a really lovely place, so he had to make it look a little bit rougher," Kate said of Michael's role. "[For example], we turned the Gibson Soak Hotel upside down. We put a whole bunch of dressing on the walls and changed the lights to green gel lights. There are all these little things you can do to make a place look like it's something else." It's no surprise Michael succeeded in making our beloved Soak look like a grungy country pub – his film credits include Salmon Fishing in the Yemen, Colette and The Duchess, for which he was nominated for Best Art Direction at the 81st Academy Awards.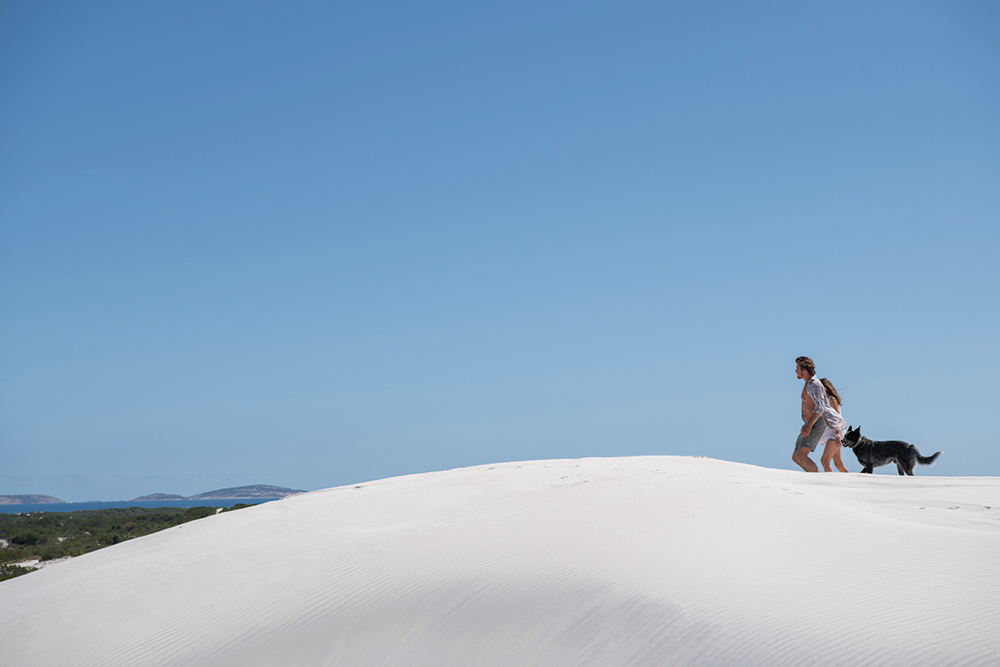 Lu Fox (Garrett Hedlund) and Georgie Jutland. Location: Wylie Bay Dunes. Credit: David Dare Parker
COVID-19 had a substantial impact on the release of Dirt Music, which should have been in cinemas earlier in the year. The pandemic has resulted in many Hollywood-produced films delaying their releases until 2021, or bypassing cinemas altogether and going straight to DVD or onto streaming platforms. Kate hopes this will give Australian films like Dirt Music the opportunity to reach a wider audience. The vast, rugged coastline of WA is undoubtedly best experienced on the big screen and as such, Kate said Dirt Music was one of those films that needed to be seen at the cinema. Showcasing its diverse landscapes, from the white sands of the south to the red dirt of the north, Kate described Dirt Music as a love letter to WA. "Seeing the West Australian landscape in movies is always so exciting," she said. "I'm such a proud West Australian and I'm really excited and proud to have the local people see Dirt Music. I hope Esperance is as proud of the film as I am."