The Little Possum Who Looked Up
The children's book we all need to read.
Author: Karli Florisson
Published: February 22, 2020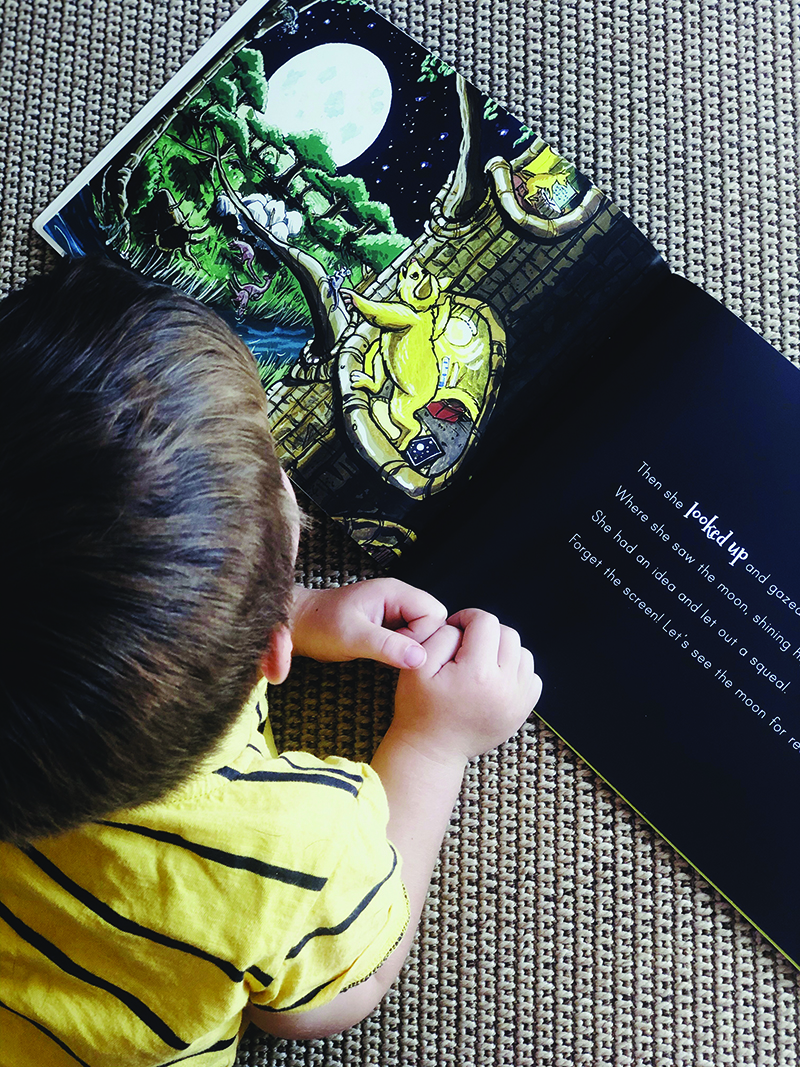 Newly minted Esperance local Kim Maslin is a believer in the power of storytelling. A story has the power to get a message across where teaching and explaining might not be successful. This belief in the power of a story to communicate a message is what led Kim to write her third book, The Little Possum Who Looked Up. Telling a young person about the detrimental effects of too much screen time is not necessarily going to have any significant impact. But when seen through the eyes of Pebbles the possum, the message can become much brighter. Technology is essential to all of Pebbles' family members. Still, when they look up from their screens, they find real-world connections and become a part of Pebbles' big adventure.
As a digital technologies educator, Kim has worked in both primary and secondary schools, educating young people about how to use technology safely and effectively. When she was working in a high school, creating cyber safety presentations for parents and for young people, Kim realised that the messages about online safety were not getting through. 'I started brainstorming the process and came up with the idea of a storybook for kids,' says Kim. After some hard work, The Tweeting Galah, Kim's first book, was born. Kim refers to her first book as 'fables for the 21st century'. Gabbo the cheeky Galah, along with other Australian animals, feature in four short stories, covering topics such as cyberbullying, and online stranger danger. The book was a hit with teachers, who found the short, engaging stories, and the relatable messages easy to incorporate into lessons on technology and cyber safety. Kim followed up The Tweeting Galah with another book of short stories, The Surfing Penguin. Featuring even cuter Australian animals, Kim's second book covers more messages for young people on how to keep themselves safe online. The colourful pictures were drawn by Kim's stepdad, John Field, who hand sketches all of the illustrations for the books.
For her third book, Kim decided to do things a little differently. Aimed at a younger audience, The Little Possum Who Looked Up is a storybook for children. 'I liked the idea of slipping a message into something that you're already doing,' says Kim. Reading a bedtime story to the children can have a dual purpose. Kim has been pleased with the positive reception for the book, from both parents and teachers alike. The story is easy to read and features more of John's cute and quirky illustrations. This was also Kim's first attempt at writing in rhyme. The story, featuring Pebbles the Possum, is a modern-day fable about the importance of engaging with the world around you. Reflecting Kim's passion for technology, the book acknowledges the importance of different types of technology to our modern lives. The book's message is indicated in the opening quote, from another literary hero, Albus Dumbledore. 'It does not do to dwell on dreams and forget to live, remember that.' This is a message that Pebbles the Possum has taken on board, resulting in great adventure.
Kim has recently taken on the great adventure of moving to Esperance from her home town of Perth. She and her partner, along with their cats called Hugo and Rosie, and dogs Cedric and Zoe, have called Esperance home for 3 years now. 'We were ready to leave the city, and we've fallen in love with Esperance,' says Kim. Kim runs her own business, working in the area of digital education, running workshops and creating educational materials. She is continuing to work towards helping people use technology while spreading an online safety message to young people. For 2020, Kim is looking forward to growing her audience and being involved in more collaborative partnerships. Kim's hope is that young people will be able to harness the incredible power of technology while avoiding all the potential pitfalls. Her sidekicks, Pebbles the possum, and Gabbo the Galah, are helping her on this quest.
Where to buy
The Little Possum Who Looked Up, as well as Kim's other two books, are available at Tide & Co in the Museum Village, The Book Box and Esperance Community Arts. They are also available online at kimmaslin.com. For young readers of The Little Possum Who Looked Up, Kim says to keep a lookout for the little mouse that is hiding on the pages of the book.