Up Next: Cindy Poole's Recycled Collection
Turning trash into treasure.
Author: Karli Florisson
Published: February 22, 2020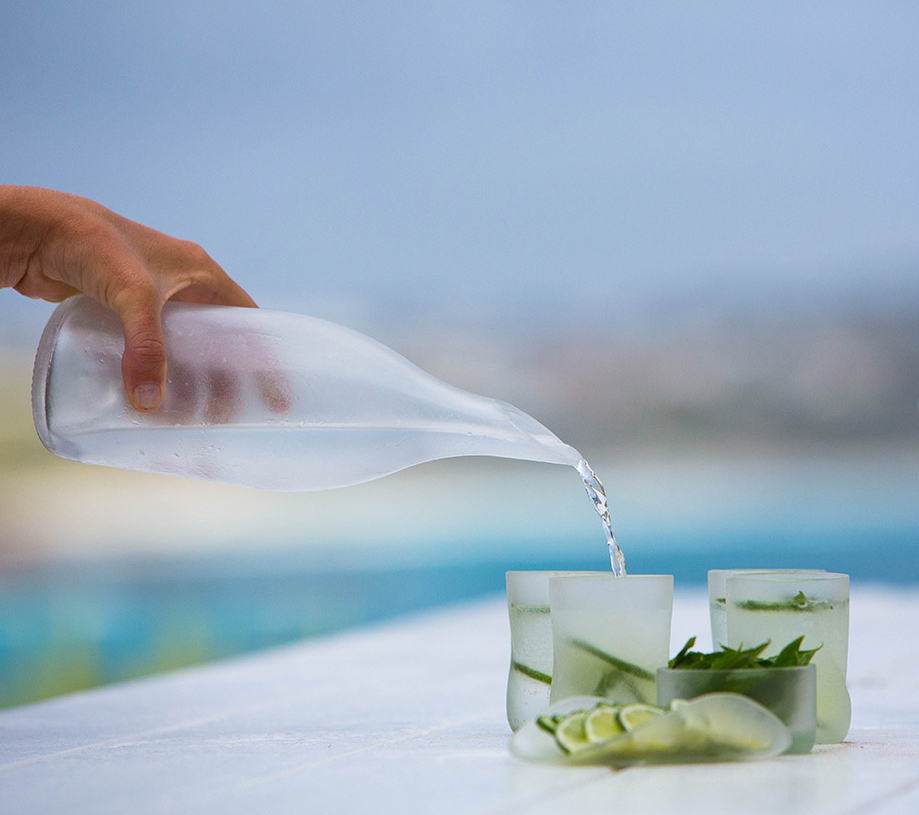 Recycled: Cindy Poole, the new collection by local glass artist Cindy Poole, is innovative, beautiful and reflects the stunning Esperance environment. All of these elements showcase exactly why Cindy is such a unique Esperance artist. Featuring functional and beautiful homewares, unique jewellery, as well as stunning sculptural pieces, the collection has a central theme: a zero-waste approach to recycling glass bottles.
Cindy Poole has been working with glass since 1995, from her workshop and gallery on Longbottom lane. From humble beginnings, Cindy has grown her gallery into a tourist attraction, featuring beautiful and functional works of art that represent the beauty of Esperance's unique landscape. From creating local icons, such as the Esperance Whale Tale, her collaboration with local Jason Wooldridge, to gaining international recognition for her jewellery collection, Cindy has gone from strength to strength as an artist. Among these achievements, Cindy is most proud of the relationships that she has fostered through her work. From training and mentoring her group of 'Shed Elves' through to collaborations with other Esperance locals and craftspeople, connections are always at the heart of Cindy's work.
When it came to this new project, Cindy spent a long time experimenting with reusing different types of glass as a raw material source. 'Different types of bottles have different properties, and can react differently in the kiln,' Cindy explains. 'We had some compatibility issues, so we spent a long time experimenting and testing different types of recycled glass to see what works.' Cindy was interested in creating ways for bottles to become a part of a 'circular economy', rather than just being used once, and then going to landfill. 'When it comes to recycling, sometimes bottles can be associated with low-value recycling projects. I want to take it to a different level. I want to show that I can create a lot of value from one bottle.'
In the design phase of Recycled: Cindy Poole, Cindy spent time looking around her own home, and asking 'can I replace this item?' As a result, the collection contains functional homewares ranging from water glasses and jugs through to lamps, platters, soap dispensers, and vases. 'With some items, you can still see the essence of the original bottle. With others, they've taken on a completely different life.' The project vision involves a sustainable based body of work that has artistic design merit that can compete with mainstream alternatives across the interior design, hospitality and gift industries.
While glass bottles are infinitely recyclable, statistics show that only 56% of our glass packaging is recycled in Australia each year. In part, this is due to the high cost of producing glass bottles in Australia. Cindy acknowledges that her recycled collection will not be a high-volume recycling project. But as she says, 'people often don't do something because they can't do it all. But everything that we do can make a difference.' In her usual style, Cindy is looking to the big picture. She hopes that one day some of the concepts that she has incorporated into this project might be able to be scaled up to higher volume production. 'It's about thinking differently about what we buy, and what we do', Cindy says.
As with her previous work, collaboration is at the heart of this new project. Cindy has collaborated with local businesses such as Mackenzies Electrical, Wicked Welding, and Chunky Timbers to create some of the pieces in the collection. Bottles for the project have been supplied by local venues Taylor St Quarters, The Loose Goose, The Pier Hotel, and the Yacht Club, as well as some locals who have saved bottles. She has also gained help from a select group of university students, assisting with the design and marketing elements of the project, as well as her usual group of 'Shed Elves'. The value that Cindy puts on collaborations is evident in her passion for inviting contributions from local creatives. 'I want people to connect with us and find a way to be a part of our story.' Cindy sees the collaborative processes as making her work stronger. 'What I'm doing is bigger than just me. It's exciting.'
There is also a great deal of heart in the Recycled: Cindy Poole collection. Familiar themes run through Cindy's work of connecting to the local environment, with some pieces featuring our white Esperance sand, and many of them reflecting the colours and contours of our landscape. The work also offers the opportunity for people to keep connections with significant times in their lives. Cindy explains that a couple could have a water jug and glasses made from wine bottles used at their wedding. 'Recently, we were commissioned to make a bespoke gift from a winery which utilised the bottles from their own wines.' With this collection, special occasions are celebrated, and connections are treasured. This transformation of a simple glass bottle to something with beauty, functionality, and heart, is the small miracle that is at the heart of Cindy's work. This is what makes Recycled: Cindy Poole such an important new part of the Esperance art landscape.
Recycled: Cindy Poole can be viewed at Cindy's gallery, along with her other collections. Unique gift options, jewellery, and homewares are available to purchase. The gallery is located on Longbottom Lane and is open from 10am to 4pm, Monday to Saturday. Tea and coffee, as well as a selection of cakes, are also available.
Cover pic: Joe Quinlivan