The Ultimate Guide to Great Ocean Drive
Also known as the Tourist Loop, a 40km drive past some our country's best beaches.
Author: Rosie Henderson | Photographer: Rosie Henderson
Published: February 17, 2022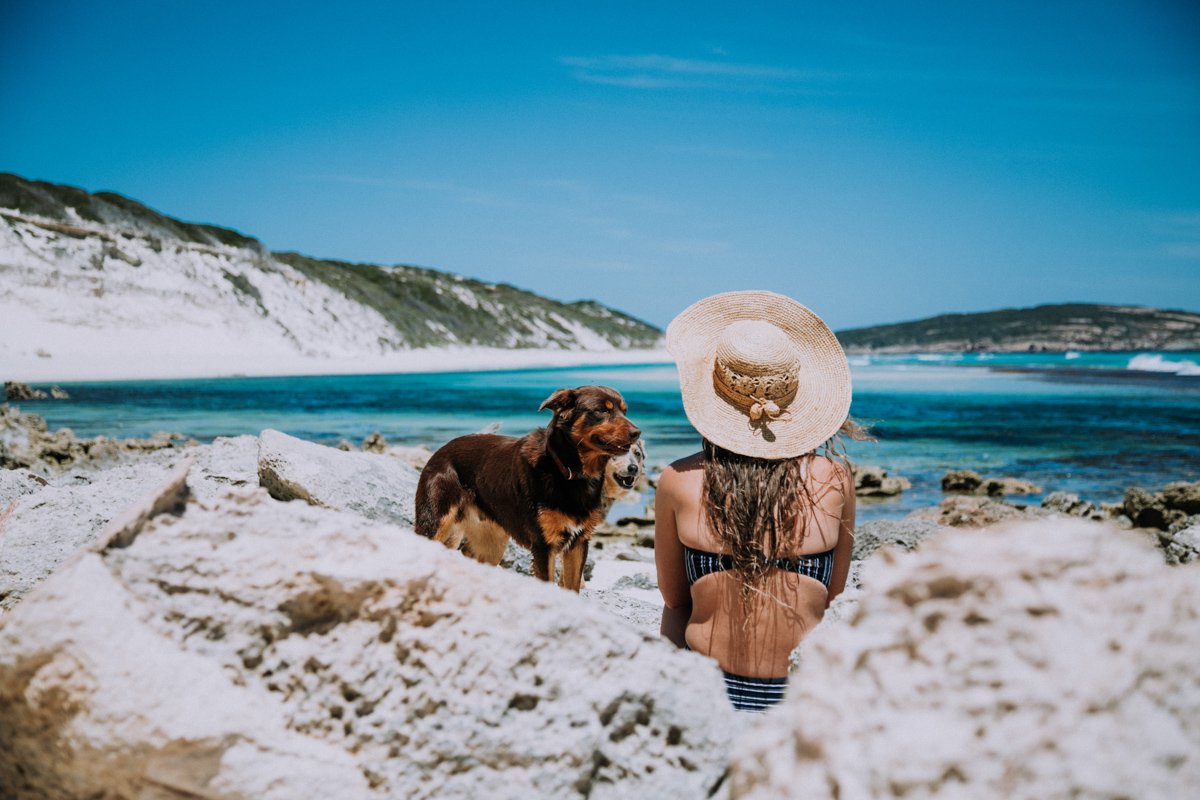 Great Ocean Drive, known locally as the Tourist Loop, is a 40 kilometre road starting in town and winding along one of the most stunning strips of Esperance coastline, before looping back via Pink Lake. The road is a one-stop-shop, complete with all the essentials of a coastal drive - blue water and white sand beaches, rocky headlands, small bays, steep cliffs, native vegetation, hidden pools, winding roads, a lake, and breathtaking views.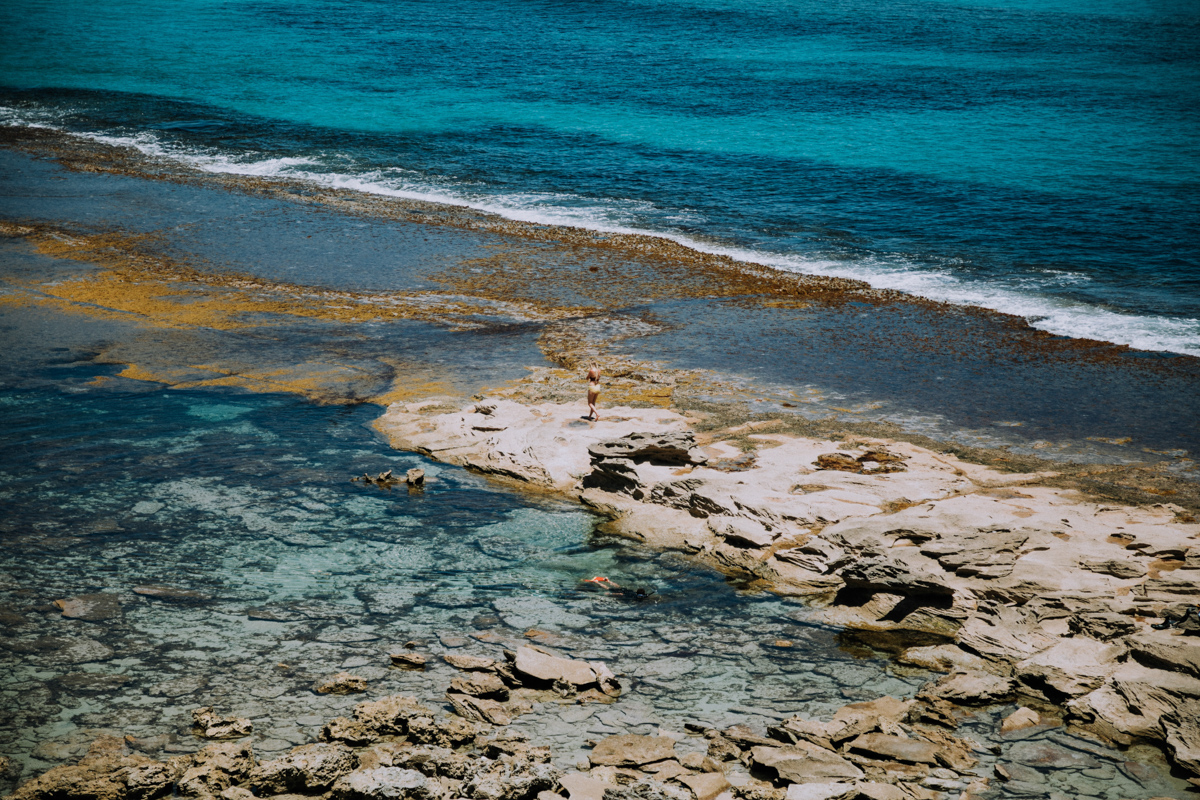 The view as we come over the peak of Taaananeditj (Dempster Head), with the views of West Beach and Blue Haven laid out before our eyes, never seems to fail us. And again, a little further down the road, the view as we drive along Observatory Cliffs, looking down on the big blue below. It's easy to spend a day along Great Ocean Drive, hopping from bay to bay for a dip, between stunning views and a range of different activities. Read on for a few of our favourite spots and activities!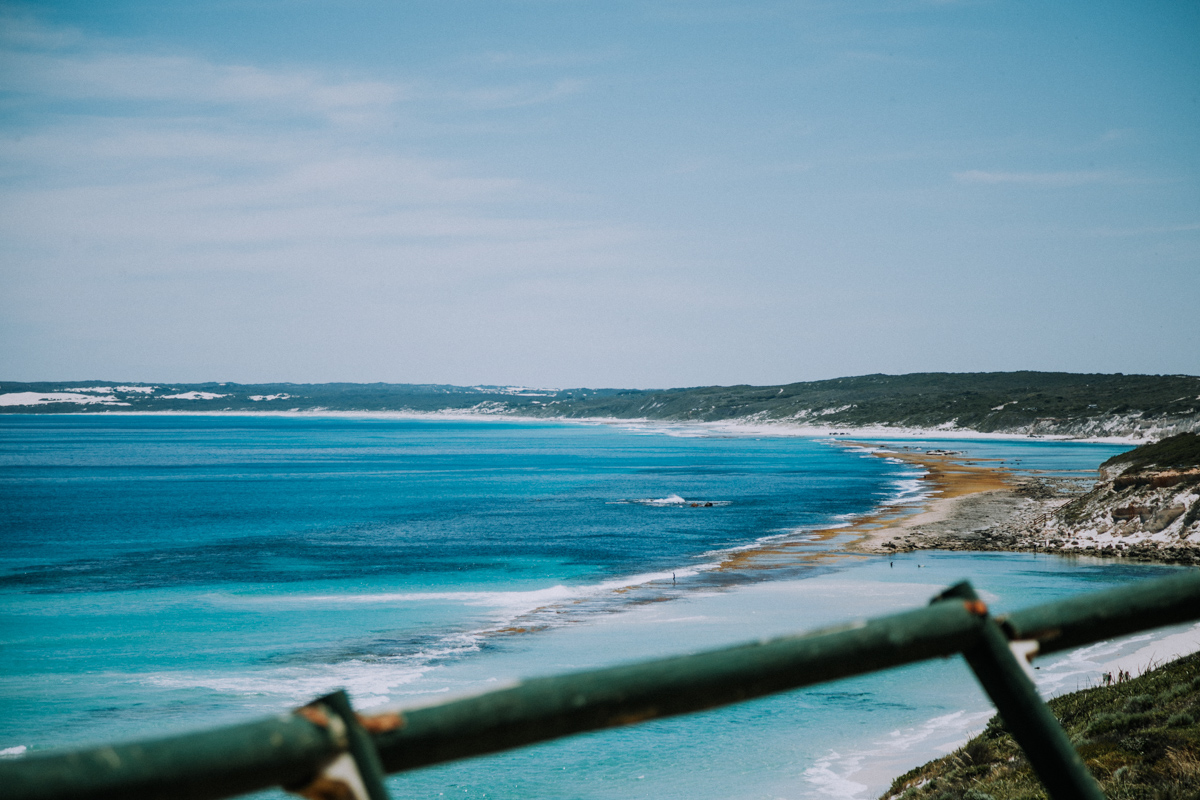 Start the day right
If you enjoy starting your day with a sunrise, our favourite views are found along the Esperance foreshore, atop Dempster Head, the rock overlooking Blue Haven, or the lookout above Twilight. Then get your day moving in the best sort of ways. Pick up a brew and head straight to one of our favourite spots for a walk or swim.We love West Beach, Blue Haven, Fourth Beach, Twilight Cove, and the Esperance Foreshore for our morning wanders and dips.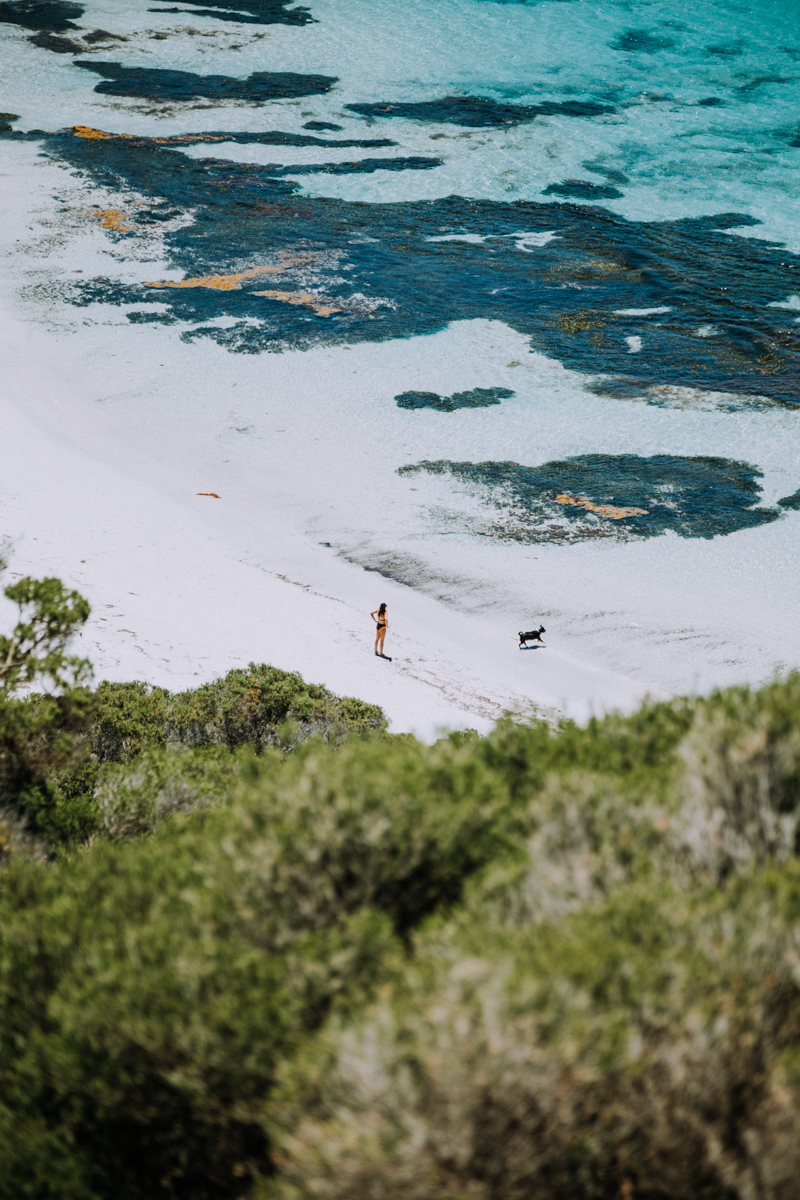 Get active
Swimming
We flock to the rocks and the white sands on swimming days and when the winds are low. Our favourites are West Beach, Blue Haven, Fourth Beach, Twilight Beach,11 Mile.
Snorkelling
9 Mile Lagoon – explore the rock pools surrounded by limestone walls and a rocky shoreline. Watch those toes, and go for a snorkel along the inner part of the reef. A truly spectacular spot on a calm day!
Tanning
Really anywhere the sun doth shine, but we have to drop in the free beach, located between 10 Mile Lagoon and 11 Mile Beach, where clothing is optional. Please be SunSmart. Remember, you can slip, slop, slap and still get a tan!
Fishing
Salmons, 9 Mile, 11 Mile. Often spotted with a dedicated fisherman or woman, there are some great spots along here to throw in a line and try for some dinner. As always, be smart, read the signs, watch for waves, and be incredibly careful on those rocks.
Snacking
Pack a lunch, or keep your eyes peeled for the food and ice cream vans that park up at the Twilight carpark over summer.
Views
Observatory Point Lookout and Rotary Lookout are well worth the climb for impressive views of the surrounding coastal town and its beaches. Pink Lake lookout on the way back into town also offers an incredible view of the once pink Pink Lake.
Walking/Cycling
You can walk or cycle (or skate!) along the Great Ocean Trail between town and Twilight Beach (a 10 kilometre stretch). At the car park right before the Surf Life Saving Club, you will see a sign directing you to cross the road and follow a track through the bushland. This track takes you all the way to the Pink Lake Lookout (another 6 kilometres) with limestone headlands, sheltered dunes and an excellent demonstration of Esperance's native flora. It's well worth the walk, just make sure to pack water and a hat! For a longer ride or walk, continue on along the trail following Pink Lake until you see the turn off for Pink Lake Road on the right. You can follow Pink Lake Road all the way back into town (the last 8 kilometres!). Walking the full length of the Great Ocean Trail takes between six and eight hours, and cycling between two and three hours. It's a great adventure, just make sure to pack plenty of water, sustenance and sun protection.
Exploring
The 10 Mile Lagoon Wind Farm, established in October 1993, runs along the ridgeline overlooking 10 Mile Lagoon and was Australia's first commercial wind farm. It's an amazing view from up there, and there's some great info on the signs if you're looking to learn something new. It's also a good spot to get a hit of that weird feeling you get when standing beside something that makes you feel like an ant.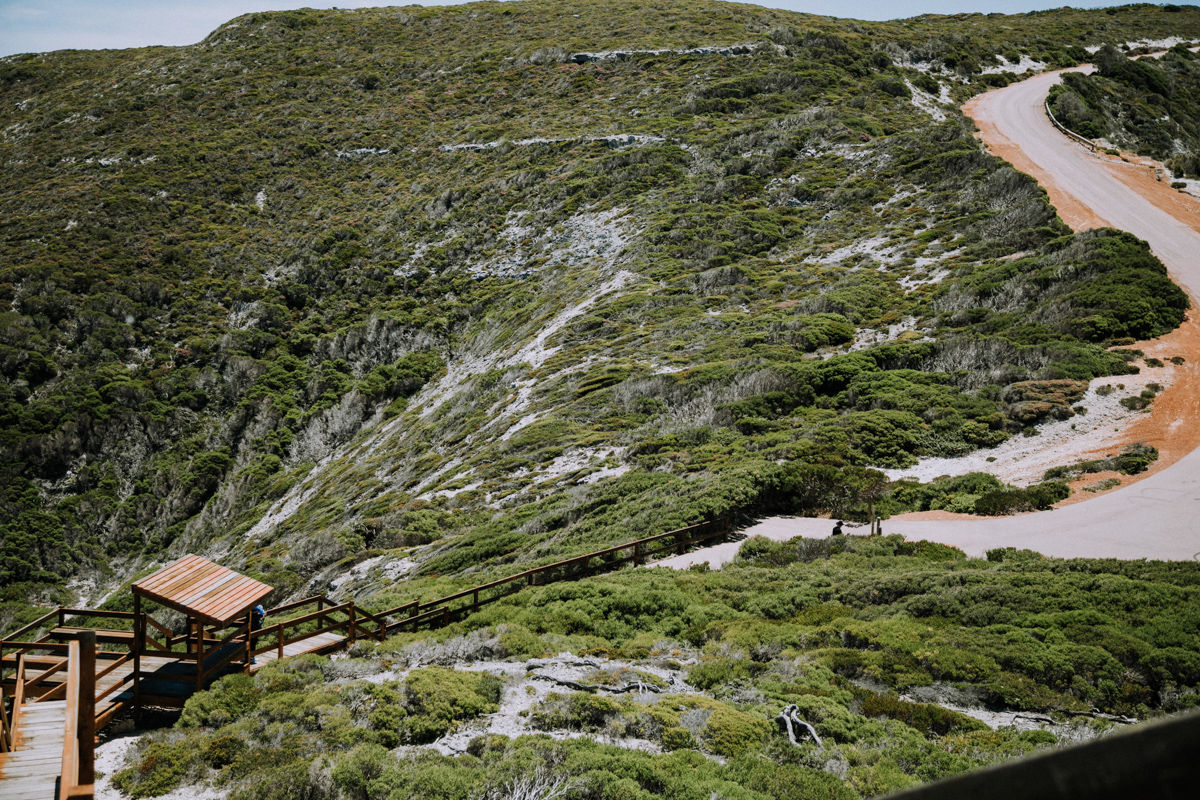 Escape the wind
Esperance is notoriously windy. It's the sixth windiest place in WA in fact, and sometimes it can come in from multiple directions in one day. We don't let that stop us, though. It's just about knowing where to go in which wind. The key is to nestle into the bays and corners, as they're the most protected. Our suggestions are:
Easterly
Salmons, Fourth Beach (the Salmons end), Dolphins.
Westerly
Observation Point (the little nook at the bottom of the stairs), Twilight Cove, Blue Haven, Port Beach in town.
Northerly
Ten Mile Lagoon, West Beach corners.
Southerly
Twilight, Blue Haven, Port Beach in town.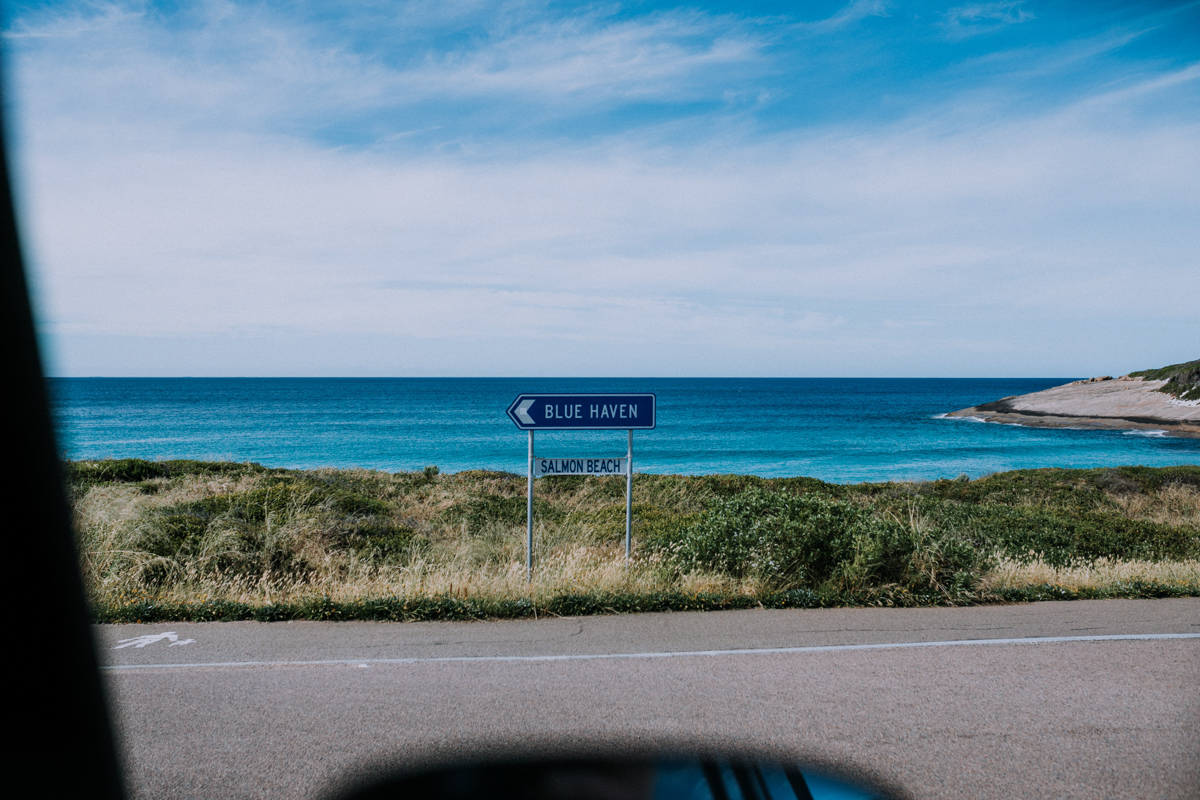 Catch the sunset
You've spent a day soaking up the salt and sun, and exploring all that this magical coastal drive has to offer. Now you're hungry. Our favourite way to end these days is with fish and chips, a six-pack, and a park overlooking the ocean that lets us enjoy the sky show that the sun puts on as it slips from the sky. Our favourite spots for this are 11 Mile, 10 Mile, 9 Mile, and Observatory Beach. Closer to town we have Salmons, Fourth Beach, Dempster Head, and West Beach, which offer great summer sunset viewing platforms. Cheers to a good day along the loop!