Up Next: 10 Years & Counting For s'juice
Our favourite little green van.
Author: Karli Florrison
Published: June 05, 2020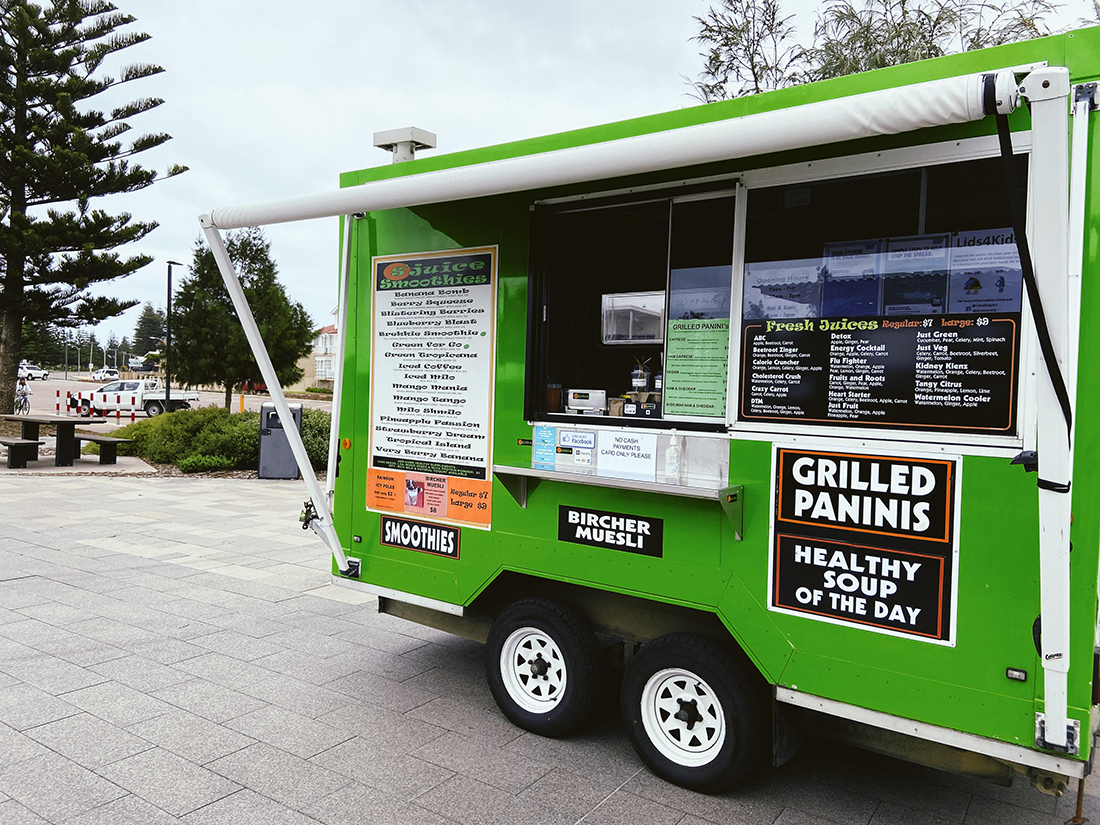 Food vans on the Esperance Foreshore have long been an iconic part of our local culture. Nothing beats getting a drink or a snack with a side of the spectacular views of the Esperance Bay. For 10 years, s'juice has been a part of this proud tradition, with Mario and Claire serving up juices, smoothies, healthy soups, as well as mouth-watering paninis. The bright green van is a regular part of the scene down at the Jetty headland, and the friendly service and great quality products have made this van a favourite for locals and tourists alike.
Mario and Claire are both long term Esperance locals. Mario grew up in Esperance, after moving to the town from the Goldfields with his parents as a child. Like many locals, he moved to Perth for a while after he finished school, but was eventually drawn back to his hometown. Claire is a bit more of a recent arrival. She came to Australia from the UK as a backpacker in 1997. After growing up not far from London, Claire loved the more laid-back lifestyle in Perth and decided to stay in Australia. She got work, and eventually gained Australian citizenship. After working for some time as a manager at JB Hifi, Claire realised that she was once again stuck in the rat race. She came to Esperance for a break and fell in love with the town. She loved the slower pace of life in Esperance and decided that she would stay. Meeting Mario helped to cement that decision, and Claire has been here ever since.
In 2010, Claire and Mario happened to notice the bright green van that was operating down at the Andrew Street boat ramp. Initially set up by Susie de Jong, s'juice was a small, seasonal business, selling juices and smoothies. At the time, Mario was a scaffolder, and Claire was working for Neil.IT, but the small van, which was for sale, caught their eye. They made the choice to buy the business. 'We had no idea what we were doing at first,' Claire says. But with plans to expand the business to the point where they could keep it open year-round, the couple rolled up their sleeves and got to work. After finding their feet for a while, they introduced a range of hot soups. They were surprised at just how popular the vegetarian soups proved to be with the locals, even with the blokes! Some of the more exotic soups, such as the Thai Sweet Potato & Carrot soup, and the Moroccan Quinoa soup, have been favourites. Later, they introduced a range of toasted paninis as well. For a while, they offered a delivery service, but as things got too busy, they partnered with Devin from Devin's Handy Office Help to deliver food and drinks around town. 'He provides a great service, and our customers have totally embraced him,' says Claire.
s'juice now operates from the Jetty Headland, where they enjoy unparalleled views of the bay. Claire and Mario love the social aspect of the job. 'Mario was always someone that everyone knew here in Esperance, but the van has really helped me to get to know people, and they've really welcomed me into the community,' says Claire. 'We love that we get to sell things that make people happy. With each customer, we feel like we've been able to pass on a little bit of happiness.'
The van has always been popular with tourists, but as Mario explains, things have expanded greatly since Instagram took off. 'One year we wrote down the different nationalities of our customers. In 34 days, we had at least 26 different nationalities visit the van. There were people from places like Liechtenstein. How amazing that they'd decided to visit Esperance, of all places?' While the tourists are important to their business, Mario explains that their primary target has always been Esperance locals. 'They're the ones who really butter our bread.' This local support is undoubtedly due in part to the extraordinary lengths that Claire and Mario have taken to be available for their customers. 'We've been open six days a week for a decade, and we are open on public holidays and through the school holidays. We also haven't raised our drink prices since 2013!'
Of course, it hasn't always been smooth sailing, with the couple having to juggle raising a family along with their business. Their son has grown up with s'juice as a part of his life. 'We live a lot of our lives at the jetty,' Claire explains. 'It's a great place to be.' While Claire's parents have been able to visit every year, otherwise they don't have a lot of family support in town. 'We are lucky to have some very good friends that help us out.' The couple has found ways to incorporate family life with running the business. For Mario, this includes always being ready with some dad-jokes, which anyone who follows s'juice on social media will be familiar with.
Over the years, the couple has seen many changes, including the redevelopment of the foreshore and Jetty Headland. One of the biggest changes has been the closure and demolition of the old jetty. 'We're sad to see her go, but she has had her day and played her part. It's time to start afresh, and it's exciting to see things progressing.' While the landscape may be changing around them, s'juice continues to delight customers with their Mango Tango smoothies, Tangy Citrus juices, and all of the other great products that they are known for. While they may be happy to be celebrating 10 years in business, they're looking forward to many more great years ahead.