Up Next: A New Home For Coffee Cat & Sir Juice
Funky facelift for local faves...
Author: Karli Florisson | Photographer: Lucy Vincent
Published: October 22, 2021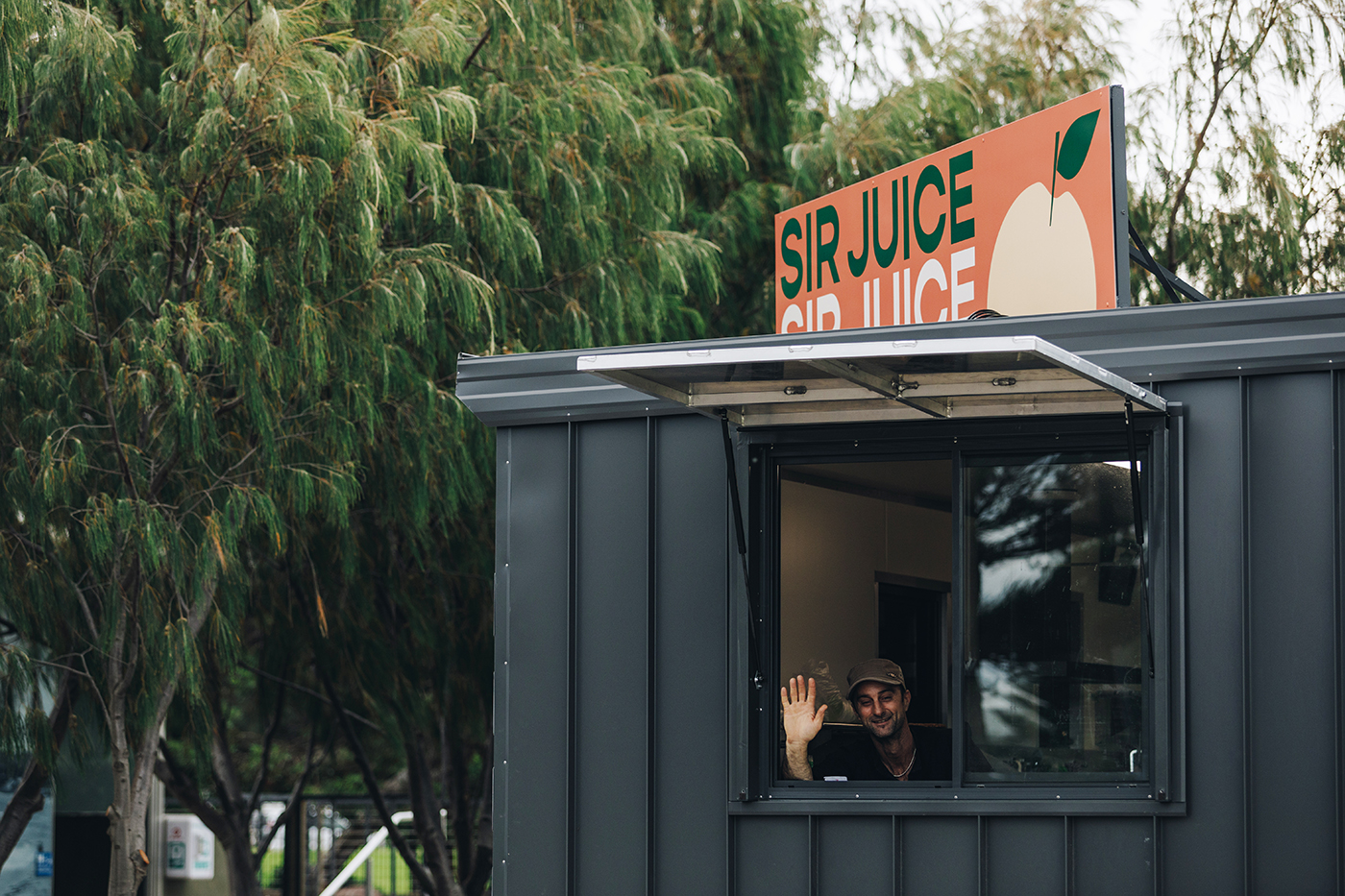 With an impressive 31 years of operation between them, Coffee Cat and Sir Juice are Esperance icons. Both locals and visitors alike regularly take advantage of the opportunity to enjoy a coffee, juice or smoothie while catching up with friends, enjoying the ocean view, watching their kids play in the park, or walking along the Esperance Jetty. Now, the two businesses have undergone their biggest change yet – relocating from their original vans to brand new, custom-built kiosks.
Grant and Nicola of Coffee Cat, and Claire and Mario of Sir Juice (formerly known as s'Juice), along with their dedicated staff, have been churning out a steady stream of delicious beverages and great customer service for years, all while negotiating the cramped space of their two small vans. After putting their heads together, the two couples decided to approach the Shire of Esperance with the concept of installing new 'pod' kiosks at the Jetty Headland. The pods were custom designed and built, taking into consideration the many complex requirements of the businesses and the location. While the buildings are identical on the outside, inside, each pod is individually designed to best suit the needs of the business. Designed to be sturdy for the exposed, waterfront location, as well as blend in with the surroundings, the two kiosks complement the beautiful Jetty headland. The inspiration for the pods has come from numerous prefabricated kiosks around Australia, including Pretzel in Northbridge and Lost Freight in Mount Wellington. Designed to be transportable, the pods are owned by the respective businesses, with the Shire providing a 10-year lease on the sites. If needed, the pods can be removed on short notice.
For Claire and Mario, the new kiosk presented the opportunity for a new name, and the couple rebranded their business as Sir Juice. While they enjoyed the humour and play on words of s'Juice - pronounced 'seduce' - the new kiosk has given the couple a chance to feel as though they are starting their business again; a change that felt worthy of a new name. Sir Juice feels like the cool older cousin of s'Juice, still under the same experienced and passionate ownership. The couple has plans to expand the Sir Juice menu, too, in keeping with the new, expanded work space. They have already added to their panini menu and when soup season is over, plan to add additional food options, such as sandwiches and wraps, to their repertoire. They have already added new juices and smoothies to the menu.
While Claire and Mario are excited to see their original idea come to fruition, they are quick to point out that they could not have done it alone. The move has been a joint collaboration between the two businesses, benefitting both Coffee Cat and Sir Juice. "Claire and I would still be dreaming about having a shop if it wasn't for Grant and Nic," Mario says. "They really made it happen." Both couples love being a part of the family of businesses at the Jetty Headland, along with the relatively new kid on the block, Spudlicious. Like Sir Juice, Coffee Cat also plans to expand their menu, with new hot food options like pies, sausage rolls and vegetarian pasties. Both businesses are excited that the new workspaces are making things easier for their staff. And, of course, they're very happy not to have to manoeuvre the vans into place every morning.
Grant and Nicola admit feeling somewhat nostalgic about moving out of the van, which served Coffee Cat since its beginnings in 2004. They are still deciding what to do with the faithful old van. As for the Sir Juice van, Claire and Mario don't feel all that sad to say goodbye to the space where they have worked for many years. They plan to sell the van, hoping that it will stay in town and provide a space for another local business to be established and to thrive.
Both businesses are excited about the upcoming tourist season in Esperance. Over the last few years, each summer has been bigger than ever for tourism in the town, and now with the new kiosks in place, both teams are raring to go. They are looking forward to seeing familiar faces, as well as meeting new visitors to town. Plans for an official opening for the new kiosks are also in the works, after both businesses have completely settled into their new homes. With the Esperance Jetty providing the perfect spot to stroll or fish, there has never been a better time to visit the friendly faces at Sir Juice and Coffee Cat, check out the new pods, and enjoy their delicious food and beverage offerings.
Make a Pit Stop
Coffee Cat is open from 6:45am to 2pm Monday to Friday.
Sir Juice is open from 9am to 3pm Monday to Friday, and 9am to 2pm on Saturday.
Spudlicious is open from 11am to 3pm Thursday to Saturday.