Up Next: Dudley Newton Optometrists
Keep it glassy.
Author: Karli Florisson
Published: October 24, 2019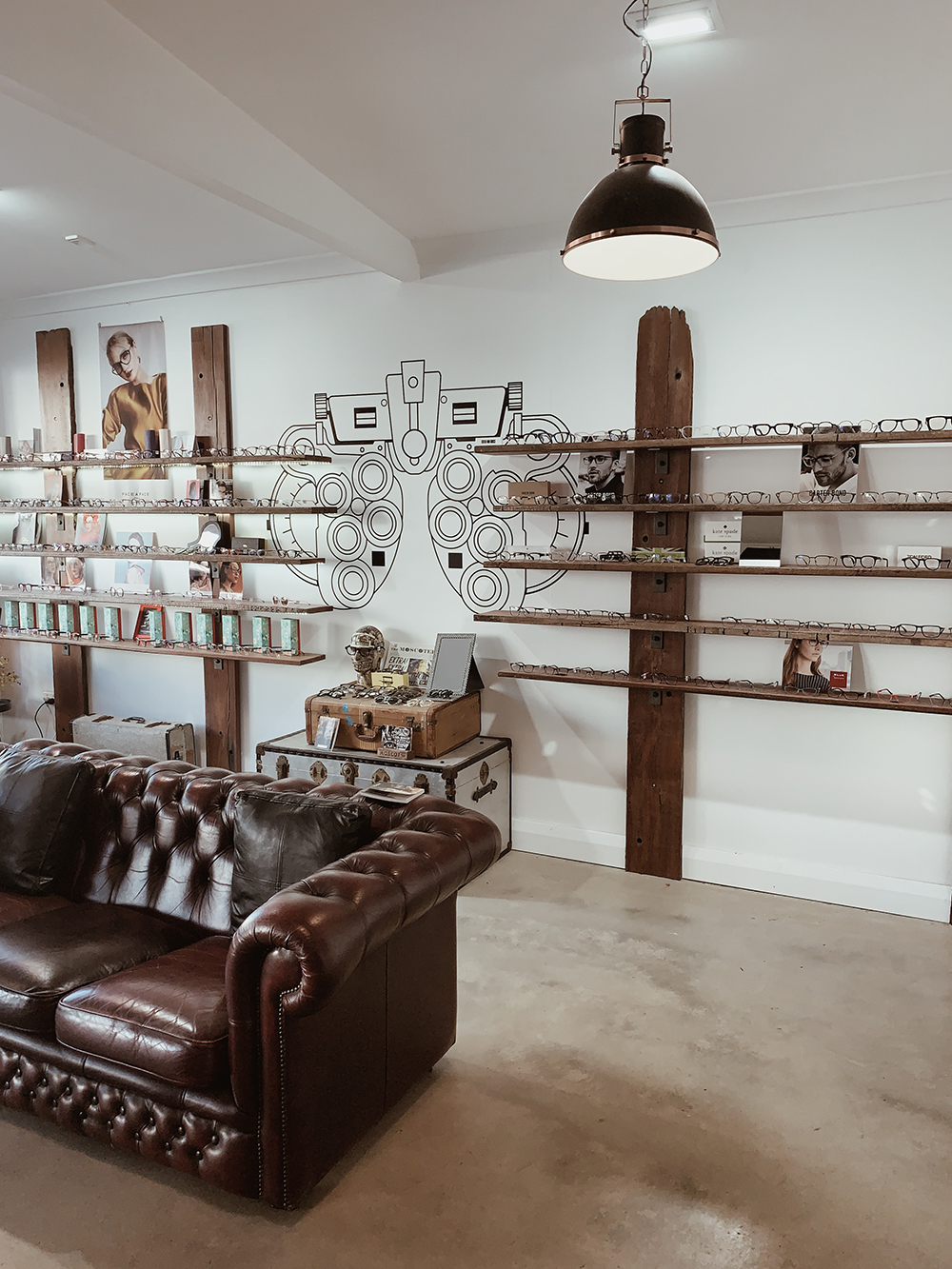 Walking into local optometrists Dudley Newton on Dempster Street, you might be forgiven for thinking you are in a funky downtown wine bar. The exposed concrete and the warmth of the timber shelving complement the deep leather couches perfectly. The timber used in the shop originally came from the Esperance Wharf. The artwork on the wall is a phoropter, an ophthalmic testing device used during an eye exam. Behind the chic décor, at the heart of this local business is a strong desire to provide the best possible customer service.
Optometrist Gareth Mumford originally came from South Africa. When he arrived in Australia, he planned to move to Geraldton. Put off by the heat and the warnings in the paper about a cyclone that was headed for Geraldton, Gareth headed south instead. After visiting Esperance and staying at the Seafront Caravan Park, surfing every day, he was sold. "I didn't realise the winters were so cold!" Gareth says. Dudley Newton co-star/owner Damien Gale is originally from Tasmania and came to Esperance to slow down and start a family. "I love it here," Damien says. "I particularly like the people. I'm here for good."
After working for a while in the industry, Gareth and Damien decided that they would open up their own business. "We wanted to be able to be really focused on our local people, and be able to give the customers as much time as they need," says Gareth. Damien adds that they also wanted to have a really extensive range of eyewear in the shop. "We try to cater to everyone, from those who are price-conscious, right through to those who want something more one-off and exclusive. We also wanted to keep our pricing really competitive." Dudley Newton Optometrists opened in December of 2017 and has been serving the people of Esperance since then.
Gareth is particularly proud of Dudley Newton's OCT scanner, the first of its kind in Esperance. "The OCT scanner gives you a more in-depth look at what is going on in the macular. It can help you pick up diseases of the eye earlier, such as glaucoma, macular degeneration, and other eye diseases." When there was no OCT scanner in town, people who were at risk of eye disease such as macular degeneration had to travel to Perth regularly to have their eye scans. For elderly residents, travelling to Perth each month could be a great pressure, but without regular testing and treatment, they could end up losing their vision. As Gareth explains, they have invested in the best possible equipment for the shop and community. "It's a big investment, but it's worth it."
Both Gareth and Damien are finding the business very rewarding, and enjoy looking after our locals and travellers. They are focused on providing good customer service, and a top quality range of eyewear. Damien explains that they only sell German-made lenses, the best quality available. "We also have a really affordable range of frames. Often people think that buying local can be more expensive, but we have really made an effort to keep our prices competitive with the big chain stores." Their care and concern for their customers is apparent in the warm customer service at Dudley Newton Optometrists. Says Damien, "Our goal is to really look after our customers. After all, you only get one set of eyes."
And if you're wondering who Dudley Newton is, then we'll be happy to solve that mystery for you as well. As Damien explains, the name comes from his and Gareth's middle names, a perfectly quirky but classic name for a unique and warm local business.