Winter At The Museum Village Markets
Whose down for some hot, fluffy doughnuts?
Author: Karli Florisson
Published: July 04, 2019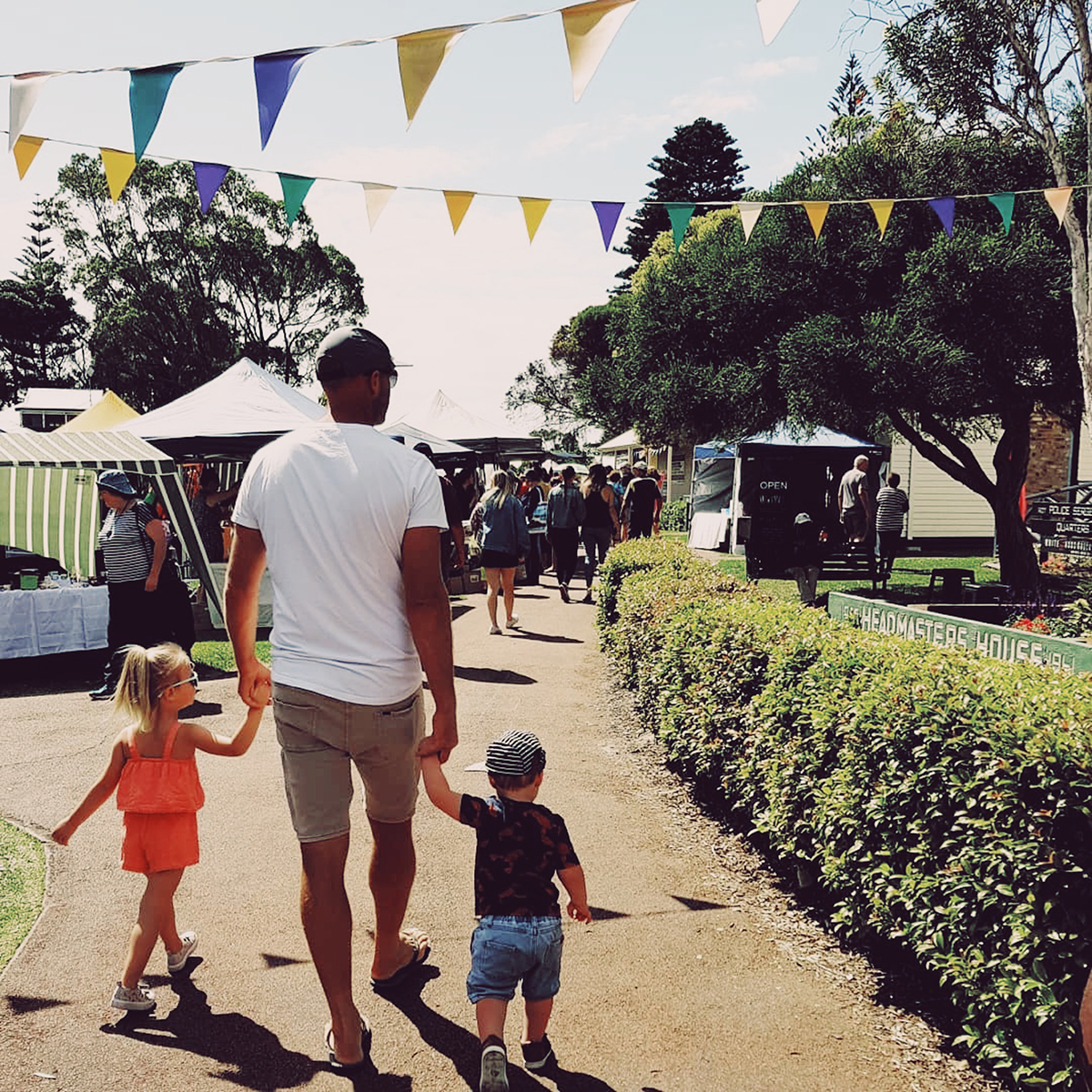 Hot, fluffy doughnuts, golden brown and fresh from the fryer, are exactly what you need on a Sunday morning. Even better, they only cost a dollar each and are served with a cheery smile, with the proceeds going to a good cause! That's just one of the many reasons to get up early on a Sunday morning and go wandering through the Museum Village Markets. Good food, local craft and produce, interesting stalls, coffee, buskers, and more. The markets have it all.
The Museum Village Markets, held in the historical Museum Village, is a favourite event for locals and tourists alike. ESP owner Amanda Thomas is the coordinator of the markets. She loves being part of the community spirit in the Museum Village. "It's a fantastic community event," she says. "It's great that people can pop in and out of the shops as well. The markets are good for the Museum Village and good for tourists. It's great for kids, who can play on the grass, and it's lovely to see people walking through with their dogs." The community feel is evident at the markets, with stallholders happy to have a chat while you browse, and lots of kids enjoying the fun.
What about the market stalls? Here are a few of our favourites! Be sure to head down to the markets to check out what else is on offer. The range of stalls changes quite often, so there will always be something new to try or buy.
Etty's Spring Rolls
These are a market mainstay, and anyone who hasn't tried them yet should really get down there ASAP for a huge, delicious, piping hot spring roll, homemade by Etty herself and served with her signature hot or sweet chilli sauce.
Scrunchies for Breast Cancer
As all fashionistas will know, scrunchies are making a comeback. The fun range of locally made, bright, retro scrunchies on offer at the markets are helping to fund Breast Cancer research, so that's another great reason to buy.
Doggie Jackets
Man's best friend gets a bit cold in the winter, so now you can stop in and pick up a warm, waterproof jacket for the pooch down at the markets.
Coffee to go
The newest addition to Esperance's coffee cart scene, Juncture Cart, serves not only hot coffee but Bread Local sweets too. Where better to get your Sunday morning coffee hit?
Local honey
Bees are so important for our ecosystem, and honey is delicious, so support local beekeepers and do yourself a favour at the same time. There are usually a few different varieties on offer at different stalls, and if you're lucky, you might even get to try before you buy.
Locally made crafts
Do you need to buy a present for someone who has everything? The markets are the best place to pick up that perfect unique gift! Here are just a few of the gift options on offer at the markets: hand knitted beanies, beaded jewellery, gorgeous handmade children's clothing, macramé flowerpot holders, collectable antique bottles, crystals, chopping boards, metal sculptures, hair bows, crochet bags and tea cosies!
Tasty treats
There is a huge range of delicious treats on sale at the markets. You can pick up locally made preserves, lemon butter or chutneys from a few different stalls. There's also local olive oil and stalls selling sauces and spice mixes. You can fill up on popcorn, fairy floss, liquorice, delish vegetable Roti and, of course, those signature doughnuts.
The Markets are usually held fortnightly, although sometimes more frequently to coincide with public holidays. Keep updated with market dates each month by finding the Museum Village Markets advert in our publication or by heading to our What's On page.
Anyone who is interested in having a stall at the markets can text Amanda during business hours on 0415 388 420. The Markets may be cancelled in case of rain, so check the forecast. You can also follow the Museum Village Markets on Facebook.
Cover pic credit: @thetruckinglife